The Best Way To Store Your Pot Holders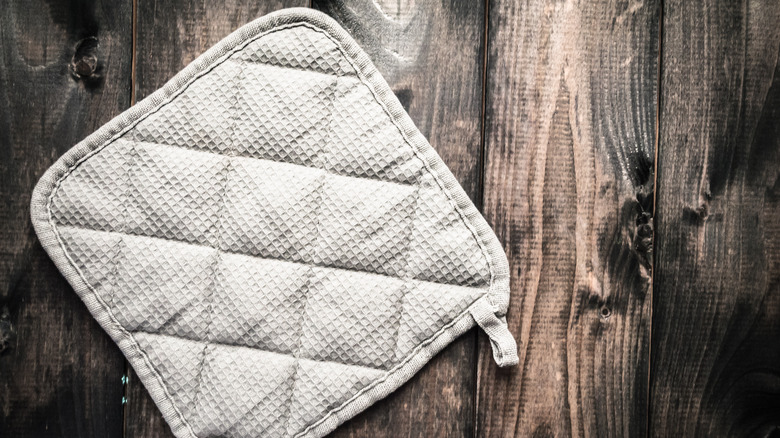 Roman Samborskyi/Shutterstock
Tidying up your kitchen can be a rewarding task, but it might also lead to some unexpected discoveries. Maybe you thought everything had a home, but come to find out there are items haphazardly stored at best. Maybe useful tools are kept in areas that don't offer the quickest or easiest access, and you're ready for a change. Some of these often overlooked items might be your pot holders. As useful and necessary as they are, they're often stuffed away in drawers that require a little extra effort to get to. If you're in the zone, feeling like a finalist on Top Chef, the last thing you need is to search every shelf and drawer for an oven mitt while your perfectly baked soufflé threatens to collapse.
With that in mind, there's a trick that will make storing your pot holders and oven mitts a breeze. You can organize your cabinets in order to hang pot holders from the doors, either inside or out. According to Kitchen Seer, hanging them somewhere handy will make cooking easier, but it can also add an extra splash of décor to your kitchen cabinetry. If the pot holders feature fun designs or aesthetically pleasing colors and patterns, they'll look great in an exposed area.
Hang them up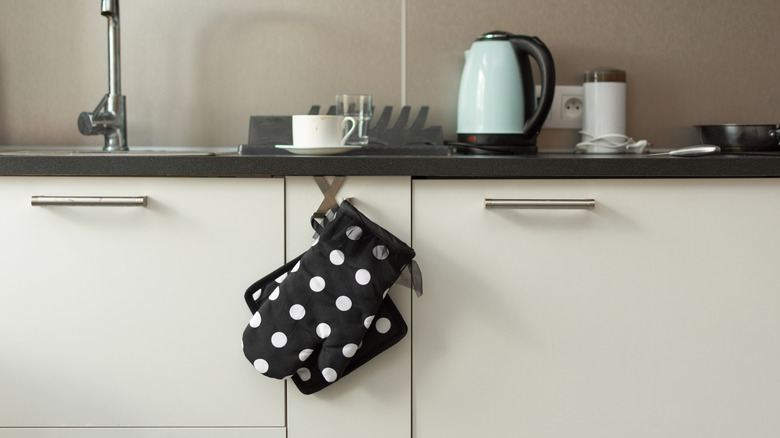 Inna Dodor/Shutterstock
Stylishly displayed pot holders look good and are easy to grab in a pinch. You have two options when it comes to the hooks, and both will allow you to get creative. You can place hooks inside any of the cabinets that border your stovetop or range, or you can add them to the outside of a door. If you choose the latter, look for a set that'll make a cute statement. Both locations allow for a fast grab when you need to move a hot pan or get something out of the oven.
Lifestyle blogger Emily Henderson highlights this trick in her blog, showing how she applied small hooks onto the back of a cabinet door to hold oven mitts and potholders. Depending on your preference, you can either install decorative hooks with a brushed metal finish, or opt for the easy-to-apply plastic versions. These are stick-on hooks that can be removed later by simply pulling on the adhesive. Some boast a "no mess" removal process. Whichever way you go, this new storage option will create more drawer space than you know what to do with. Instead of wrestling thick pot holders back into thin drawers, you can simply hang them up between uses quickly and efficiently.
Find the perfect pot holder
Owning a good set of pot holders is important. With so many styles, colors, and materials on the market, it can be hard to narrow down the best option. With your newfound storage space, upgrading to sturdy, appealing mitts might be next on your to-do list. You may have relied on threadbare relics or tea towels in the past, but having quality mitts is the safest way to handle hot items from the oven. According to Wirecutter by The New York Times, the OXO Good Grips Silicon Pot Holder is a top pick, mainly due to its ability to protect your hands from hot cookware longer than other materials.
Your pot holders can also double as place mats for hot dishes that need a place on the table, so picking one out that looks nice and can withstand long contact with high temperatures can accommodate this need. Try them on before buying to make sure your hands can grip things properly, otherwise you risk dropping your delicious creations before they make it to the plate. Finding the perfect pot holders will feel good, and once they're hung, they'll look fantastic with this handy hack.