15 Safari-Inspired Children's Rooms That Will Inspire Young Adventurers
Decorating a child's room around a theme can be a daunting but also exciting task. While it can help you narrow down your decorative elements, at the same time, the theme also leaves you with fewer choices. Additionally, some may assume that their child will soon change their mind about the design.
However, while it may take some extra work, adding a theme to your child's room has some amazing benefits. First, it can make your kid feel like they are truly expressing themselves. Second, it can foster excitement and creativity. Finally, a theme can make a child really enjoy their space, which could encourage them to take greater care of it.
The adventurous child may desire a safari theme in their room. Lick says that there are a few ways to add a safari feel – you could add an animal wallpaper, stuffed animals, real or fake plants, or wall art. Typically, these rooms utilize lots of green shades and neutral colors, but they don't have to. If you're thinking about adding a safari theme to your child's space, below are 15 rooms to inspire you.
1. Surrounded in plants
Adding plants, whether real or fake, will give your child's room a safari-inspired flare. Additionally, including artwork that features leaves or ferns will provide the same look. 
2. Pink room with jungle elements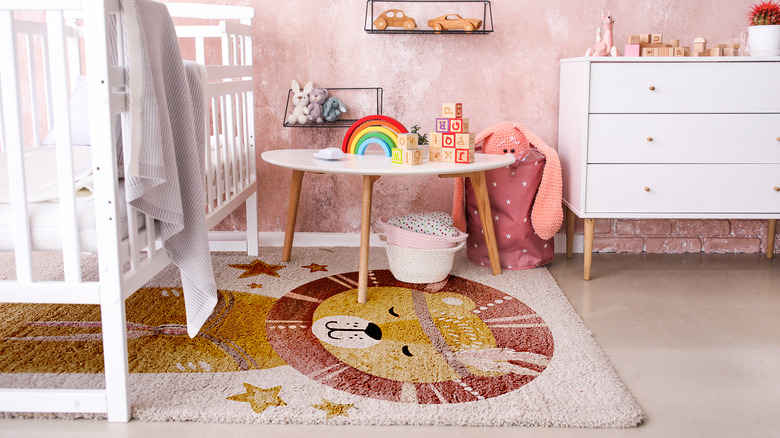 Pixel-Shot/Shutterstock
While most safari-themed rooms are green, they don't have to be. For example, this child's nursery has pink walls and a lion rug, along with safari stuffed animals and a red cactus plant. 
3. Neutral space with a safari flare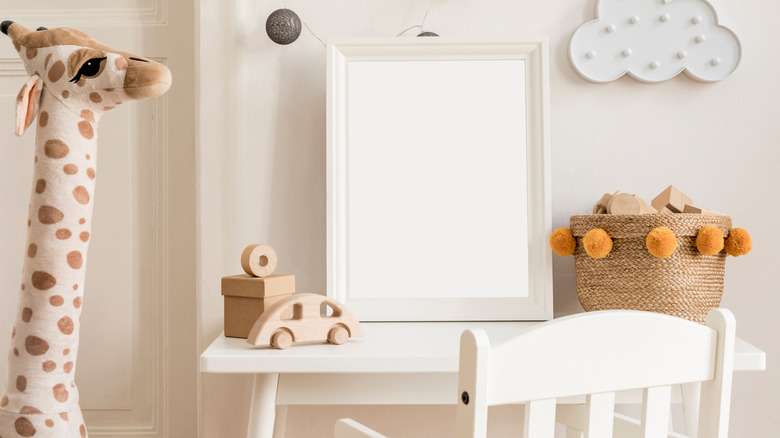 Followtheflow/Shutterstock
Here is another example of a space that doesn't utilize the color green but seems to be safari-inspired. The tall giraffe stuffed animal, and the natural wicker material of the basket make this room subtly safari themed. 
4. Hammocks and chalkboard walls
Adding a natural-looking hammock will give your child's room an adventurous but also comfortable feel. Additionally, a chalkboard wall is always a great idea, as animals and plants can be drawn onto this surface. 
5. Cute cutouts of trees and animals
To truly make your space appear like a safari, you could add cutouts made from wood or cardboard that are painted to look like animals or plants. 
6. Wallpaper feature wall
Another great way to transport your child to the outdoors is with a wallpaper feature wall that showcases plants, elephants, zebras, and giraffes. 
7. Fun wall decals
An alternative to adding an entire wallpaper wall is adding smaller decals of wildlife. This will give a similar appearance that doesn't cover the whole wall. 
8. White space with natural elements
If you only want to include minimal-themed elements, you could keep the room neutral and add green and brown items along with cozy stuffed animals. 
9. A teepee tent
Teepee tents add an extra fun and adventurous feeling to safari-themed rooms. They could become a cozy place for your kids to play with toys. 
10. A fun reading nook
This reading nook has cozy stuffed animals, plants, storage, and lots of on-theme books to choose from. 
11. A green wall with safari art
Dark green is a great color to use as an accent in your space. It could be featured behind a gallery wall of safari-themed animals, as shown above.  
12. Hanging animal head
Hanging an animal head will give your wall a fun textured element. This could be added to a gallery wall, a blank wall, or a wallpapered wall, as pictured above. 
13. Safari-themed toys
Adding toys that are safari-themed will really make the theme come alive. Something you could add is a toy Jeep, which would allow your children to pretend they are on an expedition while in their room. 
14. Jungle gym
An indoor safari-themed jungle gym would give your children an amazing place for their creativity and adventurous spirit to thrive. 
15. Bunk bed covered in vines
A bunk bed could be used to bring the eye upwards in a child's space. Surrounding the bed in greenery and vines would make the room feel as though it has been consumed by the outdoors.