Is Track Lighting Coming Back In Style?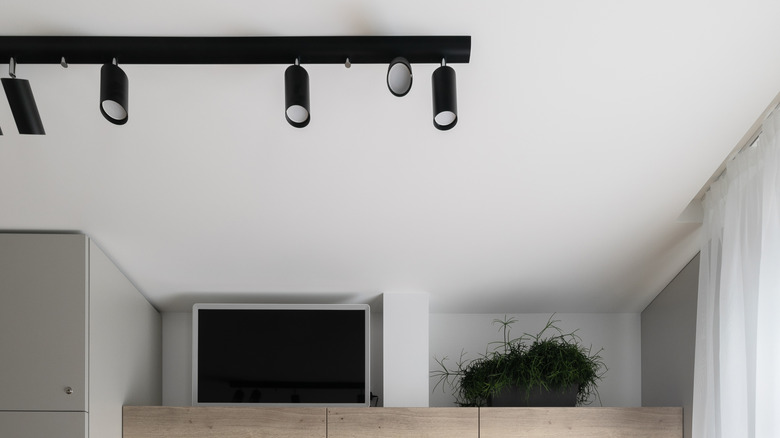 Enrika Samulionyte/Shutterstock
There are some design features that have left a bad taste in our mouths, and many homeowners have a hard time looking past the cringe-worthy elements. Within this category are shag carpet and track lighting. In the 80s and 90s, track lighting was used in abundance, and some designers would say it was used in sickening quantity (via Housetipster). So it's easy to see why whispers of track lighting coming back in style have been met with hesitation and skepticism.
Old track lighting styles were clunky, made with cheap materials, and had little to no aesthetic appeal. While their functionality was undeniable, it could hardly make up for its lack of flare. With these older styles, it was hard to use them without making a space feel like an interrogation room. Artists and offices liked them for their ability to move and light up specific areas, but they were not welcome in the home.
So could these old track lights be coming back in style? Can designers and homeowners get over their past experience with these very distinctive lights?
Welcome new track lighting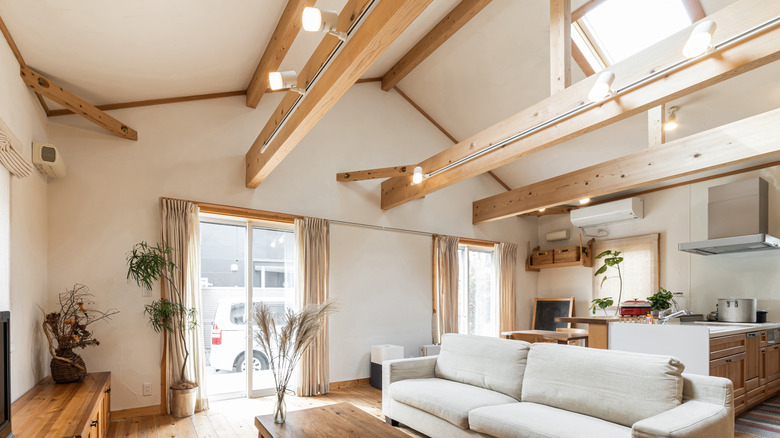 mapo_japan/Shutterstock
Its haunted past is bound to hinder its new and improved designs, but designers might be surprised to find out how varied newer track light designs are. More recent options are available in various colors, styles, shapes, sizes, and layouts. One of the attractive aspects of track lighting is its adaptability. It can adapt to the location it's needed in, the tasks it will be used to light up, and the aesthetic that it should follow. So while it might be hard to bring track lighting into an older home, they can suit modern styles well.
Lighting designers are coming up with new and innovative track lighting designs. These newer designs are sleek, modern, creative, and made with higher quality materials than they were previously. The designs are in line with current styles and trends, and some interior designers love these new options, according to Emily Henderson.
Where could you use track lights?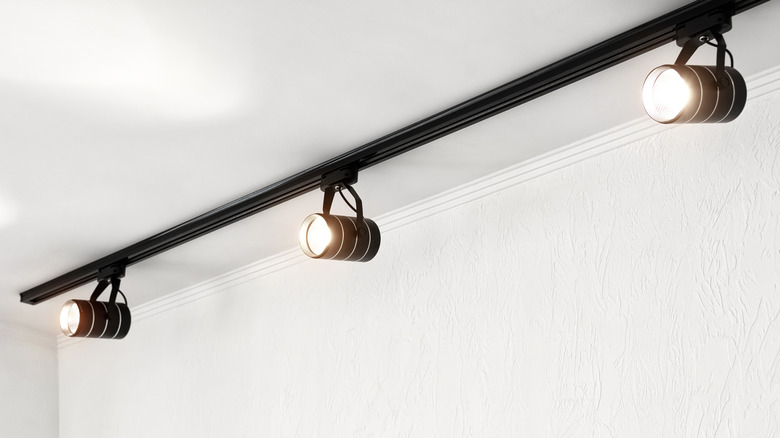 Ludmila Ivashchenko/Shutterstock
So while it might still be hard to convince some people that track lighting is trendy, here are some ways that designers are diving head first into the new and improved track lighting. Who knows, maybe this is the exact solution your design needs.
Long hallways are usually dark and only used to get from one place to another. However, you can turn a hallway into a gallery with some track lighting. Use the movable lights to bring attention to your favorite prints or painting that you've collected. Or maybe take a walk down memory lane and display all your favorite family memories on the wall. Similar to hallways, closets have limited space, and without proper lighting, they can be hard to navigate and find what you need. These locations could be the perfect place to use track lighting with their directional lights and slim profile (via 1000 Bulbs). Kitchens are another place ideal for track lighting. But especially galley kitchens which are long and narrow. Finding a lighting solution that can brighten the whole space without seeming too bulky for the skinny kitchen can be challenging, but track lighting is perfect for these situations.