House Digest Survey Reveals The One Color Homeowners Would Never Paint Their Walls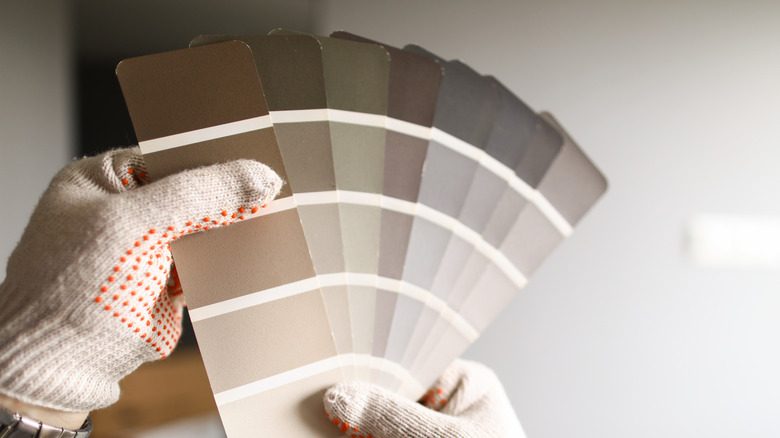 megaflopp/Shutterstock
Choosing a paint color is no doubt a difficult task. Even if you have an idea of what color you want to paint a room, you still have to choose between hundreds of different shades. Many people tend to gravitate towards some form of neutral, which can be seen by the top paint colors at both Sherwin-Williams and Benjamin Moore. Shades of white, grey, and beige are among the brands' most popular colors.
Though most people can easily settle on a neutral, deciding on other colors can prove to be a challenging task. However, there are a couple that many overwhelmingly know they don't want anywhere on their walls. Surprisingly, a shade is still on Sherwin-Williams' most popular color list. House Digest conducted a survey to see what colors readers would never paint their walls. Nearly 43% of respondents agreed on a single color. So what color do people want to keep off their walls? 269 people said . . .
Black is a definite no
There's no question that respondents don't want to paint their walls black. Of the 627 total respondents, 269, or 42.9% of the votes, said that black is a definite no for their home. Black is a bold option for the walls, but many people fear it'll make a home too dark and cave-like. Darker paints tend to reduce the light in the room, says Melanie Lissack Interiors, which can be a great option if you're looking to make space cozier but doesn't help create a light, airy, and open interior that's popular for most people.
Black might not be the first color people choose to paint their whole interior. But it's definitely a popular color to add a bold, unexpected, and moody accent to a space. Sharper Impressions Painting Co. suggests using black paint to create an accent wall or painting the tallest wall in the room to create a focal point. But if you don't want to commit to an entirely black wall, painting features like built-in bookshelves or benches can add a unique pop without taking over the space.
Overwhelming orange
There was a pretty good gap between first and second places. Though most people wouldn't choose black, many said that orange isn't going anywhere near their walls. Of the 627 respondents, 115, or 18.34%, agreed that orange isn't their ideal. For many, orange can be a very overwhelming color and even controversial, according to Very Well Mind. Orange is energetic and attention-grabbing, which isn't the best option for a relaxing abode.
Behind orange was red with 70 respondents, 11.16% of the votes, which may face similar problems of being too bold and overwhelming for most people's homes. White and dark brown were close, with 64 respondents, 10.21%, and 62 respondents, 9.89%, respectively, saying they wouldn't choose the colors for their home. The color that people from the survey seem most open to? Yellow, which received 7.50% of the vote, or 47 people who said they'd never paint their walls that color.