5 Ways To Incorporate Orange Into Your Home Decor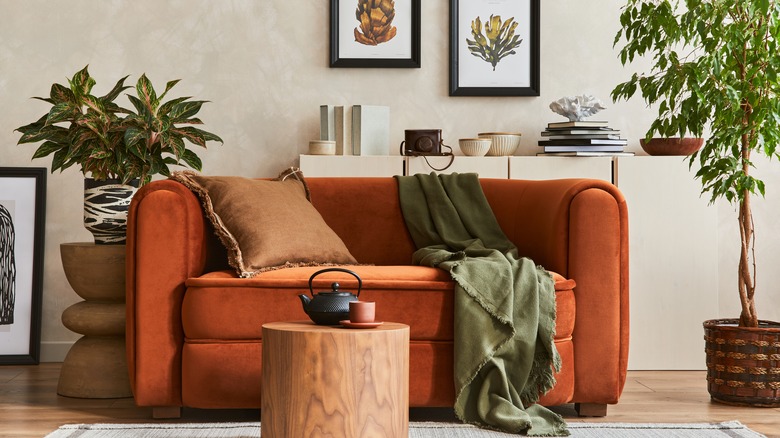 Followtheflow/Shutterstock
Orange is a bold and passionate color. It makes a statement and adds warmth to any room.  While it's enough to send any neutral-loving heart into a panic, orange can also be vivid and surprising in a room with limited color.  It can add endless warmth layered with reds and yellows. The color orange evokes the sun, so we often crave its burst of flame in the summertime particularly, or its more muted and burnt varieties in autumn. Orange is quite versatile, arriving in shades of apricot, mango, and peach, via Pyaanation. 
The beautiful thing about orange is you can use as little or as much as you want to add boldness and beauty to any room in your home. Many shades of orange complement a variety of design styles, including midcentury modern, where it's found frequently in fabrics, dishware, appliances, and wallpapers. Art deco style loves a peachy creamsicle orange, as does modern boho style, where you'll find muted sunset shades and terra cottas. No matter your personal design style, there are a number of gorgeous ways to harness a little bit of sun into your home in small (or large!) doses.
1. Textiles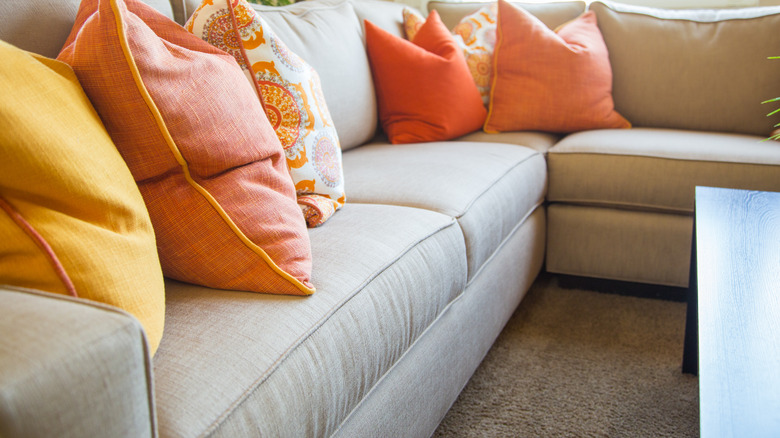 Andy Dean Photography/Shutterstock
One of the easiest and most dynamic ways to infuse a little orange into your décor scheme is textiles. Pillows, throw blankets, towels, and bedding add a shot of vitamin C to any room. According to Powered By Orange, a bright orange throw pillow can work wonders in an otherwise muted space. They work well as year-round options but can also be used seasonally in summer or fall in rich shades of tangerine or burnt sienna.  
Add a complimentary throw blanket or varying layer shades of orange for a rich monochrome color palette. You can also mix it with bright yellow, orange's cheery cousin. A set of orange hand towels in the bathroom can add a punch of vivid color, as can a beautiful set of orange bedding. A bold orange rug in any shade will warm up a room immediately and mixes well with neutrals as well as other warm-toned colors.
2. Seating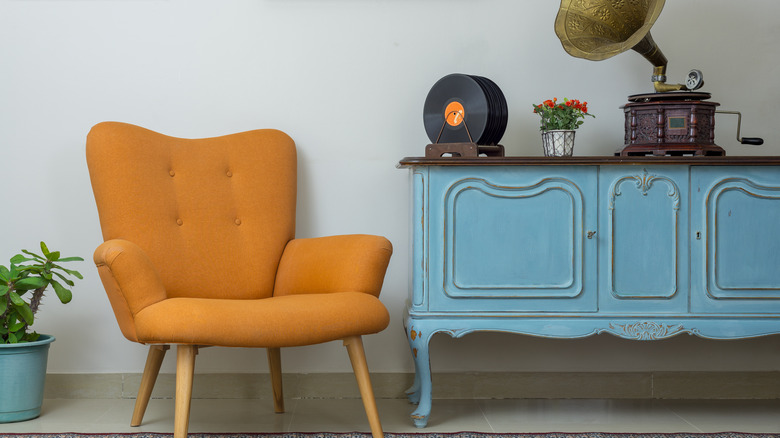 Khaled ElAdawy/Shutterstock
Another great way to implement a touch of orange into your décor is to bring in orange seating, particularly occasional chairs that add a pop of color to any room. An orange chair is a low-commitment way to make any space cheerful and dynamic, according to DesignRulz. Whatever your style, there's a chair that complements it.  
Orange seating can take the form of luxurious tufted chairs, benches, dining chairs, and office chairs. Try an ottoman or a bench in a room of otherwise neutral pieces. Or a funky velvet orange chair or a mid-century modern tweed sofa. Upholstered pieces come in a wealth of orange solids or prints that accommodate any design scheme. For more subdued palates, a cheery peach occasional chair is the perfect complement to a room of pastels. Orange has a way of adding an element of surprise to a room, elevating the mood of those in it, according to Hadley Court. 
3. Appliances and fixtures
Sergey Lapin/Shutterstock
When we think of orange appliances, many of us jump back to the 1970s wave of burnt orange, goldenrod, and avocado green that dominated many suburban homes — think of the Brady Bunch kitchen for inspo, via Mashed. While the clock has definitely swung back around and made the 1960s and 70s décor stylish again, it has also brought new variations on old color schemes. Many retro-chic appliances are available in various shades of orange, from the classic vintage 70s burnt orange to bright options in tangerine and apricot. 
Retail brands like Smeg, Igloo, and Hestan offer bright, retro-inspired fridges and appliances. According to Best Appliance Skins, even if you're not in the market for a new fridge, you can deck your current fridge in a magnetic skin in trendy bright shades. For smaller doses, try an orange toaster, kitchen mixer, or blender, all of which complement a number of kitchen design schemes. Bright orange lighting accents can also add a bit of sun to even the most neutral design scheme, bathing your space in a comfortable orange glow. 
4. On the Walls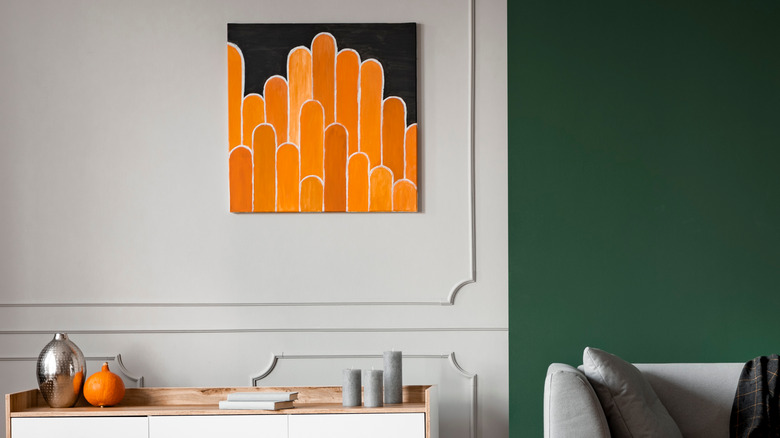 Photographee.eu/Shutterstock
Artwork is an excellent way to add a dose of color to your décor. Orange artwork in whatever shade of this delicious color provides a bright focal point to an otherwise neutral room, as well as compliments a variety of other colors, including forest green, pale blue, and baby pink. Painted works, in particular, offer rich, vivid shades to any wall. Orange is a color of passion, and who knows passion better than artists? Depending on your aesthetic, orange artwork can warm up any wall in your home, reflecting any style you like — sleek and modern geometrics, vintage and eclectic patterning, or bold and pop-art-inspired pieces.
If you want to go a little further, an orange accent wall or wallpaper can add even more of this delicious, juicy color to your home. Try a vintage 60s pattern in mod spaces or a soft, peachy floral in romantic ones. According to ArtRadarJournal, a single wall painted in bands of sunset colors can be a beautiful addition to any room. 
5. Dishware and Cookware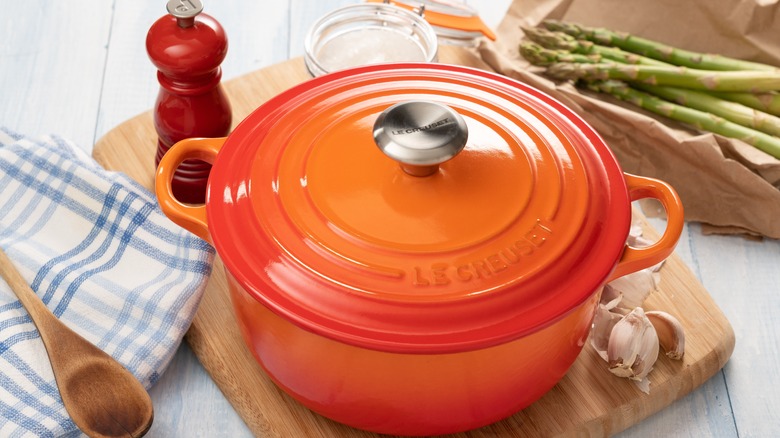 EGT-1/Shutterstock
Orange dishware and cookware not only complement most midcentury-inspired kitchens but instantly improve your mood with every sip or bite. According to The Art of Simple, orange makes people happy. A bright orange coffee mug is an instant mood booster and wake-up call every time you use it. Orange is also one of the most versatile colors. Try a bright tangerine-colored set of plates or a sunset-inspired hand-thrown pottery bowl. Consider richer, more brown-infused shades or a rich pumpkin color for your autumn holiday tables. And peach and soft sherbet orange for spring and brighter, bolder fluorescent oranges for summer. 
Even the most modern, sleek kitchen can incorporate a bold orange to great effect. Orange is also a surprising but delightful addition to the farmhouse and cottage-style décor in smaller doses. Vintage, retro,  or mid-century modern decor thrives with touches of orange, where they feel right at home with the sunny disposition of bygone eras.