The Trending Coffee Table Display Idea You'll Want To Replicate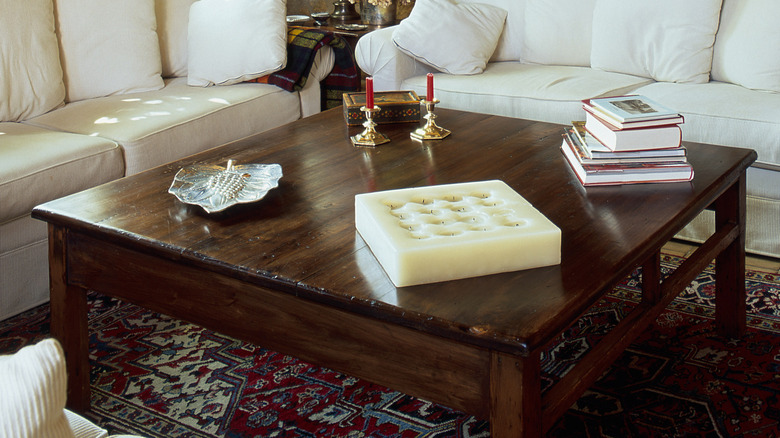 Construction Photography/avalon/Getty Images
Setting up a coffee table display is a way for homeowners to tie in all the aspects of their design into one space. It's also a way to express yourself and show off a bit of your personality, but you should avoid throwing random stuff onto a table. One thing for sure is your coffee table display should be balanced, according to HGTV. If you have too many large or small items, it can make your table look messy. Luckily, there are different trends you can follow that will help guide you toward the perfect centerpiece.
For example, stacking books on your coffee table is a great way to make your property feel more like home, explains Realtors Beacham & Company. It's an easy display to create, and it is sure to easily draw the eyes of your guests due to the varying textures (and titles) of the books. We'll show you exactly how you can accomplish this trending coffee table look.
What kind of books to use
Coffee-table books, by definition, are typically large, hardcover books filled with illustrations.
When choosing books for your coffee table, you'll want to first think of a color scheme, and you'll probably want to stay aligned with the color palette of your living area. For this coffee table trend, you can either create a collection of neutral-colored books, or you can go with a combination of dark shades with one bright color for contrast. For example, DIY blog 136 Home goes with a stack of three books, with the largest book serving as a kind of base. This book's black cover provides a contrast with the middle book's white cover, which is then topped off with the gold text of the top book.
Once you've figured out your color scheme, you'll then have to figure out a theme. You can choose any topic you like, such as fashion, art, sports, or travel. This will not only create a cohesive look but an environment where you're telling your story.
How to style your books
When figuring out the layout of your coffee table decor, it's all about the shape, per G R E Y + A V E R Y. A round table should be divided into either thirds or quadrants; square tables should be divided into quadrants; rectangular tables should be divided into linear quadrants, with decorations set in the middle two quadrants, and items should be placed in a line or a rectangle. Your stacked books shouldn't be the only thing on the coffee table, as you should also introduce different textures, such as dried florals or a low decorative bowl.
While books are central to this coffee table trend, you should also mix in other hard materials, such as ceramics, wood, or glass. Depending on the size and shape of your coffee table, don't be afraid to have two stacks of books, paired with other decor pieces. However, as 136 Home notes, always ensure your coffee table is still functional and can still serve its purpose.