Jennifer Todryk Shares What Lighting May Be Making Your Space Look Worse
Jennifer Todryk, star of HGTV's No Demo Reno, has been remodeling homes on the show for two seasons now. From large residences to smaller houses, her mission is to give homes major makeovers without involving any demolition. During a recent episode, Todryk took a trip to the Dallas, Texas area, reports Realtor. The clients, Sharmila Joshi and her son Nick, wanted their kitchen remodeled, as well as the dining room and primary bath.
While the entire area needed quite a few upgrades, it was the lighting in the kitchen that stood out most to the designer. As Kitchens International points out, the light in the kitchen is one of the most important features to consider when planning the overall design. From cool tones to warmer shades, lighting can either make or break a room. Therefore, it's crucial to figure out what works best for your layout.
Luckily, Todryk gives viewers a look at all the good and the bad parts of renovations, including lighting. Here is the type of light that she says may be making your space look worse and what you can do in order to make a significant improvement.
Refrain from using fluorescent lighting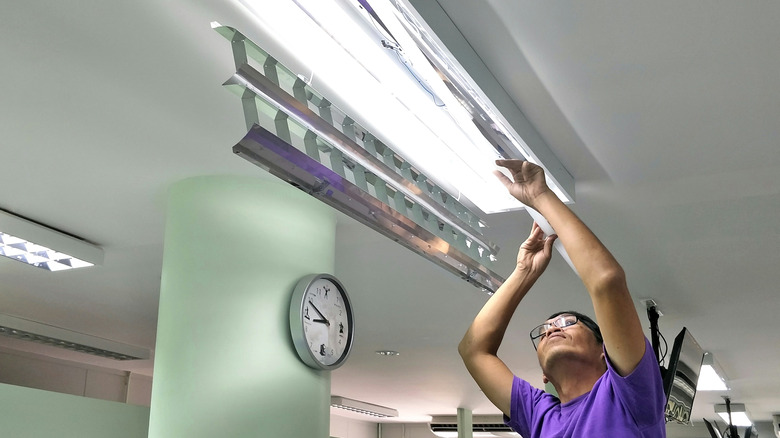 Prapat Aowsakorn/Shutterstock
As per Realtor, in their attempt to create a light and bright kitchen, the owners initially installed fluorescent lights. Unfortunately, they were unaware of the clinical feel and unappealing greenish glow these lights would emit. According to Regency Lighting, the creation of fluorescent light requires a chemical reaction to produce a UV light that is invisible to the naked eye. The light then illuminates a powder coating within the bulb and produces visible fluorescent light, which is indeed bright white. However, it is also quite unnatural and unappealing.
Todryk informed the clients that she knows an alternative to make the kitchen even brighter and more pleasing at the same time. In order to achieve this, she decided to display two pendant lights over the peninsula counter. Pendants can act as spotlights, says Lamp Twist, and make a certain area of a room more open and bright. Todryk also opted to install can lights within the ceiling. These two features combined allow for the room to be as bright as the client wanted, but in a more attractive way than what the fluorescent lights accomplished.