The Best Way To Wash Your Hand-Knitted Throw Blanket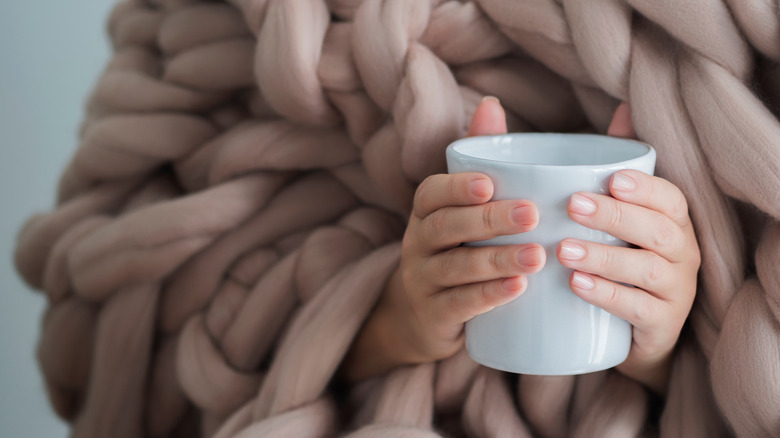 Pinkasevich/Shutterstock
We all have that one blanket we love but are too afraid to wash. Hand-knitted throw blankets have been popular for a while and will definitely be a household décor staple this fall as well. However, due to its delicate features, it's important to know the proper cleaning methods to prevent it from unraveling. These blankets are typically braided using a variety of fabrics, according to It's Always Autumn, and this means that each type of hand-knitted throw blanket will need to be cleaned differently.
Some are made of wool, while others are made of tube yarn or chunky chenille yarn. Wool is obviously a more delicate material and will have specific cleaning instructions, while the others are fairly simple to wash. We'll guide you towards specific steps that will keep your hand-knitted throw blanket clean and fresh, with maintenance instructions as well if you ever need to spot clean.
Wool fabric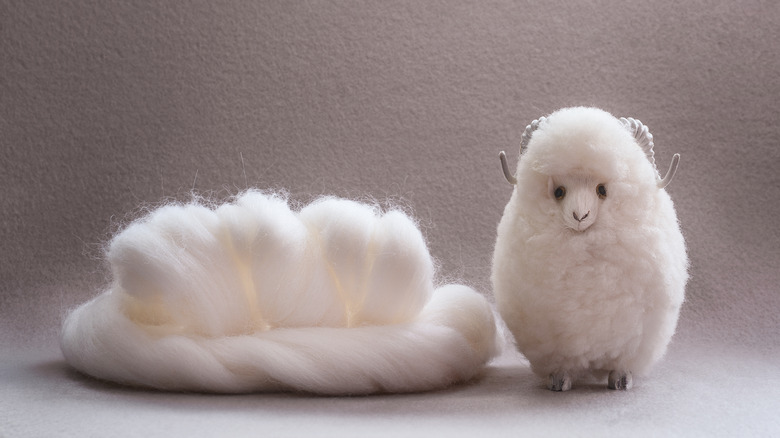 Vadlena/Shutterstock
The Woolmark Company says that hand-knitted throw blankets made of wool are more fragile than others and must be handled with more care. They advise this type of material to be dry clean only. However, there are other ways to keep your wool blankets neat at home. According to The Woolmark Company, to rid your wool blanket of dust and dirt, you should give it a good shake outside before hanging it up to let fresh air flow through it. Do this every few weeks, especially if you live in a region with lots of dust.
Luckily, wool is typically able to repel liquid stains. However, if you're in a situation where something seems to be setting in, you'll have to act quickly. You'll need to use warm water and mild detergent to gently clean the area. Avoid scrubbing, and soak the smear with warm water and detergent before gently pulling up the liquid with a soft cloth. Although it's best to dry clean this type of item, you can also check what the manufacturer says to see if you can wash this at home in the washing machine.
Other fabrics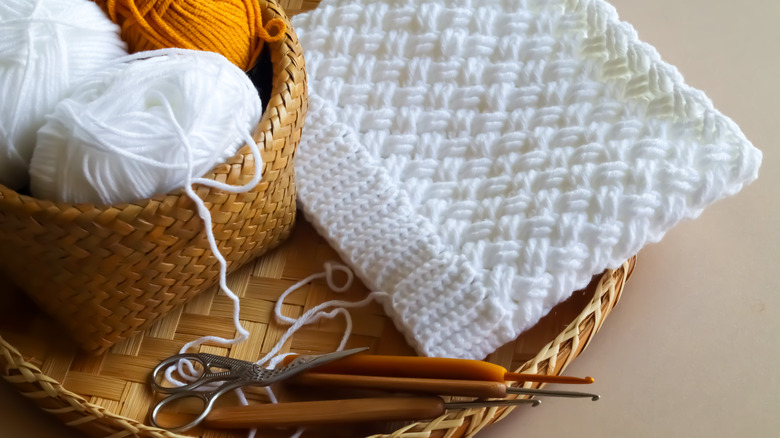 Rapeephun Pannim/Shutterstock
It's Always Autumn says that tube yarn is made of cotton or polyester filling, which means this type of material is safer to use in a washing machine with cold water. Moreover, Faribault Mill notes that the washing cycle should be short and have enough water to promote blanket movement. You should also opt for a liquid detergent with no bleach or brighteners, and be sure to dilute it as well.​
Thula Tula says once your blanket is clean, you can throw it into the drying machine on the lowest heat setting. However, you shouldn't let it dry all the way through. Once the blanket gets to the point of being slightly damp, you can remove it and allow it to air dry the rest of the moisture. This will help ensure the quality of your blanket lasts longer. Once dry, keep it in an open space full of sunlight to prevent mold. If you need to put it away, it's advised to use storage bags to avoid damage from fish moths.