The Number Of New Real Estate Listings In Detroit Has Gone Down Drastically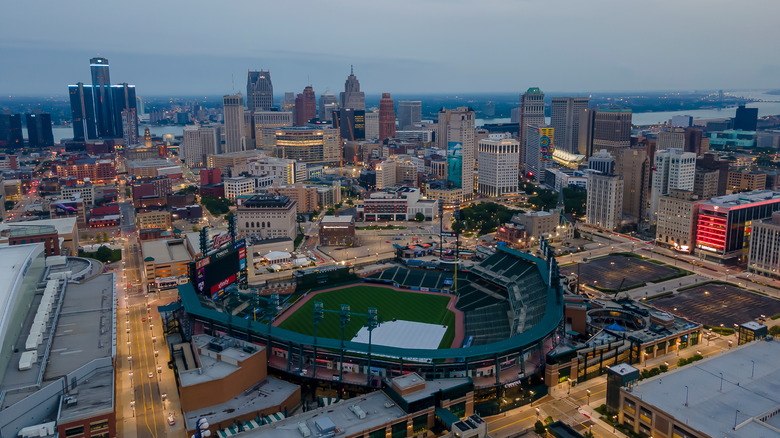 Grindstone Media Group/Shutterstock
With the number of real estate listings across the country at a record low, many individuals and families are striking out when it comes to buying a house. According to Rocket Mortgage, the COVID-19 pandemic has played a large role in there being scant inventory, noting that the initial panic and uncertainty caused mortgage interest rates to plummet –- prompting many homeowners to take advantage and refinance their property instead of moving.
The number of new homes being built also reached an all-time low due to rising lumber costs and the lack of skilled laborers, further contributing to the dearth over the past two years. And while Forbes points out that there are indications that many locations across the U.S. are finally seeing their real estate markets trend back towards "normal," some cities -– like Detroit -– seem to be doing anything but. The Home Builders Association of Southeastern Michigan recently reported that the number of new single-family building permits issued in Detroit and the surrounding areas this year was 35% lower than May of last year (per the Detroit Free Press).
Now, new data provided by Zillow shows that the overall number of new listings in Detroit has dramatically decreased recently -– and this year is no exception.
A look at the numbers
While the graph provided by Data Herald shows that the number of home listings in Detroit did not vary much from 2018 to 2019, the 2020 data seem to confirm what experts concluded regarding the state of the real estate market (via Forbes): The first few months of 2020 follow the trends, but the number of listings dropped sharply between March and April of 2020 from nearly 5,000 to just over 4,000 –- a not-so-subtle deviation from nearly 6,000 new listings at the same time during the previous two years.
2021 numbers followed the arc of 2018 and 2019, but with far fewer listings as the weather warms up; in March there were approximately 5,000 properties available, and in April, under 5,500. As for 2022, numbers were higher than the bottom that fell out in 2020, but they lag with just over 4,000 properties in March and just 5,000 in April.
Detroit's market is still sluggish, with the number of new listings in 2022 still lower on average when compared to the same period in previous years. But as experts have pointed out in other markets, it's possible things could once again heat up.