Target Or IKEA: Which Has Better Deals On Wall Art?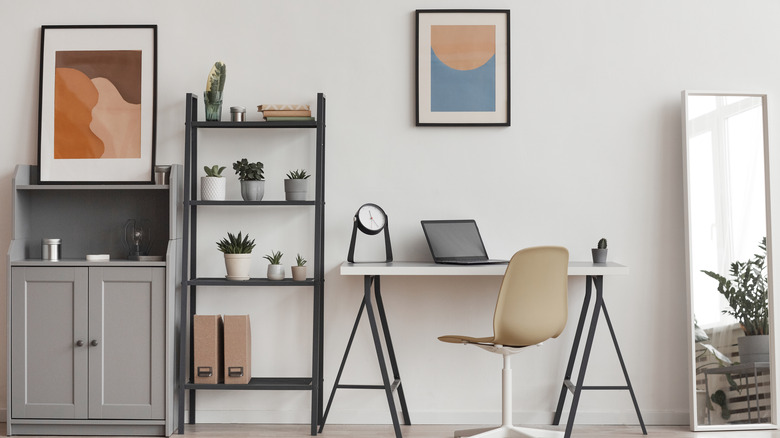 SeventyFour/Shutterstock
Both Target and IKEA are known for selling high-quality products at reasonable prices. They also have comparable selections, but where can you actually get the best prices? While you can often find great deals at either store by waiting for the sales, if you are shopping for wall art then your purchase will usually be swayed by the design rather than some kind of special offer.
When shopping for artistic home decor, there are many options to choose from. The Zoe Report states positive works of art are trending this year, along with pieces that include bright colors, affirmations, and anything that adds a joyful feel to a room. Other popular options include canvas prints, as a single or multiple pieces, and nature-inspired woven art wall hangings. To really spruce up a space on a tight budget, peel-and-stick decals are a fun option. So, if you're ready to update your walls, where should you start looking to get the best deal, Target or IKEA?
Canvas and framed art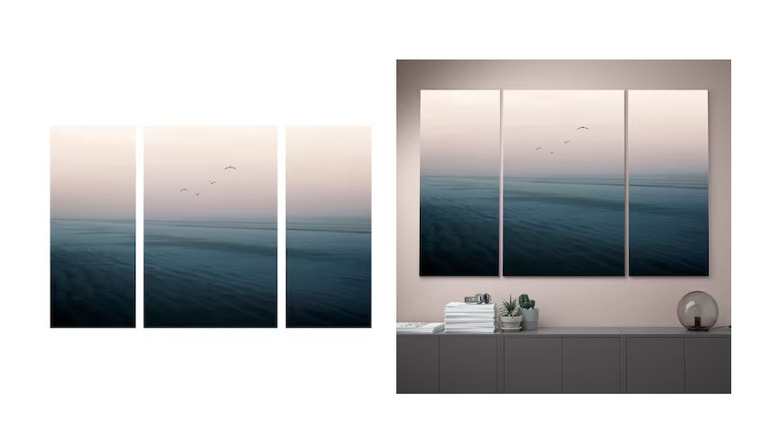 IKEA
Canvas prints are classic because they are so versatile, states Ceoworld Magazine. Whether you are looking for a design as a single focal point or a collection of canvases for a gallery, the selection of canvas prints at IKEA doesn't disappoint. This set of three ocean canvas prints by Pjatteryd is a statement piece at 72 inches in length by 47 inches high at the bargain price of $79.99. Comparatively, the 3-piece Birch Forest Printed Canvas at Target is significantly smaller at 15 by 35 inches for $142.99.
If you are looking for framed art, IKEA offers the Bjorksta, a popular print for farmhouse or BOHO styles. You can choose a black or aluminum frame for this piece depending on your style. Although you do have to assemble it yourself — a common trait for items from IKEA — it does feature the option to hang it with adhesive strips. At an impressive size of almost 47 inches by 31 inches, this option is only $59.99. A similar piece at Target is their Foggy Seaside framed wall art for $60.00. Although the price is similar, the size is not. This work of art is only 36 by 24 inches, but it does come preassembled.
Wall hangings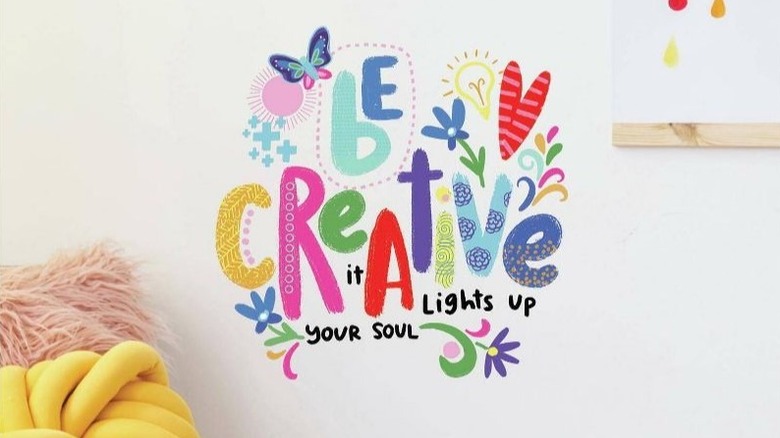 Target
There are many types of wall art beyond canvas or framed prints. The numerous possibilities include wall decals and woven wall hangings. The Gillstad set of three woven art pieces can be used alone on a small wall or combined with other artwork for a gallery wall and costs just $19.99. Ballard Designs suggests incorporating light-colored sets like this on a small wall to mimic the effect of a window. At Target, you can find this Dried Grass Decorative Wall Disk for $30.00. Although the price is higher for a single piece, it is denser and appears to be of higher quality.
Both Target and IKEA have wall decals, which can pack a big decorative punch when you are on a tight budget, but Target has a much larger selection. While IKEA only has two versions of the Vattlosa for $14.99 and $19.99, Target has options that include everything from inspirational words to decals that are nature inspired. Their Be Creative peel and stick wall decal is only $14.99 while the Whimiscal Dandelion is the perfect addition to a fun space at $21.99.