What Are Shaker-Style Cabinets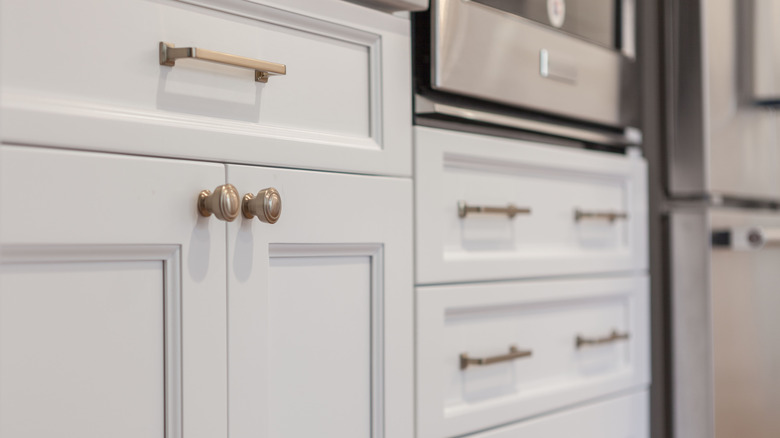 Berkay Demirkan/Shutterstock
If you are a fan of cooking shows or home makeover series, then you've probably seen a fair amount of shaker-style cabinets. Shaker cabinets have a simple and timeless style that can be found in various kitchen designs, from contemporary to farmhouse. This style of cabinet is often used elsewhere in the home for bathroom vanities and bedside tables. Homeowners are attracted by their clean lines and versatility as well as their affordable price, explains Evie Willow.
If you're looking to remodel your kitchen, choosing shaker-style cabinets will put you in good company. According to a 2022 report by Houzz, shaker-style cabinets are by far the most sought-after in kitchens. The study reports that 64% of remodels (up 8% from the year prior) opted for shaker-style cabinets as opposed to flat-panel, raised-panel, or glass styles. So, what makes a cabinet shaker-style, and what are the pros and cons of using them in your home?
Shaker-cabinet style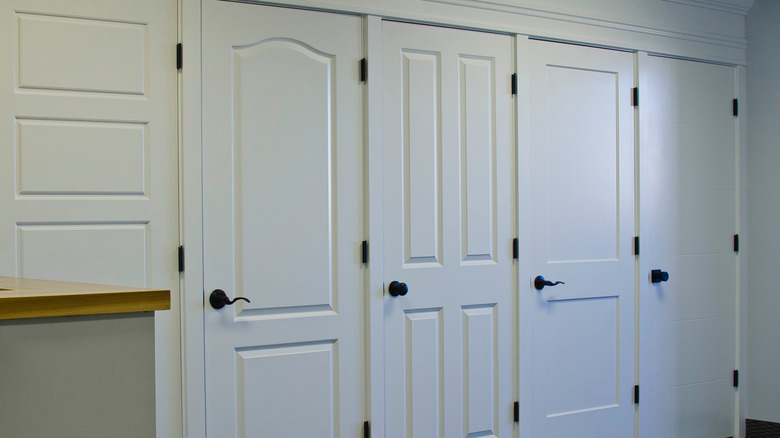 Bric Anderson/Shutterstock
Shaker-style cabinets originate from English Quakers who settled in the U.S., explains CabinetDoors.com. This group strove to be modest and self-sufficient and valued simplicity, high-quality designs, and durability. Their cabinetry features a clean look that stands the test of time as a universally popular kitchen choice. Wolf Home Products describes shaker cabinets as raised, continuous rectangles surrounding a smaller rectangular recessed center panel. In modern adaptations, the inner recessed panel can also be replaced with glass for those who want a mix of materials or showcase display items.
Additionally, the clean lines of shake-style cabinets can be dressed up with beading along the inner seams. As for hues, shaker-style cabinets are commonly seen in bright white, but many color options exist. Along with the most popular colors, which are white and light grey, natural wood cabinets provide a traditional aesthetic, while more trendy colors like navy blue, green, and red are popping up everywhere. Mixing shaker-style cabinet colors is another trend gaining traction, as noted by the Houzz kitchen study.
Shaker-style cabinets pros and cons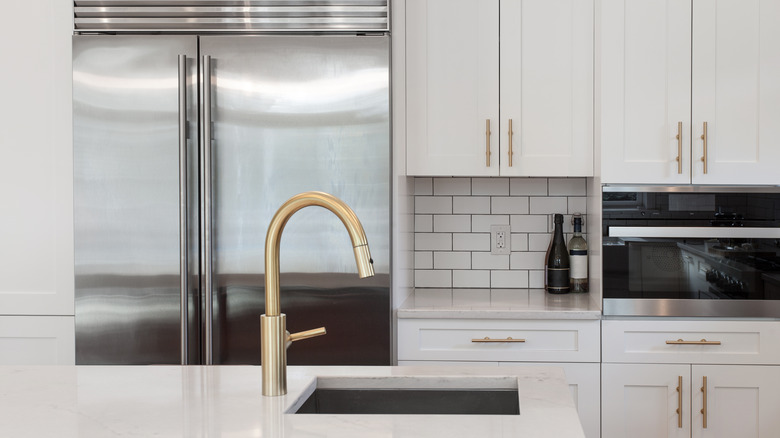 Berkay Demirkan/Shutterstock
Along with the price point, there's a reason why shaker-style cabinets are so widely appealing. The simple, enduring design has been adopted into nearly every popular kitchen style. Shaker cabinets look just as pleasing in a modern kitchen as in a more traditional one. The cabinetry's clean lines also make choosing hardware easy; most types of knobs and pulls look great on them. And since shaker cabinets are so popular, there's a better chance they will appeal to potential buyers if you decide to sell your home, explains O'Hanlon Kitchens.
One downside to shaker cabinets is the extra cleaning needed when compared to flat-panel cabinets. Like any cabinet that has detailing, dust and kitchen grime will collect in the grooves. If your kitchen has many cabinets, be prepared to dust them all regularly. With that in mind, styles that are more ornate than shaker-style cabinets will require even more attention. Finally, since kitchens sell homes, the simplicity of the cabinets may not appeal to buyers looking for a more high-end or ornate look.