How Much Does A Full Kitchen Remodel Actually Cost?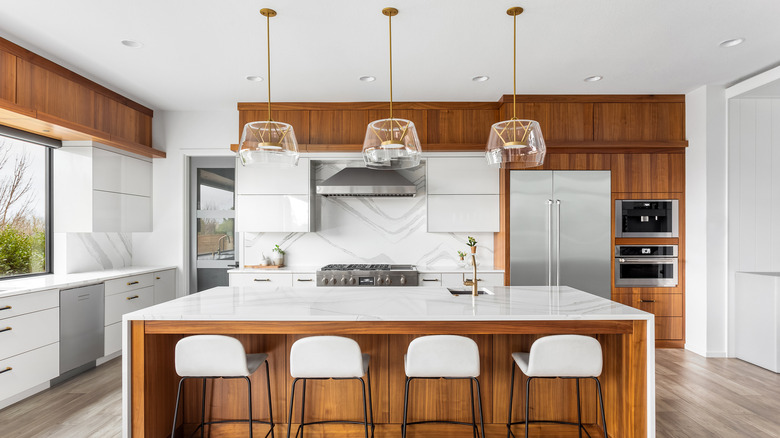 Breadmaker/Shutterstock
The kitchen is one of the most visible areas of the modern American home. Property owners tend to have big plans for this space, but challenges often thwart them. It's easy to see why: The average home in the United States is 37 years old, but this figure soars to 57.5 years in the Northeast, via Buyers Ask.
While this is truly the key to understanding the homeowner's fascination with kitchen remodeling, other critical factors rear their head. For one, Homes & Gardens inform that the modern host desires an extra kitchen, dubbed a dirty kitchen, so the primary kitchen stays picture-ready. The New Yorker also laments a trailing off in the overall love of cooking due to the busyness of everyday life; and how, perhaps, a renovated kitchen could re-inspire this declining art form. Finally, older kitchen styles that don't support modern utilization needs and the cold calculation of scheduling constraints make for a cadre of Americans who dislike the art of cooking, with 50% of respondents of a recent study stating that they hate cooking, according to Harvard Business Review.
Forbes Advisor estimates that the average comprehensive remodel costs around $25,000, with figures ranging from $5,000 to around $60,000. A new kitchen can incorporate many unique features, and you may have to work with a professional to plan out the cabinetry, storage spaces, counters, and any new features that fit your vision. Now, let's see how much a full kitchen remodel costs!
Factors for cost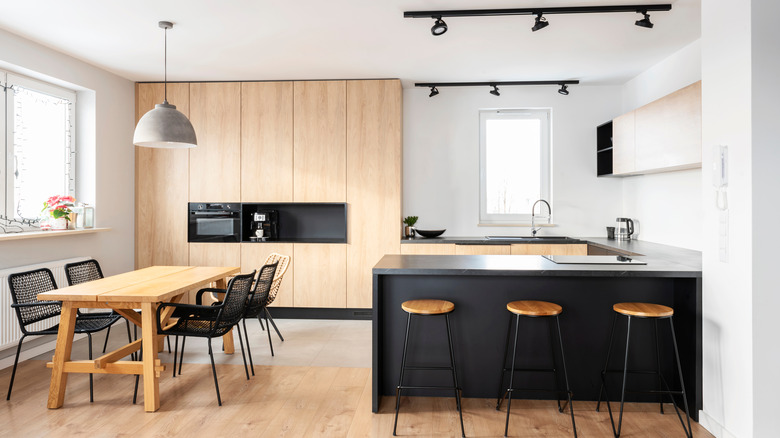 liloon/Shutterstock
The National Kitchen and Bath Association (NKBA) reports that the total spending on kitchen upgrades and renovations alone tallied more than $67 billion in 2015. Almost half of those renovations were complete makeovers that cost more than $15,000, via Architectural Digest.
Even though a complete kitchen remodel provides the opportunity to leave your mark on the property, it demands a substantial price tag and significant groundwork. You must first create your budget, determine financial options, and conduct extensive research to identify the best materials and layout selections that make sense for your needs and finances. For budgeting, Forbes Advisor reports an industry standard of around 10% of the total value of your home as a quality baseline.
Cabinets are the primary spend category in a kitchen remodel
The Forbes team estimates that cabinets make up around 28% of the overall remodeling budget. These installations are essential to building a functional and aesthetically pleasing kitchen that will add joy to your life.
Kitchen Infinity informs that the homeowner has the power of choice, and perhaps the most critical is choosing between a prefabricated or custom-built cabinet space. According to them, prefabricated options typically start around $70 per linear foot, while a custom job circles around $500 per linear foot. Though this might seem like an easy decision, it is imperative to deliberate on the options to create a kitchen that befits your family.
Regardless of the overall construction option you select, this won't be the only decision to make in the cabinet installation. Family Handyman reports that six styles of cabinets dominate the market: Shaker, with simple, flat-paneled doors; Craftsman (Mission) incorporates tongue-and-groove joinery; Flat-Front (Slab), a style that uses a frameless-single board on the doors; Beadboard, a style using vertical paneling with natural beading; Handle-Free, a self-explanatory cabinet that makes use of a lip, push function, or groove to operate the opening and closing; and Raised-Panel (Traditional), which follows the conventional center panel style.
Furthermore, homeowners must select a base material like solid plywood boards, MDF, or particle boards. These can balloon or reduce the budget, depending on current market pricing. Lumber costs are declining in the current marketplace after two intense surges in mid-2021 and early 2022, but remain heavily inflated over the long-trending average (down about 27% — as of late April 2022 — but double the typical price trending over both the last 10 and 25 years, via Trading Economics).
Flooring and countertops account for the second-highest value points of focus
After selecting cabinets that check style and functionality off your list, it's time to match these installations with the hard surfaces that contribute to the visible components of a kitchen. Countertops and flooring combine with the cabinets to create a quasi-decorative effect that allows complete functionality rather than decorative flair.
Flooring options in the kitchen are typically hardwood, tile, and laminate, but countertops ziplines through diverse materials and styles (via The Spruce). While the most popular tile choices revolve around the same elements, countertops run the gamut and will likely take longer to finalize. The Spruce offers a dedicated guide to the selection and installation of granite countertops, which often add considerable value to the property all on their own.
Granite is quarried in huge slabs, and countertops built with the material become a unique, premium product. The experts install granite as either a no-seam, single unit, or with minimal connectivity of separate pieces around tight or otherwise tricky corners. Stone countertops are another favorite, and one of the most popular alternatives to the luxury and staying power of granite is quartz, which typically rings up at a lower price point, according to Bob Vila. It sells at $70 to $100 per square foot, plus installation, versus the $60 to $270 per square foot of the average price tag of a granite slab. This price discrepancy arises from several factors, but the most critical is the natural availability of quartz stone in the United States, unlike granite which is much scarcer worldwide and often mined in South America or Asia.
When it comes to the tiles that will adorn your new kitchen, Rubi suggests considering the PEI rating system and basing your decision on the level of typical daily usage. A PEI 1 rating, for instance, is perfect for wall tiles, while PEI 3-rated tiles are an excellent choice for most residential kitchens. Note that PEI 5 is the most durable option for industrial flooring installations.
You can also use titles to create stylish splashbacks behind the cooking surface. They are easy to clean and often crafted from various materials, from slate and marble to man-made fabrications that employ porcelain and ceramics, via Real Homes.
Appliance installation, lighting, and finishing touches will make your kitchen functional again
To bring the new kitchen together, you'll need to complete the project with lighting and appliances. Whether you're installing a new refrigerator, stove, and dishwasher to complement the other novel elements of the room or are returning old appliances to the space, you'll need to remove and then reinstall most, if not all of these elements.
Angi informs that homeowners can expect a price tag of around $400 to $700 for a new dishwasher and between $1,000 and $2,000 for a new refrigerator. Similarly, new garbage disposal averages $161, according to HomeGuide. HomeAdvisor also estimates an installation cost of around $100 to $300 for each appliance requiring professional installation.
For high-quality light fixtures, Lumens provides a detailed foundation for exploration. Adding light fixtures beneath your wall-mounted cabinets, a chandelier as a statement piece or flushed or recessed lighting for a more modern and subdued feel can transform the atmosphere. HomeAdvisor estimates the U.S. average cost per light fixture at $533, but this can range from $153 to just over $900, depending on the type of light and potential ease or difficulty of installation.
Additional costs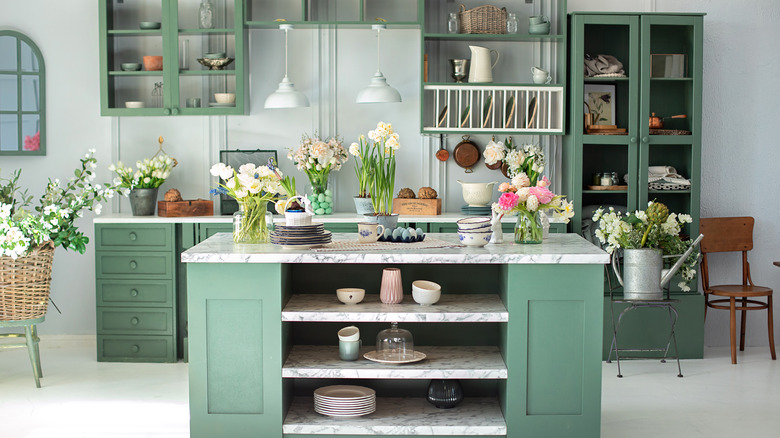 stock_studio/Shutterstock
Adding to the typical expenses associated with a kitchen renovation, consider the following additional costs.
Labor expenses can eat up a large chunk of your budget
Forbes Advisor estimates that the average labor and installation charges on a complete kitchen remodel can consume 18% of your total budget, plus an additional average cost of $4,200. With this hefty price tag, it's a good idea to work with a professional outfit that can deliver. Investing this much time and money into a carpenter or contracting a team that doesn't make themselves available to chat about the project, isn't transparent throughout the installation, or continues to miss deadlines can impact your timeline and mental state.
Plumbing changes may be required to facilitate new installations
Homes that are upgrading their kitchens may require the specialized services of a plumber to facilitate the new layout or incorporated appliances. In the U.S., for instance, 68% of households include a dishwasher (via U.S. Energy Information Administration), meaning that a kitchen upgrade may bring one of these appliances into the fold. But the Department of Energy finds that 20% of those households only run the appliance once a week. Therefore, evaluate your needs and only install kitchen appliances that provide value to you.
Either change will constitute a reworking of the kitchen plumbing system, and hiring an expert is the best option. Angi reports a standard hourly rate between $45 and $200 for plumbing services.
Heated floors, specialized lighting, and painting tasks can make the difference in a new kitchen.
Many homeowners are making the leap from a simple kitchen to one that includes bespoke upgrades that will take the kitchen experience up a notch. Premium amenities like heated flooring, under-cabinet lighting to illuminate the workspace, custom painting, and other nuanced decorative elements can make the kitchen really stand out.
A kitchen floor that incorporates this upgrade can be a unique selling point in the future or ideal for the early bird. Getting ready for a long and busy day in the dead of winter can be distressing, but with heated floors to provide warmth and comfort, you might change your perspective about the chilly season. HomeServe estimates the price for hydronic and heated-air systems at $10 to $16 per square foot and $14 to $20 per square foot, respectively, with a typical bathroom installation cost of around $600.
The DIY option is possible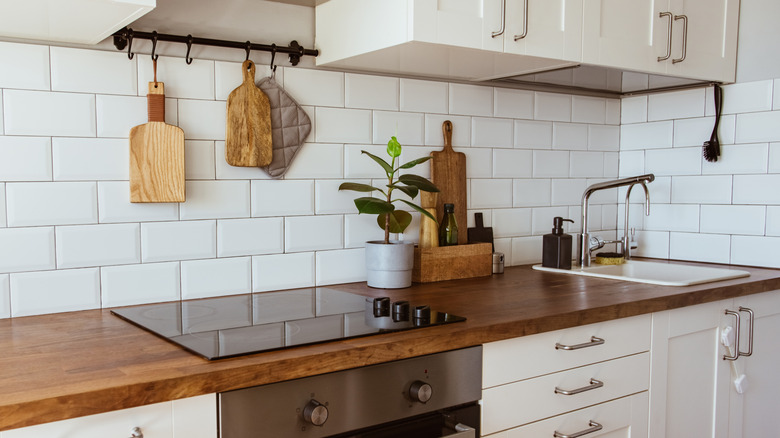 Katrina Era/Shutterstock
One option that's always available to homeowners is the DIY avenue. There are many excellent guides and videos on the internet that can help you tackle a kitchen renovation without the help of a professional team. But note that most people engaging in a kitchen build on their own have vast construction knowledge and a background in kitchen-specific fabrication.
DIY YouTube videos can be an excellent resource
The I Like to Make Stuff channel on YouTube is a great example: The host and creator, Bob, has been engaged in carpentry, general construction, and metalworks for years, and his expertise shows. Bob's channel contains many excellent videos that can help you launch your kitchen remodeling project. However, it's important to note that he outlines the massive volume of work DIY kitchen remodel requires.
To DIY or not to DIY: It depends on your patience and skills
Conducting a kitchen upgrade on your own is a grueling task, but for those who are well-versed in woodworking and other carpentry tasks, the sweat equity might be worth it. Homeowners who work in related fields will be well aware of the time it takes to perfectly sand down each side of a cabinet installation and the precision required to attain symmetry in the construction and installation processes.
If you're someone with the skills, patience, and time required to DIY the project, this avenue could save you thousands of dollars on labor and installation costs. However, it's also worth noting that a variety of equipment is necessary to finish this job. You may need dozens of sandpaper pads for an electric sander, a table saw, a miter saw, and drilling and driving tools.
Kitchen layouts to consider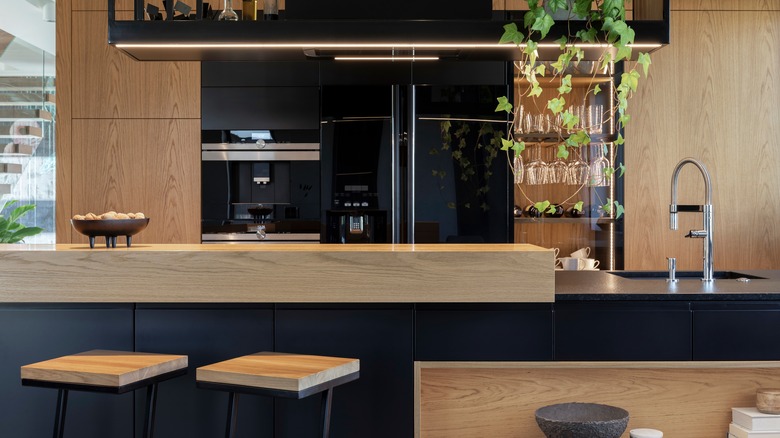 Followtheflow/Shutterstock
There are countless ways to layout a new kitchen, but many homeowners opt to stick with a few battle-tested designs that prioritize functionality and form.
The island and edge pieces
One of the best options for a kitchen with a spacious interior floor space is to install an island, according to Real Homes. Homeowners with a square or rectangular kitchen footprint might consider minimizing the depth of their cabinets and countertops to build a central island space that can serve many different functions at once. In fact, some homeowners install their cooking surfaces or even a sink on the island so that the primary feature of the kitchen revolves around the most-used components of the space. Extending the area into a more rectangular zone can add a feeling of openness. Kitchen islands also make for a functional barstool seating area to complement the look and feel of the entire space.
Galley kitchens are a great way to expand the utility of smaller cooking spaces
Design experts often add a galley kitchen to smaller spaces. They maximize efficiency and can produce a highly constructive working space for those who love to spend time preparing fantastic meals for family and friends. Galley kitchens are typically laid out with space-saving in mind and bring everything you might need within arm's reach of the central standing area.
One-wall kitchens save space and can act as a stylish and modern transformation
A one-wall kitchen, Grundig says, is also great for smaller spaces. This design places all the relevant amenities of the kitchen against a single wall. It can work well in a studio layout or as a dedicated room in a home or apartment for those seeking to minimize their footprints in the kitchen. These kitchens stack cabinet space vertically and place a premium on hanging storage and other modern touches (like a range hood over the stove, via Den Garden) that maximize efficiency across cooking and cleaning surfaces.
Why you might need a new kitchen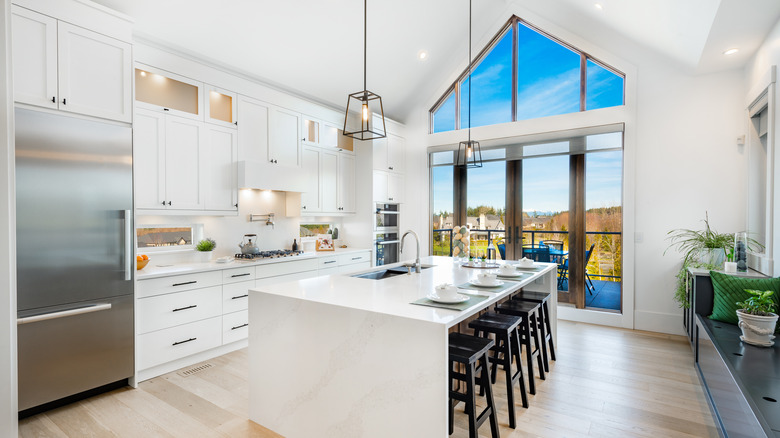 Sheila Say/Shutterstock
Reimagining your kitchen space can provide tons of inspiration as you work to incorporate new meals into your daily routine. Those who have regained a love of cooking through the coronavirus pandemic are more likely to consider a kitchen remodeling.
It encourages home cooking 
Americans overwhelmingly appear to be poised for a continuation of home cooking after pandemic-era mandates and public health measures subside at 92% of U.S. families, according to Supermarket News. The same can be said for the French population (via ScienceDirect) and likely many others across the globe. While sentiment surrounding cooking at home has been in steep decline across recent years, with only 10% of Americans suggesting that they enjoy cooking in 2017 (via CNBC), this has been changing lately.
Ladders report that many U.S. consumers are interested in cooking, but only think they can create a single standout dish; while requiring a cookbook to make an average of five independent dishes. The pandemic has changed the way people see food and food preparation for the better, and with a newly renovated kitchen, you can build a comfortable and supportive environment that helps you realize your passion for great food and wholesome, home-cooked meals.
Benefits of a new kitchen remodel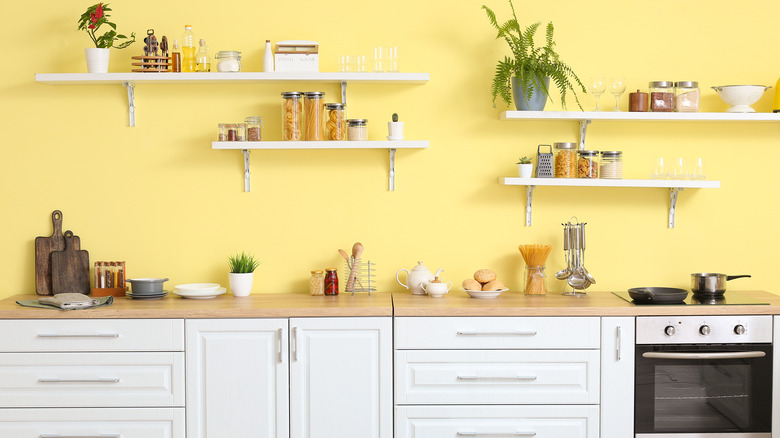 Pixel-Shot/Shutterstock
A new kitchen can boost the energy and atmosphere of the home, and many homeowners find that selling real estate that sports an older kitchen can be a frustrating challenge.
Lifestyle evolution is a part of modern homeownership
Homeowners are spending more these days on renovations and improvements than any time in the last decade — the most in aggregate since 2007, according to Harvard University's Joint Center for Housing Studies. This is likely due to a combined rising age among first-time buyers and an elongating timeline in any particular property, according to The New York Times. The former currently clocks in at 13.2 years and up from 2012's 10.1-year figure.
Today, homeowners are seeking ways to transform their homes to match their evolving needs. The kitchen is one of the most visible spaces in any property, so focusing on this area can offer a simple path toward reimagining your home as a space that facilitates happiness and utility for you and your family.
The fiscal value lies with kitchens in abundance
According to Moving.com, kitchens play a significant role in making a property feel either fresh or out of touch. These gut reactions to a home can dictate how prospective buyers view and engage with the property as you work to sell and move into a new space that better fits your desires. Kitchen remodeling is the third most popular home improvement undertaking, via The National Association of Realtors.
Remodeling the kitchen with modest improvements can be an intelligent approach to preparing your home for the marketplace if you're only looking to sell the property and move on.
A new kitchen can transform your outlook on the home and the lifestyle you lead. A renovation of this part of the home is often a substantial undertaking, but it can pay dividends for many years to come. For instance, Ramsey Solutions estimates that a moderate renovation project, averaging a total budget of around $21,000, brings in value an addition of 81% return on investment.
Fortune Builders calculates the ROI for this same modest kitchen upgrade at 98.5%, while a more all-out transformation returns an average of 91% ROI. Of course, every local marketplace will bring its quirks and intricacies to the real estate transaction within its scope, but the data points to kitchens as one of the most lucrative focal points of renovation for those seeking to increase the financial value of their property.