Interior Designers Reveal How To Incorporate The Hygge Trend In Your Home - Exclusive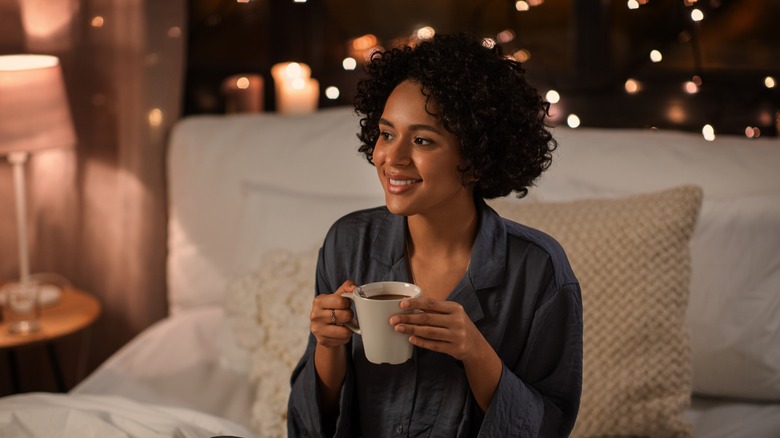 Ground Picture/Shutterstock
When the temperature drops in the fall and winter, you spend more and more time indoors — and you likely want your space to feel cozy and comforting. That's precisely why the concept of hygge has become a trend taking the world by storm, moving far beyond the boundaries of Denmark where it originated.
If you've never heard of the term, as Visit Denmark explains, it roughly translates to "coziness" — although that's not all it is; hygge is more than adding knit throw blankets to every room and turning on your fireplace (although those things certainly help to cultivate a lovely ambience). Rather, it's about creating a whole environment of warmth and softness through intentional choices with your surroundings. And, while hygge is something that can easily be incorporated year-round, the cooler months are particularly well-suited to adding hygge décor touches wherever possible.
Not quite sure where to start? Don't worry — we've got you covered. In an exclusive interview with House Digest, Véronique Savard, partner at SGD A Architecture + Design, and Clémence Fraisse, Graphist and Digital Strategist at the same company, gave five fantastic tips for incorporating the hygge trend in your home. Start adding in elements now and by the time there's snow on the ground, you'll be hunkered down in an impossibly cozy haven.
Punctuate with cushions and textures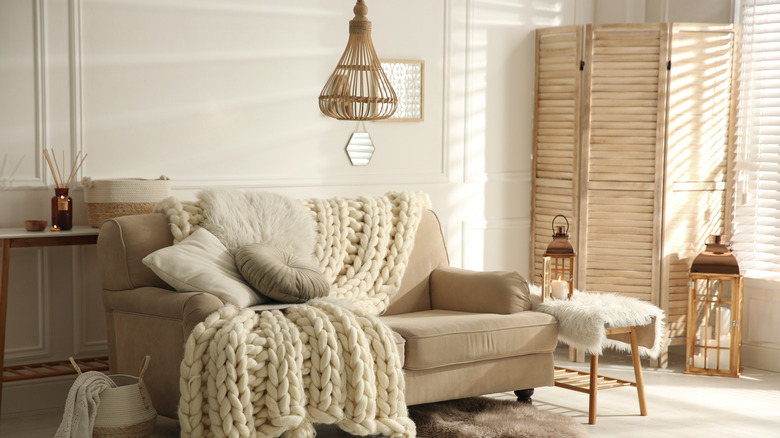 New Africa/Shutterstock
There's a reason that soft items are often the first things that come to mind for many people when thinking of hygge décor — they make a huge difference in the overall ambience of a room. "Blankets and cushions are essential in any hygge household, especially during the very cold winter months," Clémence Fraisse and Véronique Savard explain.
While you should definitely make selections based on what fits your home's overall aesthetic, especially when it comes to textures, you want to aim for pieces that are comfortable and that feel good to snuggle up with. So put those scratchy linen pillows in storage for a few months and swap in some cozy fabrics and textures such as flannel, faux fur, and velvet. "Just add a few cushions or a very comfortable seat, soft lighting, maybe a plaid, and you will have your own zone where you can enjoy a good book with a drink or cup in hand," Fraisse and Savard continue.
Though you can do this anywhere in a room that you deem suitable based on the existing configuration of furniture and architectural features, the duo do have one particular suggestion. "Your area doesn't need to be near a window, but it does give it an extra hygge element," they add.
Swap natural lighting for cozy ambient lighting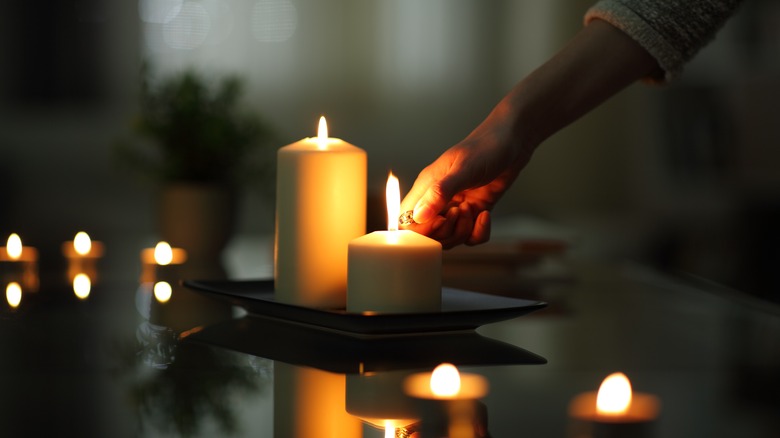 Pheelings media/Shutterstock
In the summer months, you open your curtains and blinds and let the natural sunlight fill your home for the majority of the day. During the cooler seasons, however, the sun sets a lot earlier — and your late afternoon-to-evening routine likely involves turning on the lights throughout your home to illuminate it.
You don't have to change out all of your light fixtures or lamps to maximize hygge this winter, though — instead, incorporating hygge touches involves adjusting the light temperature. "The general rule is the lower the light temperature, the more hygge it is," advise Clémence Fraisse and Véronique Savard. "A camera flash is about 5,500 kelvins (K), incandescent lamps 3,000K, while the setting sun, the flames of an open fire, or a candle occurs at around 1,800K — that's where the hygge is." Consequently, you may want to swap out some of your light sources for options with lower Kelvins. "For the Danes (country master in the art of hygge) candles are the main element to create a relaxing atmosphere," Fraisse and Savard continue. "Don't hesitate to light four or more." 
Finally, hygge dictates that each room should have a diversify of lighting. "Often, several small lamps placed all over the room create a much more hygge light than a single source hanging from the ceiling," add Fraisse and Savard. "If you are lucky enough to have a fireplace, light it."
Bring nature into your space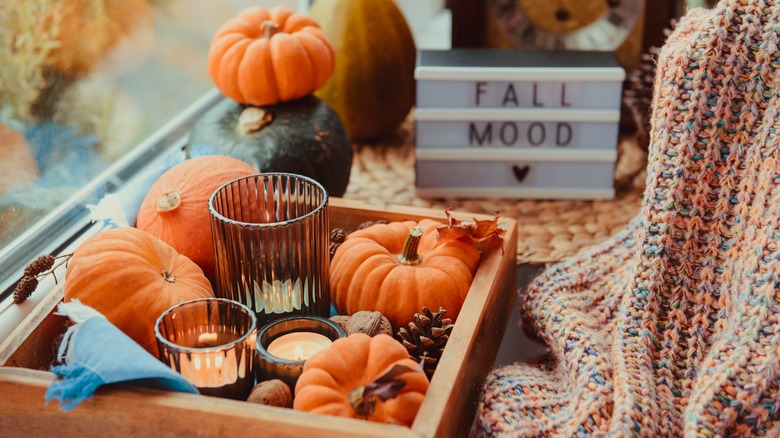 Okrasiuk/Shutterstock
Though cooler temperatures may dictate you keep your windows shut and spend less time outdoors, that doesn't mean you should ignore nature entirely. "Hygge is also bringing nature home," say Clémence Fraisse and Véronique Savard. And, though you might not receive quite as much natural light as in the summer, that doesn't mean you should just draw your curtains shut and be done with it — views of a snow-covered landscape, even if it's just of a street lined with cars, can be wonderfully cozy when you're all bundled up indoors.
You can incorporate nature "with natural objects that you can unearth in the forest (leaves, nuts, twigs)," Fraisse and Savard suggest. "It's simple and natural, just like the concept of hygge." If you're able to find these pieces in the actual woods, even better. However, if you don't live in an area abundant with these types of things, there are plenty of dried versions available in craft stores and décor shops.
Not only are natural objects such as the ones Fraisse and Savard recommend beautiful décor pieces in their own right, but the presence of such items can also help to create a certain ambience in your space. "Wherever you are, sitting by the river in Sweden, among the vineyards in France, or just in your garden, the presence of nature makes you lower your guard and adds a certain simplicity," they continue.
Go vintage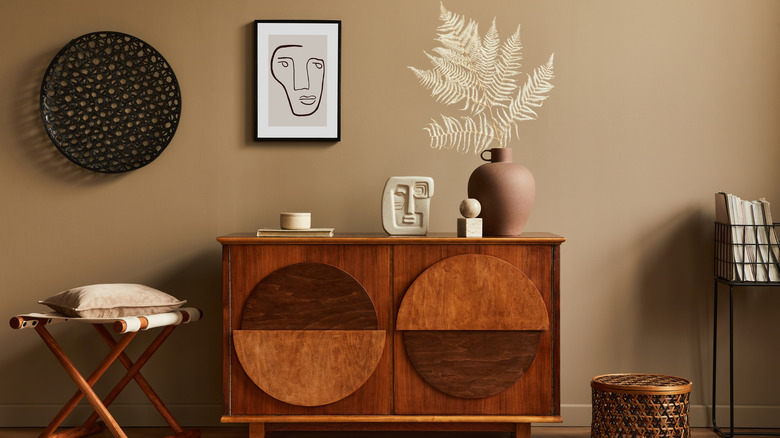 Followtheflow/Shutterstock
Given how intertwined the concept of hygge décor is with Scandinavian design, thanks to its popularity in Nordic countries, you might assume that any hygge furniture pieces will have to come from boutiques or stores that specialize in that aesthetic. However, as Clémence Fraisse and Véronique Savard outline, that's absolutely not the case — in fact, they highlight that you don't have to break the bank when looking for new pieces to amp up your hygge décor. "You can find everything you need to create a cozy home in a vintage shop, and the fact that all these objects have a story makes them even more interesting and hygge," the duo explain.
As for the types of pieces you should be seeking out, they don't have any particular rules of thumb — the one thing they recommend is that you not overlook an incredible item simply because it needs a little TLC to bring it back to its full glory. "Let yourself be seduced by an old lamp, chair, or table that tells a story — and why not restore certain pieces of furniture to write their story?" Fraisse and Savard continue.
With any kind of vintage shopping or thrifting, consistency is the name of the game — so, you may want to start poking your head into a few shops on a regular basis, as you never know when you'll find that perfect piece that completes a room in your cozy hygge home.
Above all, be present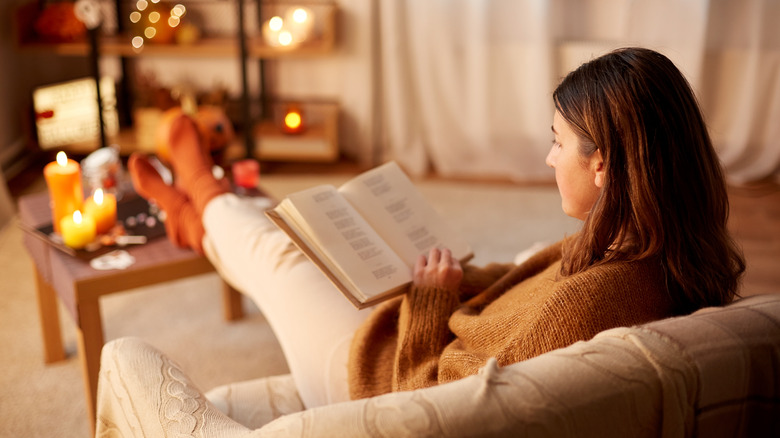 Ground Picture/Shutterstock
While you're busy considering all the hygge décor pieces you can use to transform your space, perhaps making a list of certain items you want to buy, just keep one thing in mind: At the end of the day, those elements are just things. "Having all the design elements and creating your interior is one thing, but above all the concept of hygge is a state of mind," Clémence Fraisse and Véronique Savard reveal.
Therefore, as you transform your space, you may also want to take some time to transform yourself. After all, what good is it to incorporate all kinds of hygge elements in your home if you're too busy to actually sit down, enjoy your surroundings, and recharge a bit? "You have to be in a place of relaxation and disconnection yourself; be in the present moment," advise Fraisse and Savard. "Turn off your cell phones, surround yourself with the people who are dear to you. Chat over a hot drink or just enjoy in silence. It is these moments and these memories that will make your refuge a hygge bubble."