Are Wooden Countertops Going Out Of Style?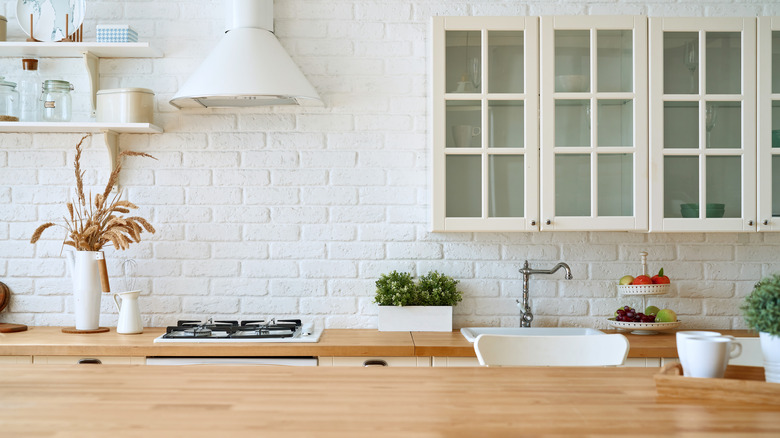 Tanya Sid/Shutterstock
Designing your kitchen can be one of the most exciting aspects of home restoration. Once you nail down the inspiration for your space's design after spending countless hours scouring Pinterest, Instagram, and your favorite design magazines, it's time to get to work. After selecting your cabinetry and flooring, it's time to think about countertops. While there are many options to consider, some popular choices include quartz, tile, marble, and of course, wood, better known as the classic butcher block style, according to Lily Ann Cabinets.
Wooden countertops have been around for years — and while we love following design trends at House Digest, you may wonder if this classic countertop is going out of style. Keep scrolling to see what the design experts say about this trend! One of the best things we happen to love about this countertop type is that it is one of the most cost-effective, and you can go with different kinds of wood, per HomeAdvisor, which is excellent to know. Keep scrolling to see if this trend is here to stay!
This style is hot for 2022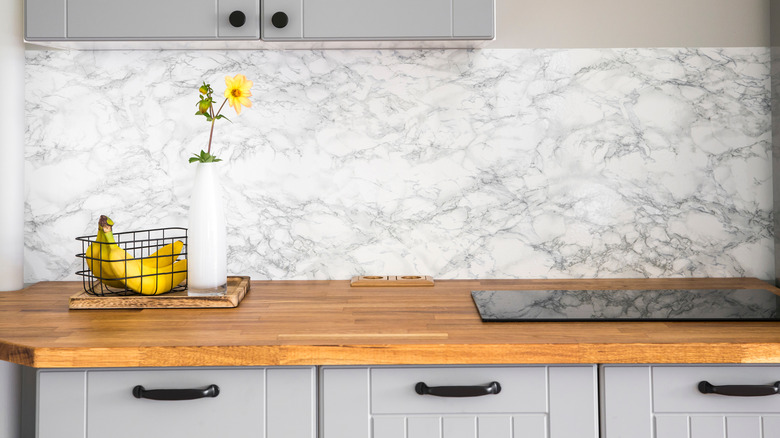 FotoHelin/Shutterstock
Butcher block countertops are here to stay and still a timeless trend to consider this year — and beyond! We happen to love how natural and classic this style looks in the kitchen. Per U.S. News, the popular wood choices for this eco countertop are generally hard maple, teak, birch, or walnut.
According to Fixr, wooden countertops like the butcher block style can be created using different types of wood that go with just about any design style. The outlet notes that the cost of getting wooden countertops is generally around $30 to $280 a square foot, so this option is excellent if you're looking for something more affordable and classic for your kitchen's design. We love to point out that countertops made of this eco-friendly material also look beautiful in almost any kitchen design, too, whether your space is ultra modern or going for a more rustic aesthetic.
But what are the pros and cons?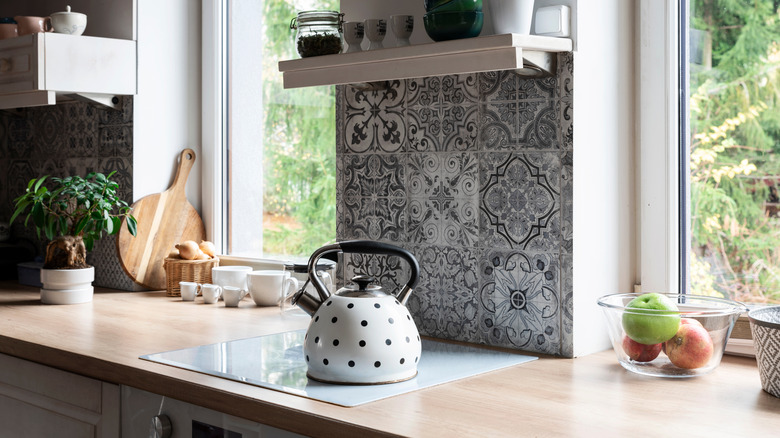 liloon/Shutterstock
Prudent Reviews explains that wood countertops are an elegant choice and environmentally friendly, which we think is an attractive point. Plus, if a homeowner doesn't want the wood look throughout their entire kitchen, they can also use other materials, including marble or quartz. Forbes Advisor notes plenty of pros when it comes to installing wooden countertops, from being a versatile design choice to being a durable option. In addition, the outlet notes that if they are taken care of properly, they can last a homeowner as long as 20 years, which is pretty incredible.
However, there are a couple of cons to consider, too. Some of the downsides include the possibility of the wood warping or drying out, being prone to easily scratching, and not being able to have hot pots and pans placed on them. Still, since the cost is affordable, we think these countertops are an excellent choice for those on a budget since they can go with many different styles.