The Real Reason Quartz Countertops Are Better Than Granite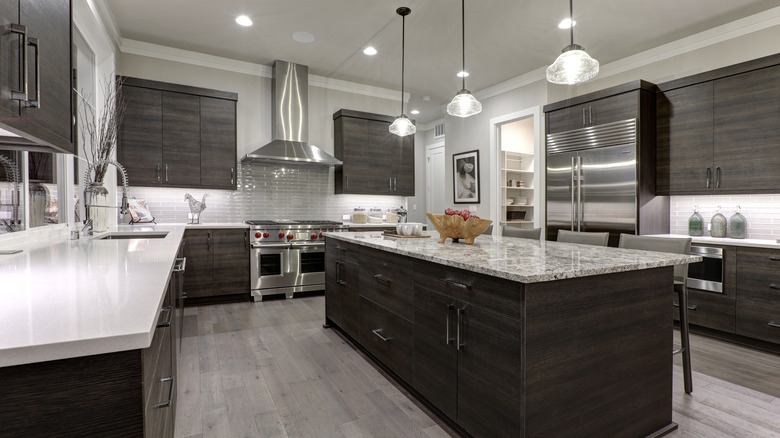 Shutterstock
When renovating your kitchen, planning the design and all of the components is pretty exciting. You may have been looking at Pinterest and know just what you want when it comes to cabinetry, hardware, appliances, and lighting fixtures. But there are many difficult decisions that you may not have given much thought to, like countertops. Granite and quartz are pretty popular materials, and there's much to know about them before choosing which will work best for your budget and taste.
Notably, the price can differ drastically based on the materials you decide on and how much square footage is used when installing. On average, countertops can be a significant expense, costing $1,500 to $4,500 to install kitchen countertops, according to Fixr. So if you're planning a huge kitchen island, you may want to reconsider if cost is a significant factor. According to HomeAdviser, granite can cost between $2,000 and $4,500 to purchase and install, while quartz can set you back between $1,500 and $12,000.  
If you've narrowed down your kitchen countertops between quartz and granite, you may be wondering what the differences are and which is better. According to HomeLight, granite is all-natural, while quartz is about 90% natural quartz, with the remaining 10% containing polymer resins. (Not too shabby, if you ask us!) If you have planned to go with quartz, this is the real reason why it may win the kitchen countertop dilemma. 
Quartz may be a better choice for your kitchen countertops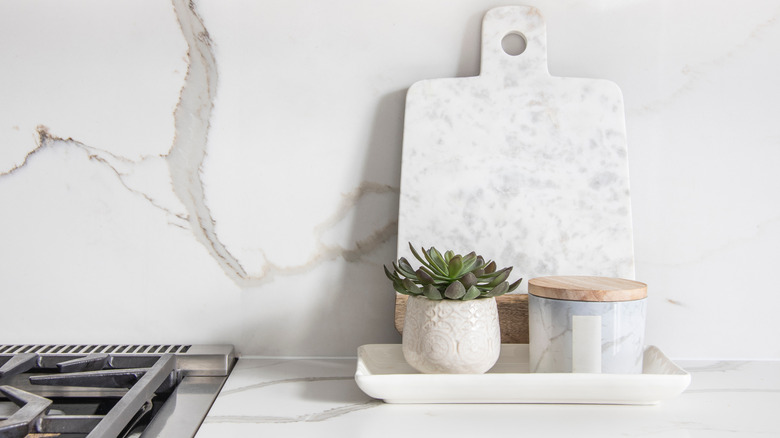 Shutterstock
BobVila noted several benefits to choosing quartz over granite. In addition to lower cost, quartz is impervious to stains and seeping moisture, which is a biggie. Unlike granite, the outlet pointed out that quartz doesn't need sealants and is non-absorbent. The Spruce reported that because quartz is engineered, it has more consistency for color and pattern, so it is a matter of preference depending on the look you are going for. But, the real reason why you may want to choose quartz over granite? The Spruce pointed out that quartz is more durable, which is the number one reason you should choose it as a countertop for your kitchen prep space. 
When most people upgrade their kitchens, beautiful finishes may play second fiddle to durability — especially when scratches and stains happen so easily on countertops. Still, with quartz, you don't have to. In addition, the outlet pointed out that since quartz is engineered, it can be more eco-friendly than granite. "Quartz is a natural material that bears a resemblance to marble — you'll get variation and veins, aka the stuff that makes people oooh and aah — but with much more durability," Jessica Geller of Toledo Geller Interiors in Englewood, New Jersey confirmed to Realtor.com. Plus, the bacteria factor is also important. By wiping down this durable countertop daily with soap and water, it can be free of bacteria up to 99.9%. So in our book, quartz is a winner!