20 Shed Bar Ideas That Are Perfect For Your Inner Hostess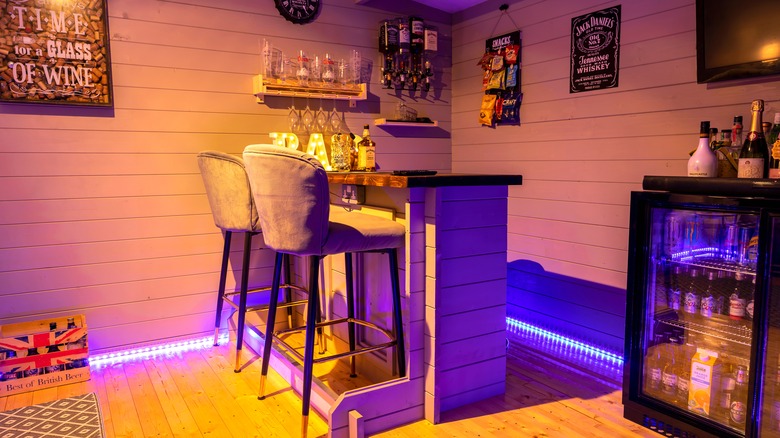 Kev Gregory/Shutterstock
A shed can be an essential storage option for any backyard, but that doesn't mean you can't think outside the box and use it as something other than the spot to house your gardening and lawn tools. While we love the idea of having a she-shed to get away from it all or even a small backyard office, creating a shed bar would be the ultimate use of the space if you ask us! You may even find that your friends and family prefer to spend a night in your backyard bar instead of going out to one with expensive drinks and loud music. 
Post Woodworking explains that a bar shed is an excellent way to bring family and friends together, making it an easy spot to grab a drink while enjoying the backyard. According to Homestead Structures, it's all about your creativity regarding this type of shed. Homeowners can create an ultra-luxe space with seating and all of the bells and whistles or a concession counter for a quick cocktail.
If you're looking to create a shed in your backyard oasis, keep scrolling! We have 20 shed bar ideas that are perfect for your inner hostess.
1. A light purple hue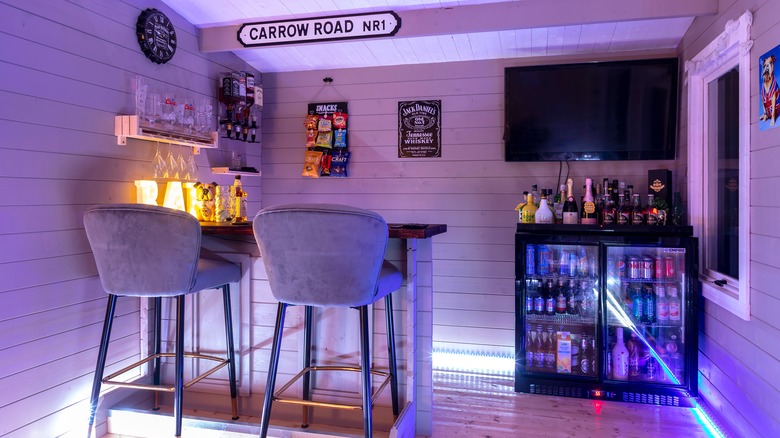 Kev Gregory/Shutterstock
This tiny bar shed is perfect for two people to enjoy a night out in the backyard. It has a fully stocked bar and the prettiest light purple lighting.
2. Add an awning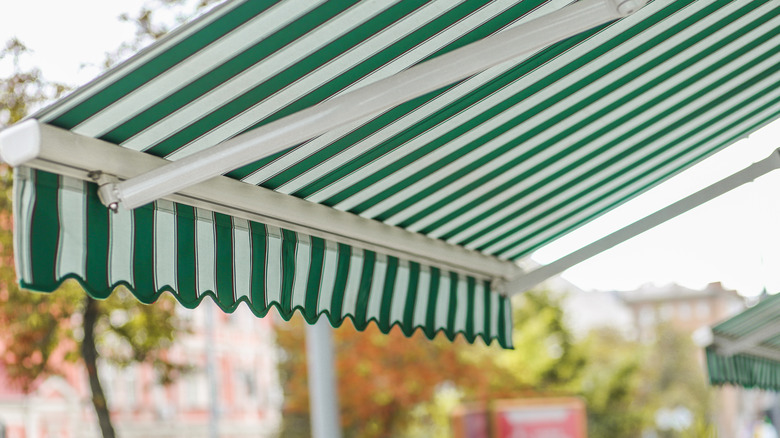 Mi Pan/Shutterstock
We love this green and white striped awning that you can add to your pub shed, which can help shield it from rain while also looking cute.
3. A well-lit hang out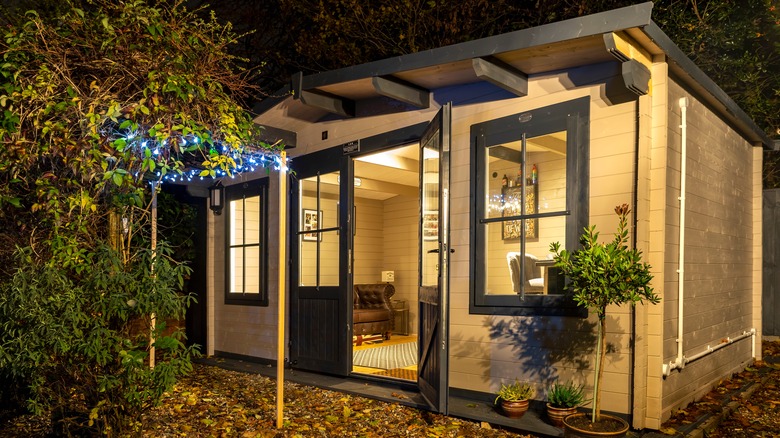 Kev Gregory/Shutterstock
This beautiful shed bar is in the style of a typical craftsman-style home. It has a bar area with plush seats and a dark leather tufted couch for relaxing.
4. Double duty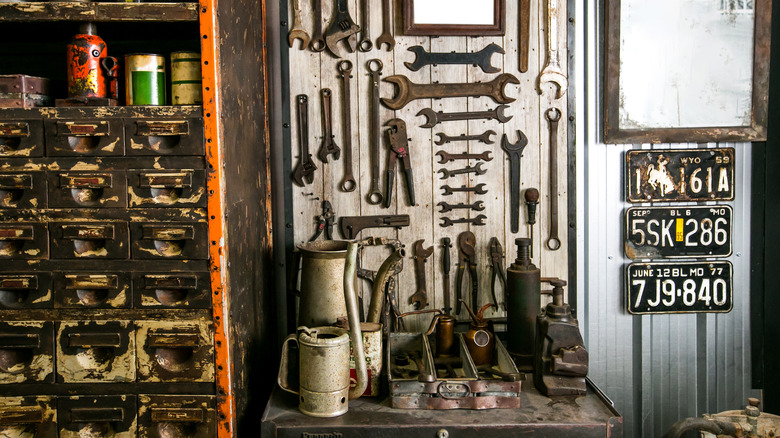 BigPixel Photo/Shutterstock
This shed would be totally cool as a bar too. We'd keep all the tools up on the walls and call the bar, The Workshop, no doubt.
5. A shed bar with a spectacular view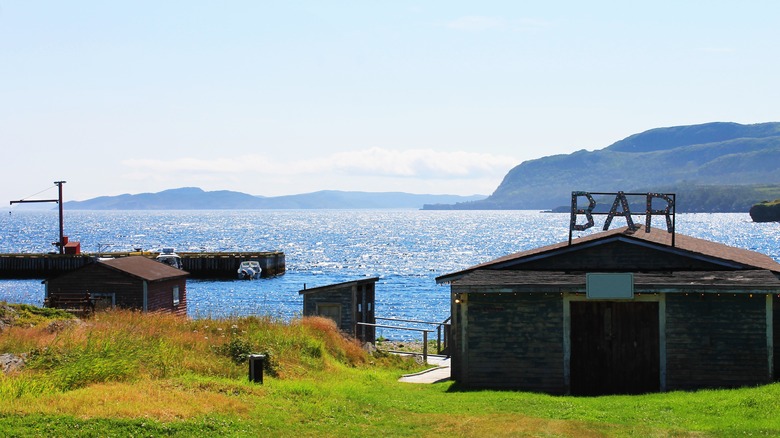 stbar1964/Shutterstock
This is the perfect spot for a shed bar. The interior could be rustic or have modern elements, but here it's all about the view with a delicious cocktail in hand. We can't think of anyone who wouldn't want to have a cocktail while staring out at this waterfront view!
6. A wow-worthy exterior
The pattern on this backyard bar is totally unique and makes the space incredibly inviting for a late-afternoon cocktail. The area looks absolutely intriguing, surrounded by lush greenery, too.
7. Neutral tones with pops of red
This shed has grayish-blue walls and a wood bar, but the main highlights throughout are the pops of red seen in the Coors Light wall art, the lighting that hangs overhead, and the letter M that sits on the bar's table that we imagine represents the family's name.
8. A black and white exterior is so chic
This tiny bar shed dubbed The Drunken Crab is a dreamy option. Its exterior is painted a crisp white, while the door and windows are painted black for a sophisticated look. On the inside, this rustic retreat has natural wood walls, plenty of framed photos, and a spot for playing darts.
9. A rustic indoor-outdoor situation
If you live in warm weather like Florida, you may want to consider a shed bar with outdoor seating. This rustic shed is the perfect spot to grab a drink after a long day.
10. Focus on lighting
This modern retreat is an elegant choice. Made of wood, it has an indoor and outdoor flow with doors that open out to the patio. Just like with anything, details matter, and the homeowners have put in recessed lighting throughout, as well as spotlighting on the fence for a space that is absolutely gorgeous for entertaining.
11. Add a chalkboard wall for drink specials
Having a backyard bar doesn't mean you can't display your drink options, from margaritas to mojitos. This particular bar was DIYed with many incredible amenities, including a sliding seating area with storage, a slide-out BBQ spot with a space for your grill, and a hidden dart board that is easily accessible as soon as you want to play.
12. Ultra modern
This modern option has a gorgeous stone bar, plenty of typical seating, and LED lights in bright pink, which we assume will help you find the place. If you get tired of pink, you can always change the color, which is excellent for giving the bar a different feel!
13. Create an outdoor seating area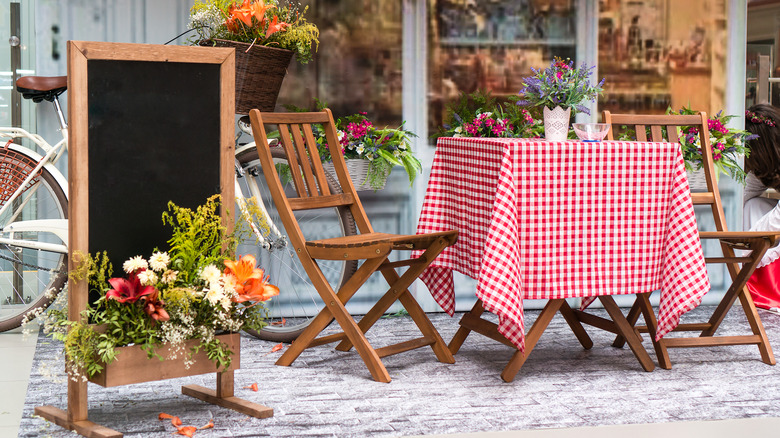 smspsy/Shutterstock
We love how this shed bar has a gorgeous outdoor seating area that resembles a European restaurant or cafe. A chic red and white checkered tablecloth, a chalkboard for specials, and tons of plants set the stage for this whimsical backyard bar.
14. A true oasis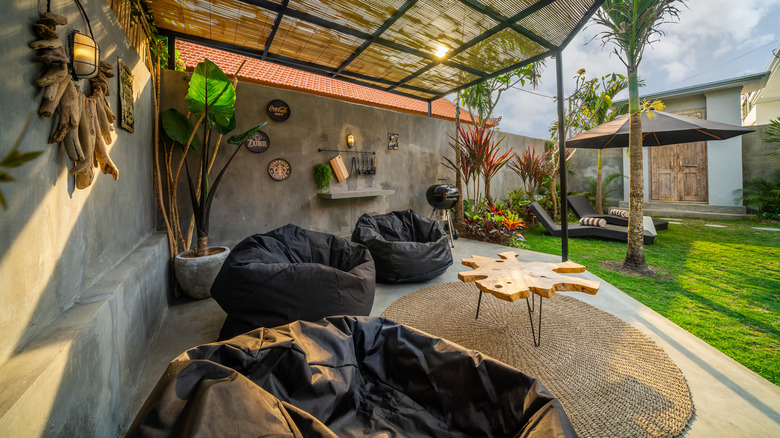 Sanatana/Shutterstock
In keeping with adding an outdoor area to your shed bar, we love this modern space next to a shed that has bean bag seating, lush plants, and is shaded from the sun!
15. Go for the seating you like!
This tiny backyard bar is called The Ballroom, and we love that it doesn't have traditional bar seating — instead, it has a unique bench. With stained glass windows, it's an ideal spot for an after-work drink.
16. Rustic shelving makes you look up
Just look up! This bar, painted a happy teal color, has several shelves added to the walls to make your guests turn their gaze upward. It's a great spot to house your liquor collection, but it would also be ideal for glasses and other sculptural objects you'd like to show off.
17. A gray and wood mix
This shed bar has neutral wood and gray areas for a statement-making look. We love the indoor-outdoor flow to this bar for the ultimate family hangout.
18. A shipping container shed bar
We love how sustainable shipping container homes are, so it's no surprise that this material would be brilliant for a backyard bar. This design also features a rooftop — just imagine those sunsets with a cocktail in hand, of course!
19. Make it the perfect man cave
This tiny bar is packed to the brim with sports memorabilia, string lights, and of course, all the necessities to make the perfect cocktail.
20. A DIY open-air shed bar
This brilliant bar was made using pallets, so if you are looking to get busy with a weekend project, we highly suggest this one. There's plenty of space to shelve your favorite booze for an ultimate party with friends and family.