The Best Dupe For The Scrub Daddy On The Market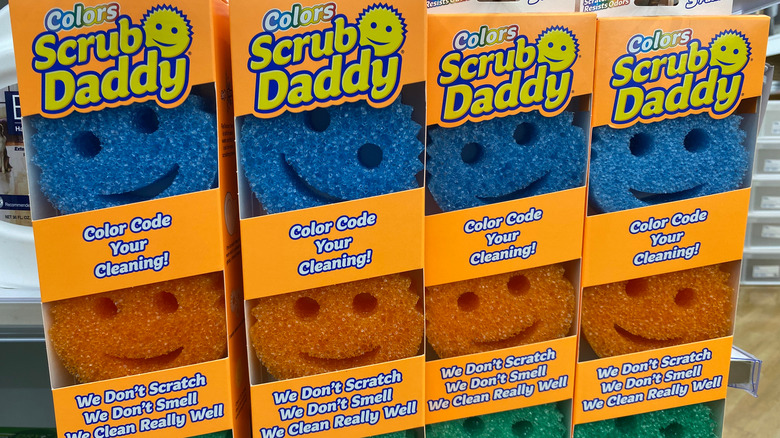 melissamn/Shutterstock
If you've ever heard of the Scrub Daddy sponge, you know it has rave reviews and offers a variety of cleaning benefits. Customers love how efficiently these sponges work, getting dishes and surfaces tidy in a matter of seconds. The texture is ideal for getting rid of caked-on food and removing surface messes, but it is also surprisingly gentle on pots and pans, too. According to Scrub Daddy, you can use the sponge in cold water for a firmer feel or add warm water to make it softer. Hotter temperatures also allow it to become more absorbent.
Not only does this household cleaner work on everything from ceramic to glass, but it takes away the need for intense chemicals to get rid of debris. Thanks to the material, dishes and surfaces are cleaner from being wiped with your Scrub Daddy than standard sponges. It also dries faster than traditional wipes, meaning mold and odors can't stick to it. While the Scrub Daddy costs just under $4 in stores (via The Smile Shop), there is a fantastic dupe that will provide the same results for a quarter of the cost.
Brillo Basics scrub square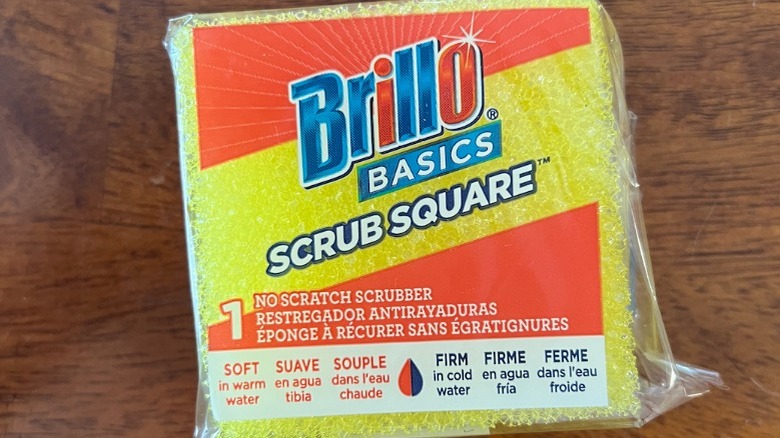 Michelle Roberts-Garcia/House Digest
On your next errand day, head to Dollar Tree because that is where you will find the Sponge Daddy dupe. The Brillo Basics Scrub Square offers the same qualities as the name brand, including no-scratch material and warm water pliancy. For $1.25, you can purchase three of these squares for around the same cost as a Sponge Daddy, with a few pennies to spare. The Dollar Tree version might not offer the same smiling shape as the original, but with the same cleaning power, it might be worth giving up the grin.
One of the perks of these little scrubbers is their ability to remove grease stains and stuck-on foods. You can easily clean your baking pans, pots, and even your bathrooms and kitchen areas with the no-scratch texture of these sponges. According to Dollar Tree, you can also use them on tools, outdoor furniture or grills, and even your car's tires. Up close, the two look almost identical in material, with the main difference being the design. If you aren't concerned with name brands, the Scrub Square lives up to its name as a useful cleaner, getting the job done as well as the original. It offers a firmer feel when dry, and the easily absorbable texture makes it comfortable to hold and use while washing dishes or wiping down countertops.