Home Depot Or Lowe's: Which Has Better Deals On Showers?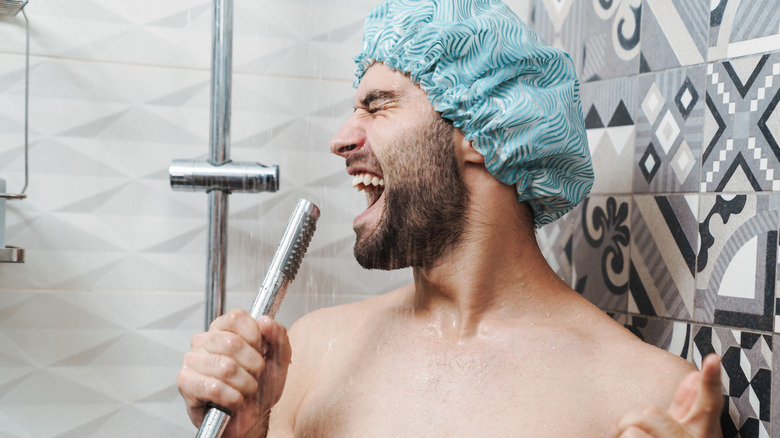 Dean Drobot/Shutterstock
Home Depot and Lowe's home improvement stores have been neck and neck in popularity for decades, and most people have their favorite for various reasons. Even their number of stores in North America is comparable with around 2,284 stores for Home Depot and 2,370 Lowe's stores, according to Business Insider. Although Lowe's has been around three decades longer than Home Depot, it still has less than a hundred more stores.
Perhaps the biggest difference between the two big box home improvement brands is that Home Depot seems to be aimed more toward professional contractors while Lowe's tends to be a little more DIY-friendly. Even so, a survey by Bank of America discovered that the majority of millennials prefer Home Depot over Lowe's, even though the latter usually has larger stores. Regardless of their primary customer base or the square footage of their stores, it may just come down to who has the best deal on showers.
Home Depot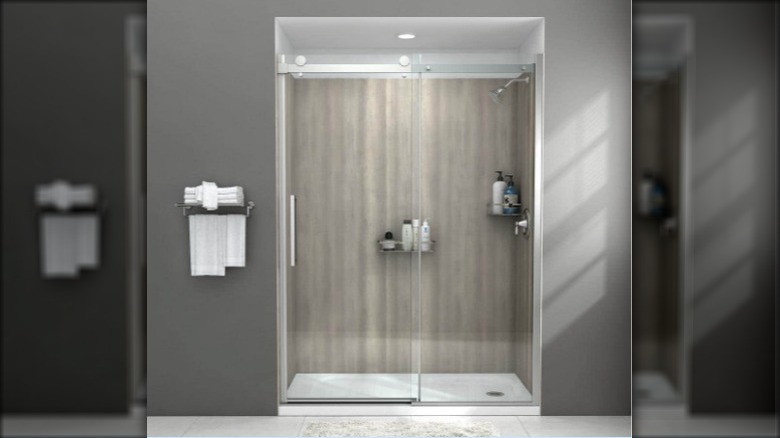 Home Depot
Alcove showers come in a variety of widths and depths, and everything from basic white acrylic to modern designs. This type of complete shower kit comes with a base, shower walls, and a door. You can also buy these pieces separately if you want to mix and match. The most common size for an alcove shower is 60-inches wide by 32-inches deep.
Coming in at $1,797, the best alcove shower set at Home Depot is the American Standard Passage kit. This shower design moves away from classic white with four wall color options including gray concrete, gray timber, pewter travertine, and platinum marble. With 42 reviews, this shower kit has an average of 3.5 stars. Opinions about this kit are generally positive, with most people agreeing it is easy to install and looks nice once it's in place. Some reviewers mentioned the wall adhesive for this product was insufficient. Loctite suggests a water-based adhesive to avoid any damage to the shower walls while offering heavy-duty, moisture resistant adhesion.
Lowe's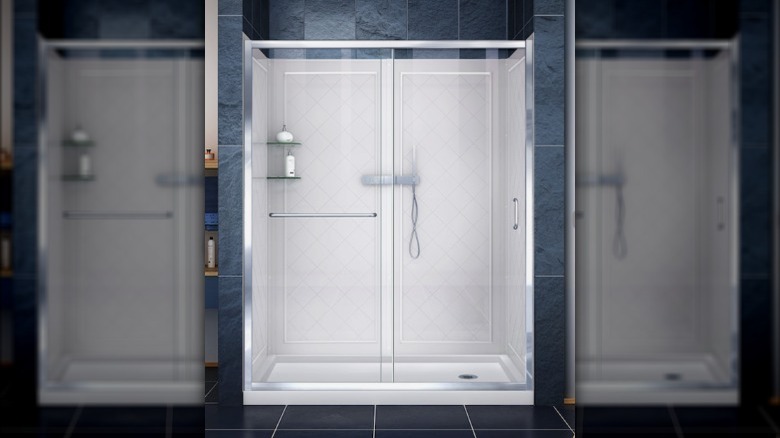 Lowe's
A comparable product to the American Standard alcove shower is the DreamLine Infinity-Z Alcove shower kit offered by Lowe's for just under $2,130. The same in both width and depth, this complete alcove shower kit also includes the base, walls, and doors. Although it comes only in white, the walls have an attractive diamond-shaped pattern to enhnace the style in any bathroom.
The Lowe's Dreamline Infinity kit also has an average of 3.5 stars, though that result comes from a total of only six reviews. One reviewer who loved the final product stated it is not intended for the typical DIYer because the instructions were "poorly written," while another 5-star review said it is a "great product."
Side-by-side, Home Depot seems to be the winner in this category. Although the two products were comparable in size and quality, the American Standard set is over $300 less and offers more style options. However, Real Homes notes that the final decision should always come down to what fits your style and specific needs.