The Best Way To Spray Paint Your Wood Furniture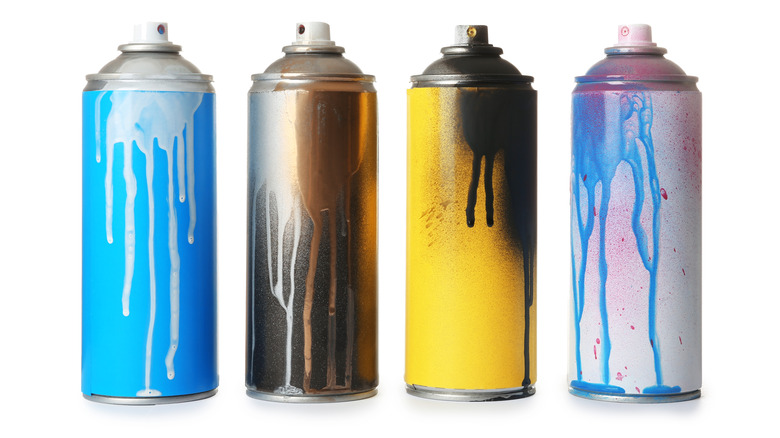 New Africa/Shutterstock
With a few additional supplies and a bit of practice, drab, tired, and outdated wooden furniture can be restored and revitalized using spray paint. Spraying is a cost-conscious way to breathe new life into distressed or mundane furniture, and a time-saving, durable substitute for hand painting. Wood furniture, pressed wood, particle board, cardboard backing, and wooden hardware can all be spray painted. When done correctly, spray painting has an even appearance without drips or brush lines. Per Woodworking Skills, there is much less cleaning up afterward: No brushes, rollers, or trays to wash.
Classy Clutter points out that every piece of furniture differs but, typically, the same painting steps apply, as do the same potential pitfalls. You will need a well-lit workspace, perhaps outside or in a garage or workshop. According to Painted Furniture Ideas, a warm workspace with non-fluctuating temperatures is ideal. Too cold, the spray paint will dry slower and may crinkle. Don a disposable N-95 mask or, even better, a reusable paint respirator and some protective eyewear, and you're ready to start spray painting like a pro.
Preliminary spray painting steps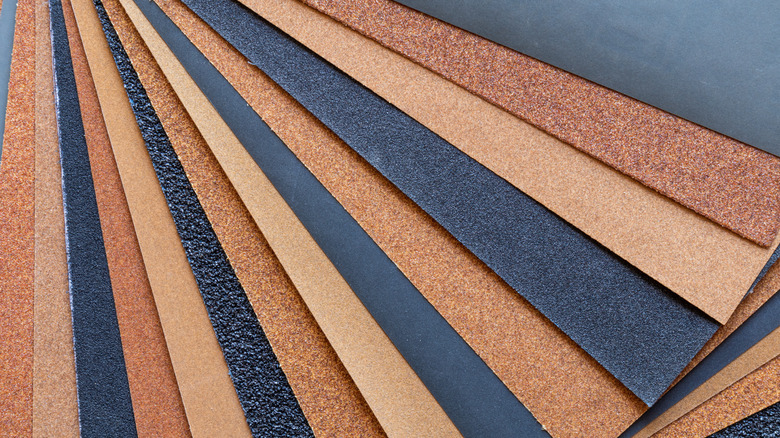 Korawat photo shoot/Shutterstock
Any item of furniture must first be cleaned for painting. Spray paint adheres better and more evenly to a surface without grime, dust, or other debris. Per Home Stories A To Z, warm water with a dash of dish soap or vinegar can be used, or a solution of 1 part lemon juice and 2 parts olive oil will work to disperse stubborn stains. Wipe with cheesecloth, a tack cloth, or a fiber rag and allow several hours to dry before proceeding. If the wood has any imperfections, they can be repaired with wood filler to allow full penetration of the paint and complete coverage.
A Ray Of Sunlight suggests using 220-grit sandpaper on the surface and a fine-grit pad to work on any curved areas. Sanding will smooth and de-gloss the furniture for better paint adherence. Prior to painting, priming the wood is necessary to prevent tannin stains from seeping through your subsequent spray painting. A thin coat of primer is all that is needed and it should be sprayed over the entire furniture surface for best results.
Spray painting steps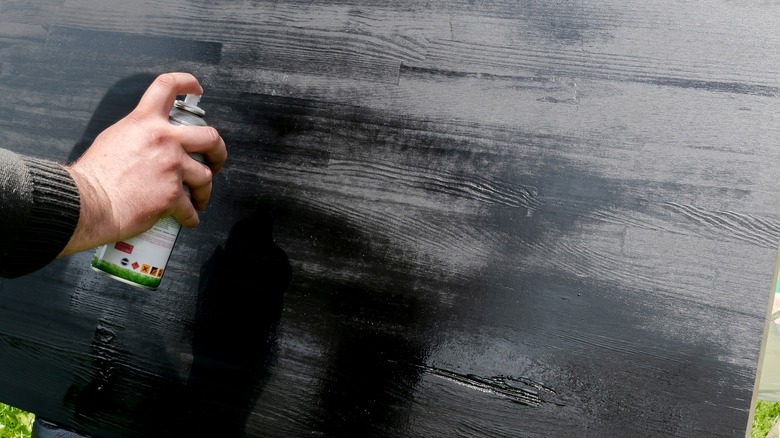 photodaria/Shutterstock
DC Paint Solutions suggests practicing on a piece of paper or spare slab of wood before tackling your furniture. The desired technique is to spray the paint from a 10-inch distance, applying steady and even pressure. An up and down, or side to side movement is appropriate, and avoid over-spraying a particular area. According to Lovely Etc., aim to build up multiple thin coats for best results, and be sure to follow the manufacturer's instructions regarding optimum temperature for spraying, drying times, and distance to aim and fire. Spraying too close or too far can cause dripping or wasted paint.
Make sure the previous coat fully dries before applying another. If using a can, shake it for a minute to prime it before starting, and remember to agitate it every so often as you are working. You are apt to run out of paint quickly, so be sure to have several spare cans on hand. A rust-resistant paint should be used on outdoor furniture. Queen Anne Upholstery & Refinishing recommends using a sealant on any surfaces that are likely to get wet, such as coffee tables and desks. Finally, place the painted furniture in a location where it can be seen and enjoyed.