How To Easily Clean Your Exterior Windows
Whether you like to stare out the window as you daydream or just like to see what the neighbors are doing, dirty windows can obscure your view. Unless you have super high windows in your home, keeping the inside glass clean is pretty easy, but just having one side clean does not help if the other is caked in dirt and debris.
Thankfully, you don't have to clean your exterior windows too often. Forbes suggests that washing them two to four times a year is enough to enjoy your view year-round, but there are a few times a year that it is extra important. For example, many people like to do this task during spring cleaning, which makes sense — you want to wash your windows while the weather is pleasant — just wait until the worst of the pollen and the rainy season has passed, or you may find you need to do the job again the next month. But, here's how you can easily clean your windows with a few tips.
Window washing basics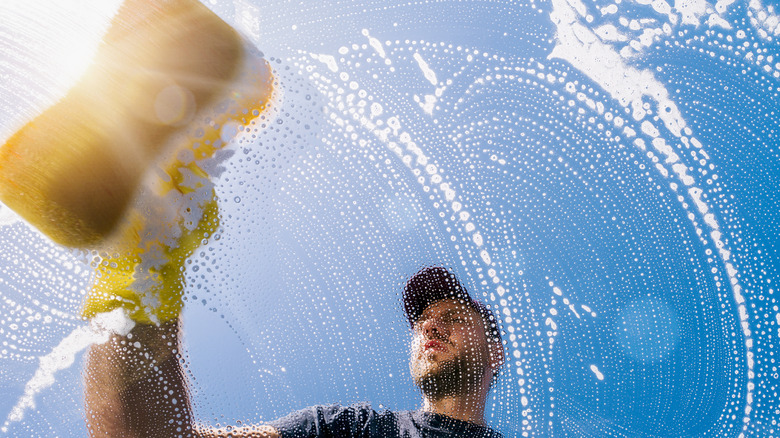 r.classen/Shutterstock
Cleaning your exterior windows requires a few basic tools. For example, Angi recommends washing them by using a basic garden hose with a spray nozzle. Use the shower or jet setting on the tool to knock off the dust and large debris, then grab a bucket of soapy water. You don't need to buy any special window cleaning product; dish soap works just fine. Dip a large sponge — like those found in the car cleaning section of most department stores — in the hot, soapy water to scrub off any stubborn spots like tree sap. Rinse with your garden hose and repeat on the rest of your windows.
If your home has window screens, you can remove and clean them separately or add an extra step to your washing routine. To deep clean removable screens, take them off and rinse them with the garden hose. If they are extra dirty with greasy grime, like a kitchen window, or are just extra dirty for any reason, spray them with a standard household degreaser, then use a plastic scrub brush to gently wash away the grime. Rinse with water and see if they need a repeat application. For windows without removable screens, simply use the brush and soapy water to clean both your screens and the window they protect. Rinse everything with clean water and let them air dry.
Other window cleaning options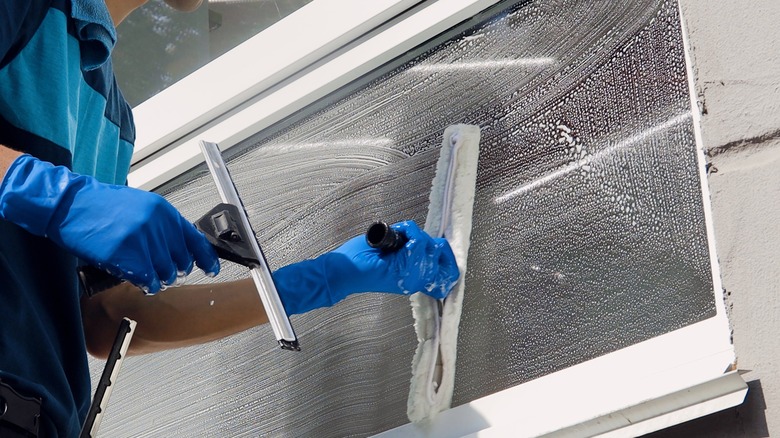 XArtProduction/Shutterstock
For windows that do not have screens, you can get a professional level clean by using a squeegee. Pella Windows & Doors of New England suggests using a 1 to 10 ratio of vinegar to water to wash the windows clean. Wipe the mixture onto the surface with a sponge and use a squeegee to remove all water and any remaining debris, wiping the squeegee clean between swipes. Start at the top and work your way down for the perfect streak-free shine.
Another option for windows that are hard to reach but do not necessarily require a ladder is using a sponge floor mop instead of a handheld sponge. Use the same bucket of soapy water to dip your mop, then use the cleanser to get rid of the grime off your glass. Rinse off the soapy water with a hose, and voilà!
Clean windows without worrying about falling off a ladder. If you have many second-story windows, consider hiring a window cleaning company that is licensed and insured. While this is a project you can do, leaving the more unnerving tasks for professionals is safer. Thankfully, you can save a lot of money by cleaning your bottom floor windows yourself and letting them do the risky work only.