The Truth About Reach Out Worldwide, Cody & Felicia Walker's Disaster Relief Org - Exclusive
Fans of the "Fast and Furious" film franchise will be happy to hear that Cody Walker is coming to your television screens again, this time with his wife, Felicia. Their series, "Fast: Home Rescue," is a Weather Channel exclusive, and it follows the duo as they repair and rebuild homes ruined by natural disasters.
Cody and Felicia are the heads of a disaster relief organization called Reach Out Worldwide (ROWW), a nonprofit that helps clean up the wreckage left in the wake of natural disasters. Founded by Paul Walker, the charity is usually only responsible for cleaning up disaster sites. With the backing of their television crew, the Walkers and ROWW rebuild previously destroyed homes in just under five days. In an exclusive interview with House Digest, Cody and Felicia Walker told us all about the new show, all things natural disasters, and most importantly, the impact and influence of ROWW.
Staying true to the original mission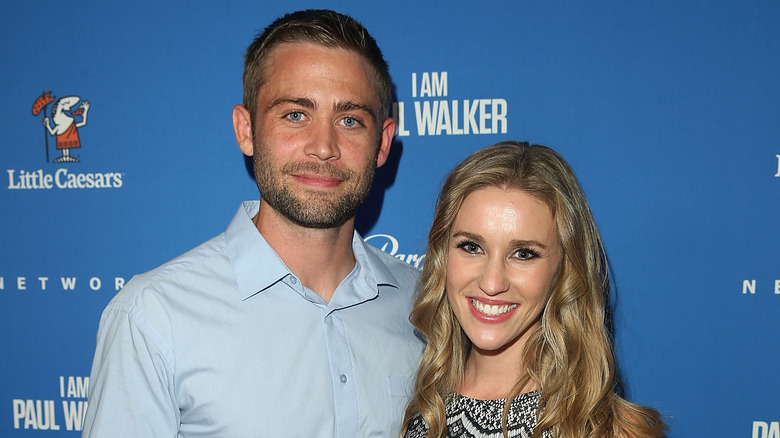 Jesse Grant/Getty Images
Reach Out Worldwide is a cause incredibly personal to Cody and Felicia Walker, and they show what the organization is capable of in their new series. "It's very important to us that we stay true to [the] mission," Felicia said. "What Paul would want for the organization is something that we always have in the back of our mind, but it's developed over the last 10 years."
Cody and Felicia both got to experience a new side of what ROWW is capable of while filming "Fast: Home Rescue," since their turnaround was cut down to just a few days. Usually, the organization only cleans up sites of natural disasters, but through this series, they got to do even more. "We've never done a four-day build before. ROWW is used to coming in immediately after a disaster and mucking and gutting or clearing trees or whatever that may be," Felicia told us. "We knew we wanted to start doing more [rebuilding] because it makes such a bigger impact on the people that we're serving." 
Cody added, "What's been really neat about this opportunity with The Weather Channel is being able to get a house all the way across the finish line, not just help them get to the point where they're ready to rebuild."
"Fast: Home Rescue" airs Saturdays at 8 p.m. ET on The Weather Channel.