How To Keep Your Home Renovation From Becoming A Disaster, According To An Expert - Exclusive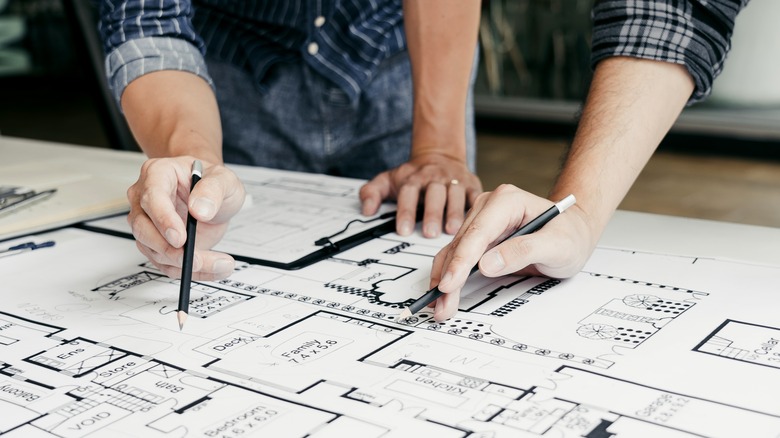 wutzkohphoto/Shutterstock
If you're considering a home renovation project, there are several things to establish before you begin. A typical list of tasks might include setting a budget, researching contractors, acquiring permits, and staying on task. With all this, inspecting your home for any damage is also a vital part of the process. Whether it's apparent or underlying, home damage, such as broken or unsteady structures, mold or mildew, water leaks, and weather-related impairment, may be present, via Sears Home Services. And if it's a quick fix or something that requires assistance, it's vital to get these issues resolved initially.
From knocking down walls to picking out tiles and paint colors, there are aspects to the home renovation that are generally fulfilling and worth all the sweat and labor. We recently spoke with analyst and real estate investor Jon Sanborn, who co-owns Brotherly Love Real Estate with his good friend Alex, regarding some of the most impertinent things to consider during a home renovation. Based in Philadelphia, homeowners are often happy with Sanborn and his crew, as they purchase homes without the requirement to clean or repair the foundation. Sanborn reveals the truth about restoration projects as a fine line between business and skill in an exclusive interview with House Digest. "Home renovation is an art," he reveals. "And each art requires skills that must be polished." Keep reading to discover how to prevent your dream reno from ruin.
Invest in proper safety equipment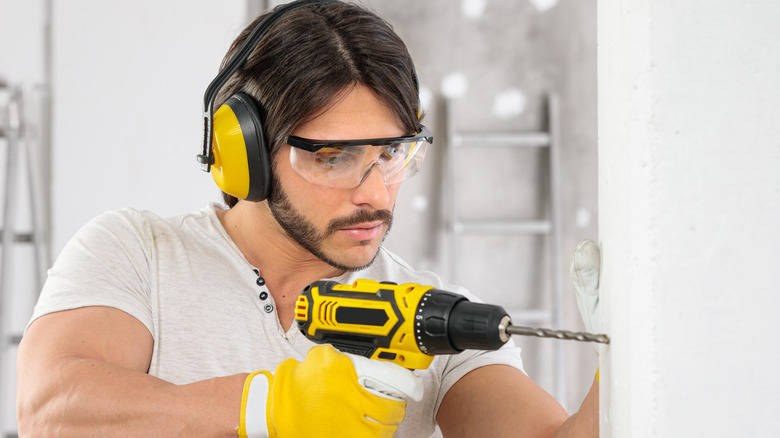 alessandro guerriero/Shutterstock
Where does your home renovation project begin? The kitchen, bath, living room, or other? Depending on the space, the project may require specific tools and electrical equipment to accomplish the job. Real estate expert Jon Sanborn advises, "Whether you are hiring a professional or going in for DIY, ensure that you have invested in proper safety equipment. Every year, thousands of people are injured because they either were not wearing a helmet or did not take the necessary precautions by protecting themselves with goggles and gloves." 
Utilizing the right gear for yourself and others on the job is critical, especially during demolition. You may be working with various hazardous materials like concrete, drywall, plaster, and tile, as well as roofing sheets and electricity. With tools like hammers, saws, and drills, wearing glasses, masks, gloves, and earplugs are a legitimate choice. To manage the tasks better, you might consider wearing a tool belt over your protective clothing, per Popular Mechanics.
Cost awareness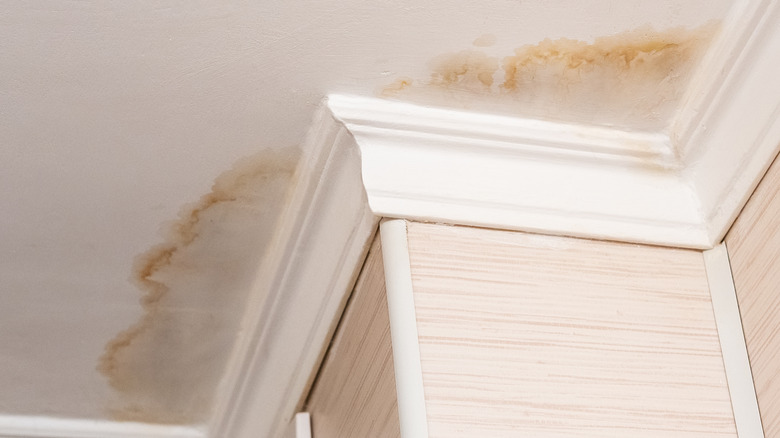 Afanasiev Andrii/Shutterstock
Hidden costs are everywhere. As they often emerge abruptly through various purchase transactions or credit cards, they can also pop up during a home renovation. Jon Sanborn explains, "One of the most common issues with home improvement is failing to account for emergency costs." Common surprises that lurk may be found in bug infestation, water or rotting damage, wiring mishaps, and utility expenses. Time is also a factor. Whether you're doing it yourself or not, home projects sometimes take longer than expected. 
Another predicament that Sanborn notes is how homeowners might shift the direction of a project entirely, which can alter the original estimate. "Unforeseen costs are a thing and you must always account for extra money to cover for those," he shares. From structural updates and interior design elements to keeping your home's wiring up to code, it's an optimum idea to have extra funds within reach. Additional expenses may come from the materials selected, whether superior or average quality, as it's best to remain within budget. Also, staying elsewhere during the remodel can enhance the bill significantly.
Get the right permits
Andrii Yalanskyi/Shutterstock
Before demolition begins, there are specific guidelines to follow. Jon Sanborn knows how fundamental it is to acquire proper permits before moving forward with a renovation project. "Your home renovation will not even lift off from the ground if you do not have the right permits," he notes. "A permit allows the government to ensure that your contractor is meeting the building code requirements and following the safety standards." As building codes differ in each state, they are necessary whenever changes are made to an existing structure, including plumbing and electrical systems. The paperwork often must be present within a window to notify the city that a contractor can work on the premises.
Renovation projects might include installing or removing load-bearing walls, building or replacing a shed, fixing a new roof, and remodeling a bathroom or concrete driveway and sidewalks. Ensure the required permits are put in place before your project gets underway. If not, you may face issues when it comes time for an appraisal, as banks may not approve such options for refinancing or selling.
Know what you want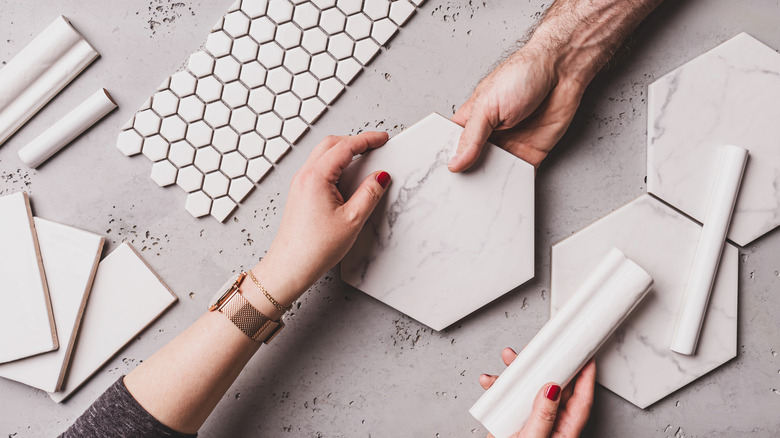 Pinkyone/Shutterstock
From the layout and structure to the color and décor, there's a lot of detail to determine when remodeling. Real estate expert Jon Sanborn notes, "A home renovation project eventually comes down to what you want." Whether you decide to hire a designer or stylist, or explore options on your own, establish what you envision. Sanborn continues, "Being hesitant means that you will change your mind often." As we might often alter a food order, success will come when you are accurate with your renovation decisions from the start.
Additionally, if updating one portion of your home, it might be right for you to get creative and tackle the project yourself. However, if you're considering restoring more than one space or a complete home makeover, assistance from a designer or contractor might ultimately be worth the time and money. Making vast and permanent decisions can be overwhelming, but having professional expertise will relieve some of that stress while averting errors.
Know when to hire a professional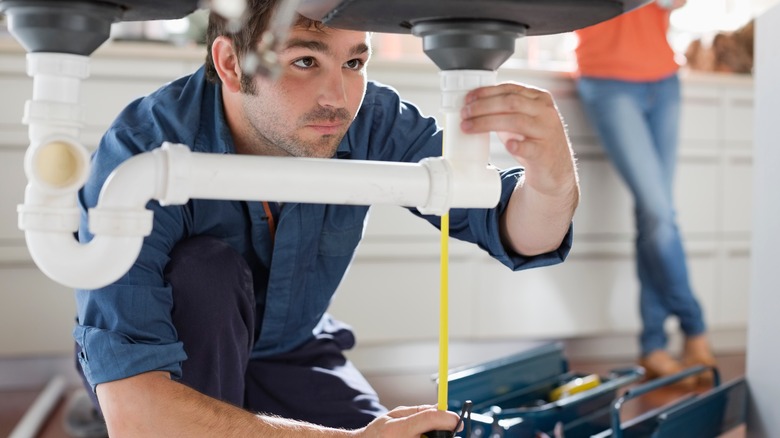 KOTOIMAGES/Shutterstock
Amidst the many trials of renovating a home, doing all the grunt work yourself may be limiting. "DIY is thrilling but there may come a time during the project when you may need to hire a professional," Jon Sanborn advises. Installing tile, wall structures, and flooring can be challenging when remodeling a space. This is because measuring and leveling may be accomplished more precisely by someone with experience in that field, via The Mining Journal, so it's crucial to evaluate your skill level. 
When you continue to face challenges or pitfalls within the same area and don't know what else to do, this is a sure sign to reach out. Sanborn continues, "Choose a reliable professional with references and trust their process." If you don't know where to start, search online or ask a neighbor, family member, or friend for an expert service they have used and would recommend. Nevertheless, getting the job done correctly will eventually reflect the value and longevity of your home.