The Design Feature David Bromstad Says You Shouldn't Include In A Beach House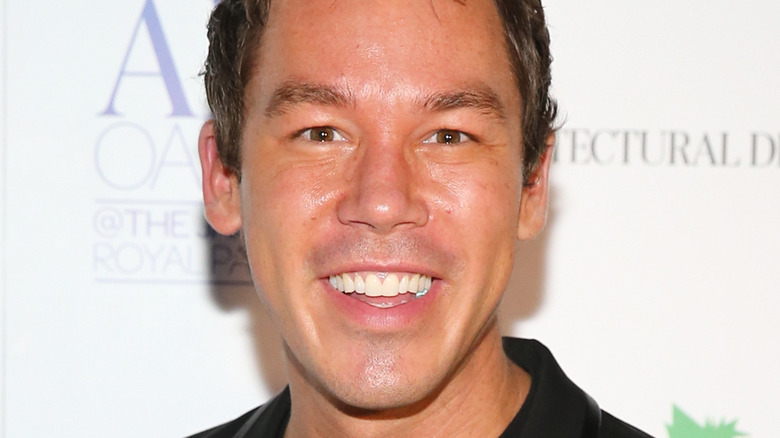 Neilson Barnard/Getty Images
One of the stars of "Beach Flip," David Bromstad, knows a thing or two about what works in a beach house and what does not. According to the Los Angeles Daily News, Bromstad is himself a resident of Florida, so this TV makeover star not only designs for this style but also lives it. He purchased his own dream home in Winter Park in 2021; located in a suburb, his new Tudor-style house is a little modern and a bit glam with touches of rattan. After all, is it even legal to live in Florida and not have rattan furniture?
Although Bromstad's new home is not on the beach, he often is — his Instagram shows how much he enjoys those sun-kissed waves, so it's no wonder he likes to bring his love of the sandy shores indoors. Speaking of sand, there are some design elements that you'll want to steer clear of while designing your own beach house.
Avoid materials affected by humidity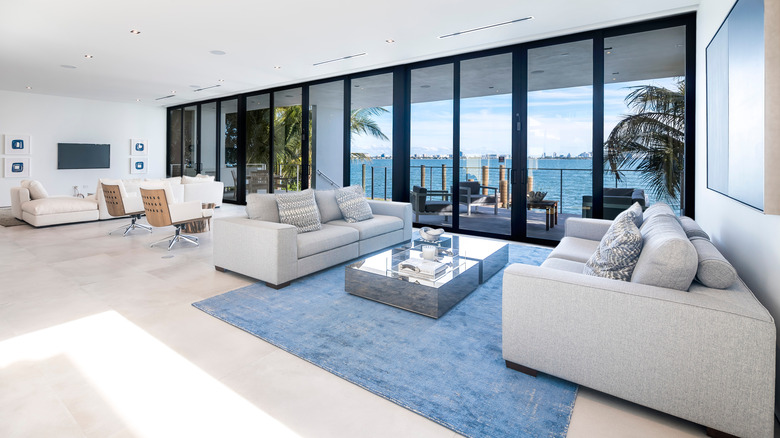 MDV Edwards/Shutterstock
Although there are many things David Bromstad would not include in a home near the shore, at the top of this list is carpet — and there is an obvious reason why full-floor carpeting is not ideal. "Remember, there is a lot of humidity by the beach and carpets tend to get musty," Bromstad explains in an HGTV interview. "Go for area rugs: they can be cleaned easily. I love the look of area rugs with a gorgeous flooring underneath. The indoor/outdoor area rug choices these days are unbelievable."
Bromstad also suggests avoiding certain types of metals due to the climate by the coast. "Choose durable materials for the environment you are in and be careful of certain metals that can rust," he continued. "The salt air can rust things easily, especially when doors are left open." For example, iron and steel tend to do so in high-humidity conditions, according to Workshop Companion. Aluminum, bronze, and brass are better options for a beachy home.
Include beach-friendly elements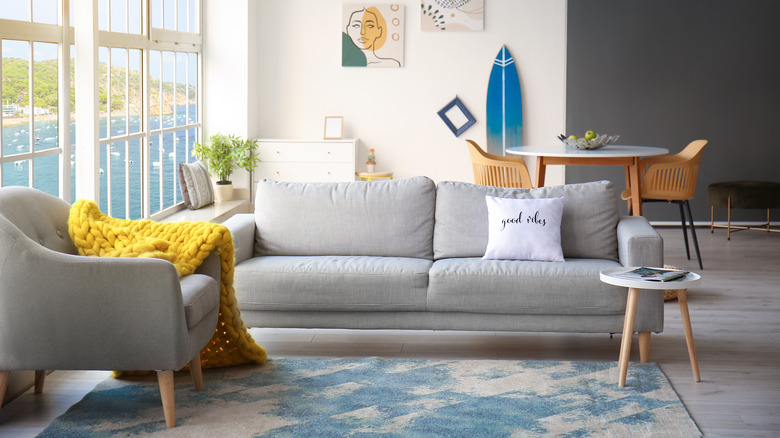 Pixel-Shot/Shutterstock
Now that we know what to avoid, what elements do belong in a beach home, according to David Bromstad? "I love wood floors in a beach house, especially the ones that have that weathered feel," he revealed. "Wood is soft to me and when I picture a beach house, I want it to be cozy and stylish at the same time." Bromstad is also a fan of porcelain tiles, even though they have a bit of a different feel. "I have seen them in every color of wood and texture you can imagine and they look amazing," he continued. "They obviously are not as warm as the feel of wood, but are both durable and practical."
For furniture, Bromstad suggests "engineered textiles" which are synthetic blends specifically manufactured to be comfortable and durable, according to Wired. By using durable materials in your beach home, you are not only protected from the many natural elements that are part of this environment, but you do not have to sacrifice beauty and comfort to get it.