Home Depot Or Lowe's: Which Has Better Deals On Storm Windows?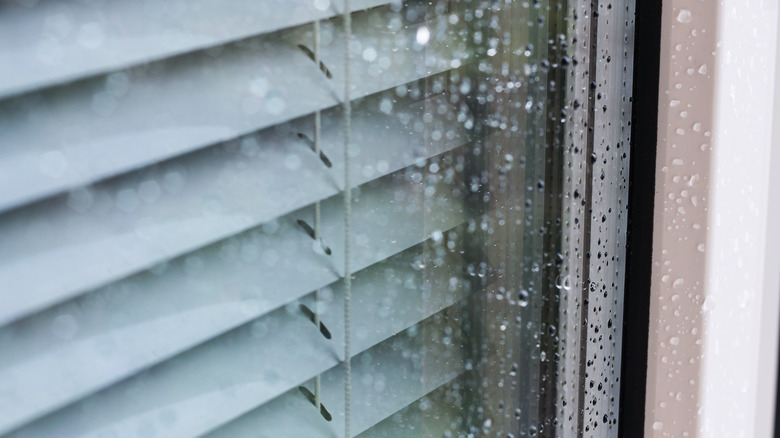 Sashko Tkachenko/Shutterstock
If you live in a climate that experiences lots of storms and windy weather, including tornadoes and hurricanes, you may want to consider installing storm windows. According to Brennan Corp, storm windows are an external addition to already installed windows with the purpose of preventing storm damage as well as regulating heat and blocking out noise.
Most modern windows are already designed to be energy efficient in the fashion of storm windows, but older homes can greatly benefit from the addition of a storm window. Some storm windows are permanent installations, and others are temporary. There are lots of different types of storm window materials for both the window and frame. The window can be either glass, plastic, or even low emissivity, or low-e (via Energy.gov). The frame can be aluminum, wood, or vinyl, each with varying pros and cons. Popular home improvement stores like Lowe's and Home Depot both sell a wide variety of storm windows, but it can be hard to discern which is a better deal, including both price and material. Keep reading to learn which store offers the best deal on storm windows.
Home Depot aluminum storm window
Home Depot carries the LARSON brand of storm windows, which are made of aluminum and come in a variety of sizes. The top selling size is 36 inches wide by 55 inches tall and is only sold in white. The product description notes that this window is low-e, and can reduce wasted energy by as much as 60%. Other benefits of the low-e material include saving as much as $35 a year on energy for each window, as well as regulating your home's temperature.
There's an expander on the bottom of the window that can help you easily fit the window to your pre-existing panes. This window also opens like a normal window if you want some fresh air, and even comes with a built-in screen. Home Depot sells their most popular size for $108. It has a solid four-star rating with 73 reviews, with 69% of customers recommending the storm window.
Lowe's low-e aluminum window
Lowe's also only sells the LARSON line of storm windows. In fact, they sell the exact same models as Home Depot, although they sell fewer size options. In the 36-inch by 55-inch size, Lowe's offers two color options — white and brown. The materials are all the same — aluminum, low-e panes, etc.
Lowe's sells the LARSON storm window for $130, which is $22 more than the exact same size, model, and color window sold at Home Depot. There are a few more reviews, sitting at 4.2 stars with 84 reviewers. It is also more recommended at Lowe's, with an 84% recommendation rate from verified customers.
The windows sold at Home Depot and Lowe's are the exact same, so determining which one is the better deal purely comes down to cost, in which case Home Depot very clearly wins. However, Lowe's does offer another color, which you may find to be worth the cost difference.