Kirkland Batteries Vs. Name Brand: How Do They Compare?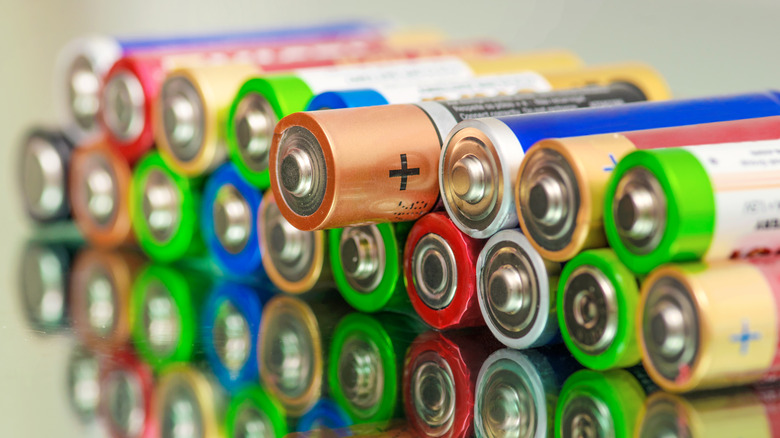 mariva2017/Shutterstock
Batteries are one of the most useful inventions in the modern world. From electronics to gadgets, they are used daily by many. However, from the numerous amount of brands to all the retail locations where you can purchase these items, it can be hard to decide which exact product is the best. Usually, many consumers tend to buy name-brand batteries as they fear generic brands won't last as long. Yet, depending on the manufacturer, this may not necessarily be true.
According to ConsumerSearch, the best overall batteries available on the market are Duracell. However, as per Yahoo!, Duracell owns a generic brand called Kirkland that is only available at Costco stores. Since Kirkland is not considered an expensive brand, it doesn't get the rep that Duracell does — yet, the batteries may be just as good. Let's break down the specifics of each of these brands and see how they compare to each other.
The benefits of Kirkland batteries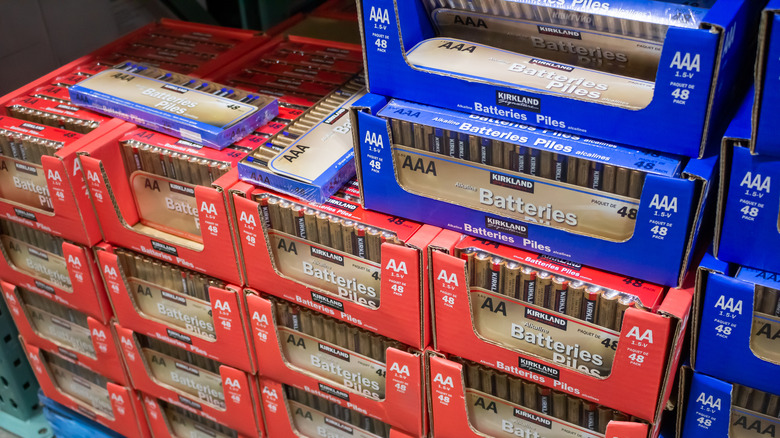 The Image Party/Shutterstock
Kirkland batteries offer two models: Double-A and Triple-A, via Nicer Abode. The Double-A variant has a shelf life of 10 years and contains no added mercury while the Triple-A model is equipped with 1.5 volts. In an experiment conducted by NBC12, this particular brand lasted nine minutes shy of a full six hours while weakening at the same time as the Duracell brand. Typically, you can purchase a pack with a 48 count for around $14.
Out of a score of 100, Kirkland's Double-A model scored an 80, which is standard for store brand batteries. A warranty is available for this brand as well, however, due to only being available at Costco, you must obtain it through the store as they are only covered under Costco's battery warranty. While this retail chain's policy is not thorough, it can be assumed that a receipt must be provided to obtain the warranty. It must be noted that damage due to abuse and neglect is not covered.
Duracell's name-brand batteries in comparison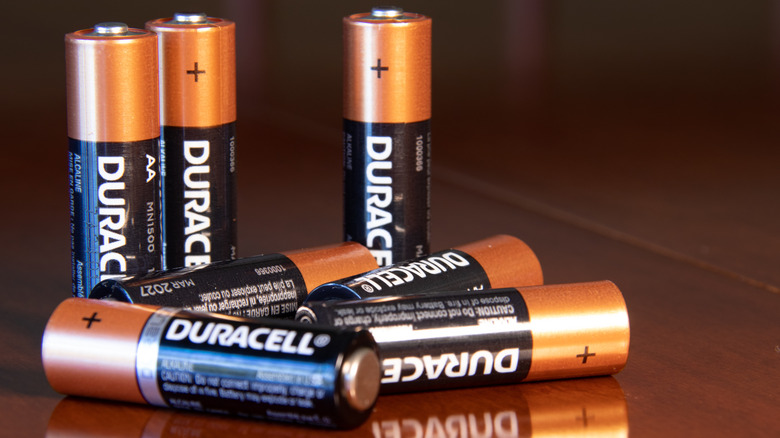 Arne Beruldsen/Shutterstock
In contrast, according to Nicer Adobe, Duracell has the same models that Kirkland displays as well as two similar ones: Plus Double-A and Ultra Double-A. Much like Costco's brand, the Plus Double-A model has an expiration date that lasts around 10 years and is equipped with duralock technology. Due to this, it is less likely that these batteries will leak while allowing them to contain 50% more energy than regular batteries. The Ultra Double-A model is said to contain 1.27 volts. NBC12's experiment showed that Duracell lasted five full minutes longer than Kirkland. These can be purchased at around $14 for a pack of 40, making them slightly more expensive than their competitor.
In comparison to Kirkland's score, Duracell's Double-A model received an 89 out of 100. A limited warranty is available for these batteries that covers material and usage defects, however, it typically only lasts for two to five years. Unfortunately, this is not usually the standard period and can vary depending on several factors such as the exact item purchased. It also does not include damage caused by neglect and abuse. Much like Kirkland, a receipt is also required in order to activate the warranty.