Which Is The Most Important Feature In An En Suite Bathroom? - House Digest Survey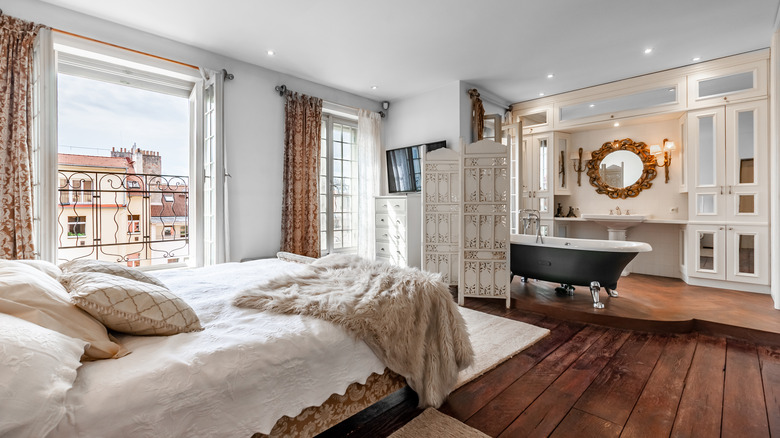 Tadeas Skuhra/Shutterstock
There are so many factors that go into building a bathroom, such as lighting, tile, color, functionality, style, and more. But all of these factors are mainly determined based on the type of bathroom you're working on. There are half baths, three-quarter baths, powder rooms, and guest bathrooms, per HGTV. There is also an en suite bathroom, which is when a bathroom is attached to a bedroom through a connecting doorway, according to Maximum Exposure Real Estate. En suites are not only connected to master bedrooms but they can be connected to any bedroom of a home.
House Digest recently conducted a survey asking participants what they believe is the most important feature of an en suite bathroom. There were six choices: soaking tub, stand-up shower, double vanity, separate toilet room, both tub and shower, or extra storage. We'll show you which feature obtained the most votes and explain what may have led respondents to make their selection.
Why not both?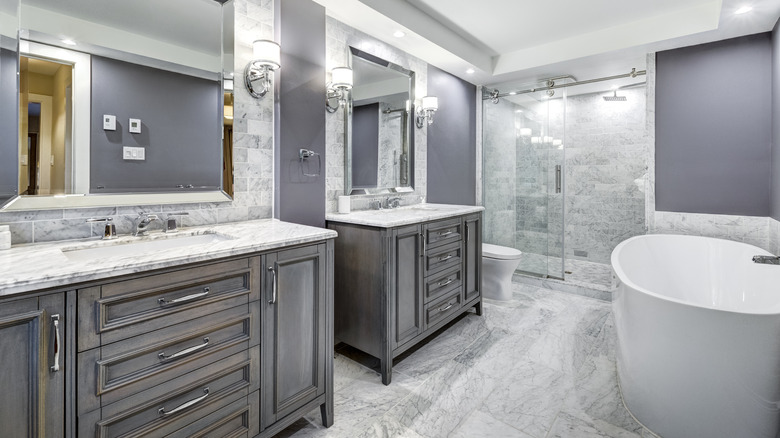 Anatoli Igolkin/Shutterstock
Out of 612 respondents, 27.12% (166 people) voted that the most important feature of an en suite bathroom is having both a tub and shower, according to the House Digest survey. This comes as no surprise because who doesn't want the capabilities of either taking a quick shower or enjoying a warm bath? Not only do you have more functionality in your space, but more design choices as well. In the past, having both your tub and shower connected was a popular choice, but recent design trends have changed that.
Now, it is more functional to have your shower and bathtub separated from each other in the same space, according to Scott McGillivray. Specifically, the current desired layout is having a freestanding tub and a separate shower with glass panels. With this type of layout, the beautiful tile you choose for your shower will be consistently visible and will brighten up the overall space. You'll also be able to add a bit of charm to your space by installing a clawfoot tub or modernizing your en suite with a streamlined option.
One or the other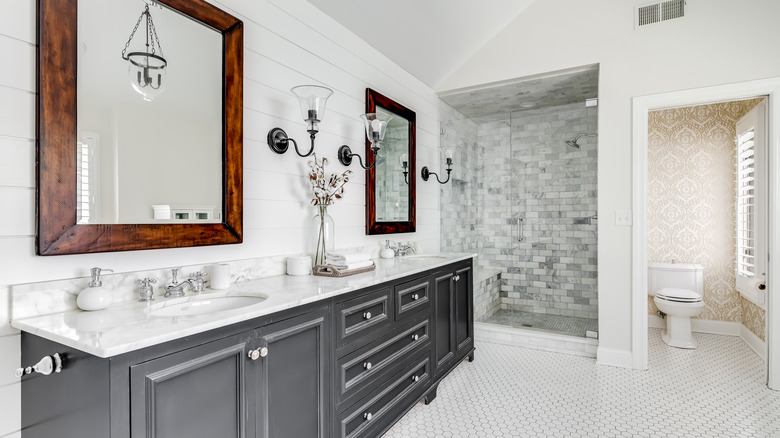 Hendrickson Photography/Shutterstock
Between the options of a stand-up shower or soaking tub, 26.31% (161 people) overwhelmingly chose stand-up showers, and only 14.54% (89 people) chose the soaking tub. Functionally, this makes sense, as a stand-up shower is more useful for our everyday lives, and a soaking tub is definitely more of a luxury item. A stand-up shower also has many benefits; it offers more space when disconnected from a tub, is easier to clean due to a lack of curves, and there are a plethora of shower door options to choose from, according to Basco Shower Enclosures.
However, if you do have space for a soaking tub, we advise installing one due to its benefits. Reborn Home Solutions says soaking tubs are known to improve blood circulation, reduce pain from arthritis, improve your skin, and plenty more.
These are the other features ranked from most to least votes: Double vanity obtained 88 votes (14.38%), separate toilet room obtained 80 votes (13.07%), and extra storage obtained 28 votes (4.58%).