5 Mistakes To Avoid When Decorating In Midcentury Modern Style
Midcentury modern has never completely gone out of style, but it has found itself trending in recent years. As people step away from the ultra-modern, all-white interiors for something a little cozier, midcentury is often where they turn to. This design combines the sleek, clean lines that many people love about contemporary interiors but with more additional color and character. First beginning as a design movement in 1947, according to Foyr, midcentury modern became a defining style of the '50s and '60s.
This style influenced interior design, furnishings, and architecture, as well as people's way of thinking. Minimalism was a major theme in both the design aspect and lifestyle. So many midcentury houses featured simple exteriors with large windows and interiors that had wide open spaces and clean lines. Because the look is timeless, it's not surprising when it experiences a resurgence. Many people seek to decorate their spaces to recreate the style but should avoid these mistakes in their midcentury design efforts.
1. Sticking to dark wood and neutrals
One of the most iconic details of midcentury interiors is the use of dark wood. It was used for the flooring, furniture, and architectural details throughout these homes. However, if you're looking to recreate this style in your home, using only dark wood can be a mistake. One tone of wood throughout your entire home can come off flat rather than as authentic to the time period. Don't feel like you have to choose the same wood for your floors and furniture, for instance. Instead, opt to mix tones and stains to add depth to your space.
The same goes for neutrals. Midcentury style is known for its minimalistic color scheme that uses whites, browns, and beiges. But using only neutrals can often look boring in practice. It's better to add warm pops throughout your space. Use color to add a statement piece in every room, such as an emerald green sofa, tile in the shower, or bright yellow art, as highlighted in a home by Camille Styles. Paired with neutrals, little additions of color add a fun surprise.
2. Not repairing original pieces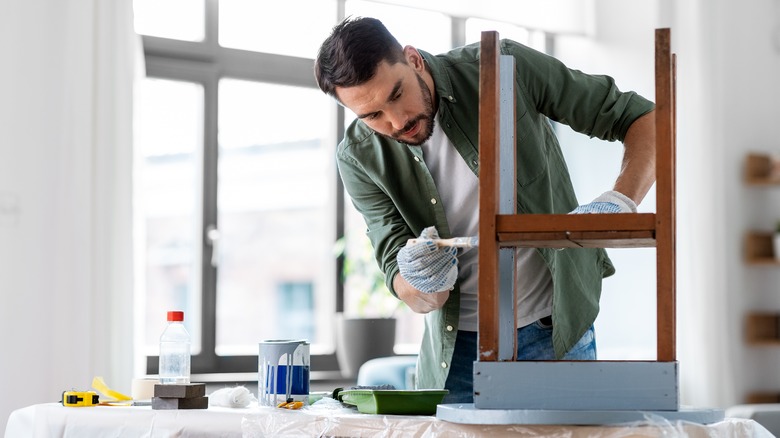 Ground Picture/Shutterstock
Searching for authentic midcentury modern pieces is one of the best ways to get the style. But they're not always in the best shape. And since this interior has been trending, many contemporary furniture makers have begun making recreations of original 1950s and '60s items. Though it might be tempting to buy this new furniture and decor rather than dealing with the repair or refurbishment of older ones, that can be a mistake. Original and authentic midcentury items all have a story that can add character to the space.
Many items can be reupholstered or refinished, so it looks just as good as a new one, but still retain the charm of an antique. And this is a project you can undertake on your own with supplies like sandpaper, chemical stripper, sealant, and stain, according to The Home Depot. Simple reupholstering requires material and a staple gun to give the furniture a new life. But if you aren't handy, you can always have a professional take on the project or look for someone selling refinished pieces.
3. Using too much brass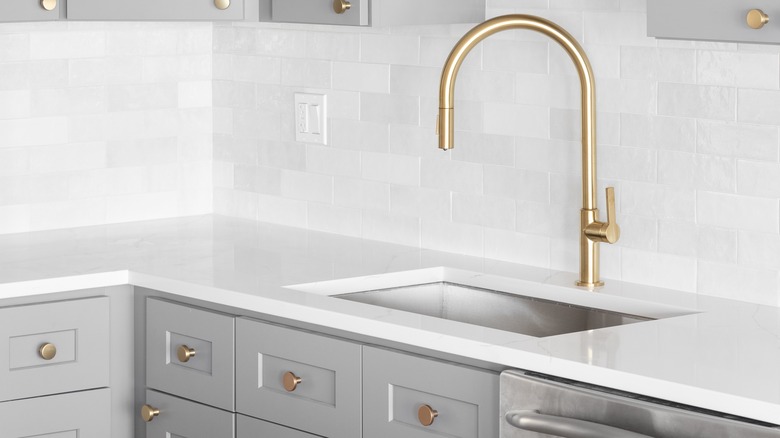 Hendrickson Photography/Shutterstock
Brass finishes are a staple in midcentury decor, but too much of it can be overwhelming. If you choose brass for fixtures, lighting, furniture legs, decor accents, and other details, it no longer feels like a special element in the space. Allow brass finishes to stand out by only choosing two or three statement pieces like your lighting and small accents. Then, for other metal finishes, opt for black, copper, or chrome. Further, try and limit selections to no more than three metals per room, so the design looks cohesive.
You can make brass the dominant finish so that it's the main choice throughout your spaces. But, to balance the rest of the midcentury modern design, be sure there are other finishes to add an accent. For example, you can have a brass chandelier as the focal point of the room, but use black or copper for other light fixtures like wall sconces and table lamps.
4. Not adding contemporary elements
Interior design is all about creating balance and visual interest. And having too many similar pieces goes against this philosophy. The DIY Playbook, for instance, advises against using full furniture sets in a space. Having the same kind of pieces in your home makes it look matchy-matchy, monotonous, and kind of boring — even if you're trying to recreate a particular aesthetic, like midcentury.
Because midcentury pieces are so distinctive, your home can end up looking like a period piece or a television set rather than a nicely curated room. So don't be afraid to incorporate contemporary elements or other styles. You might choose a midcentury dining table with contemporary chairs, or a midcentury console for your television and a new, comfy sofa to watch it on.
Setting for Four suggests using the 80/20 rule, where 80% of the furniture and details are one style, and the other 20% consists of a complementing one. You can also adjust the numbers to fit your personal taste, with a split like 80-10-10 or even 60-30-10. Blending in contemporary elements will allow your miccentury pieces to shine as statements rather than be lost in the collection.
5. Buying a midcentury modern piece just because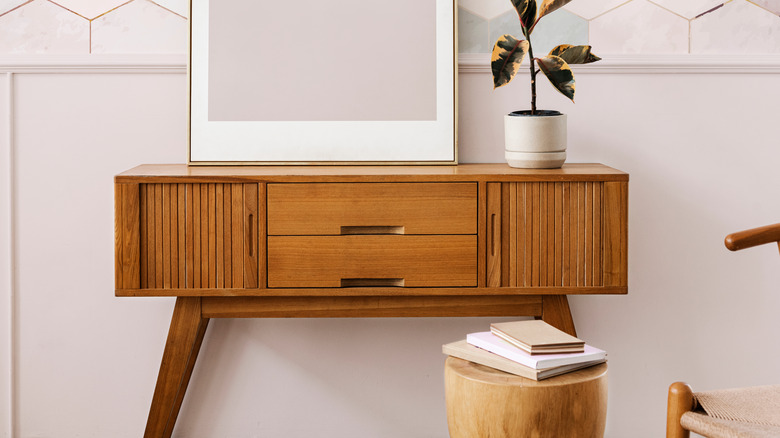 Rawpixel.com/Shutterstock
It can be exciting going on the hunt to find the perfect midcentury modern piece for your home. But when it comes to searching in an antique store or at a flea market, you have to be a bit discerning. You shouldn't buy something just because it's midcentury. Consider this furniture and decor as you would any other you bring into your home. Buying every midcentury modern item you see can lead to buyer's remorse as well as a cluttered home that doesn't have a clear design scheme.
When going thrifting, it's important to ask yourself questions to ensure you're bringing home something you truly love. The Art of Simple always asks three questions before any antique purchase: do I want to mess with this, would I come back in 24 hours to get it, and how was this made. Basically, are you willing to clean, restore, and maintain an item? Is it something you can't live without and can't stop thinking about and would you come back for it? And what's the quality of the item? Answering these questions honestly prevents your space from becoming a museum to display midcentury finds.