What Is A Scullery In A Home?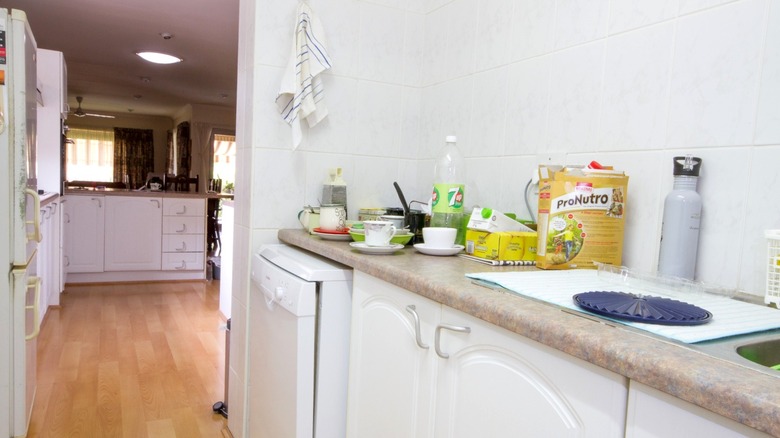 Peter Mullineux/Shutterstock
The kitchen is the main gathering place in many homes, which is why it can be frustrating and embarrassing when it isn't as tidy as you'd like it to be when someone drops by unexpectedly. Perhaps your kitchen doesn't have a lot of counter space or cabinets for storage, or you may wish you had more room for a custom-built pantry and an area that could hide all those items sitting on your counters. That way, you wouldn't have to fuss as much about a sink full of dishes every single night. According to Mulberrys Garment Care, most people will spend an average of 5 ½ hours each week doing their dishes alone. If you could tuck away that mess, you could spend more time each day on other things.
If you longed for a place to hide the mess, even for one or two days a week, there could be an option. Consider what a scullery can do for your home.
It's the extra space you always wanted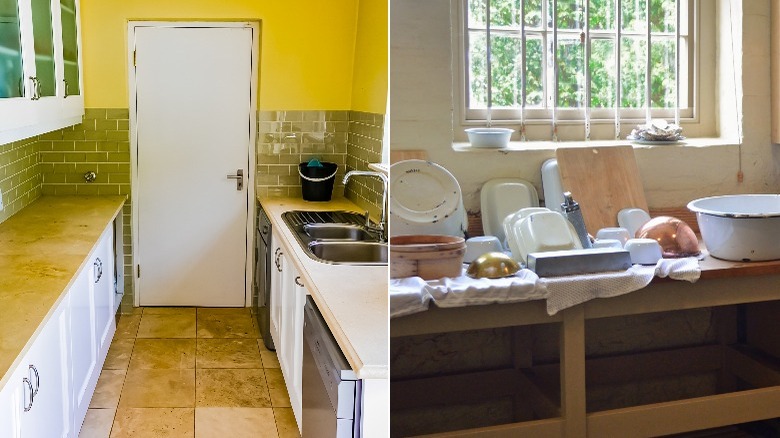 Sunshine Seeds/Martin Charles Hatch/Shutterstock
While many people design homes today with open floor plans, often where you can see from the kitchen right to the front door, having everything out in the open isn't always desirable. A scullery can offer a solution. It's a second kitchen, often much smaller in overall size from your current kitchen, that may be tucked away near the main kitchen, down a hallway, or even in a separate area. According to Realtor.com, it's the place where you can store all of your bulk purchases, the gadgets you bought but don't use, and even dirty dishes until you get to cleaning them.
These secondary kitchens, often in the back of the house, were often used by maids and cooks during Victorian times to help with organization, storage, and more of the hard work of the day, such as cleaning and scrubbing. They also afforded property owners more space when there was a need to prepare larger meals.
Why build one into your home?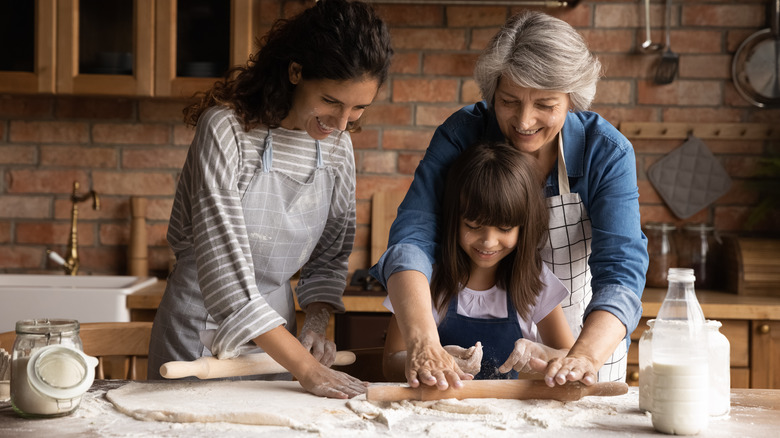 fizkes/Shutterstock
If you're designing a new home, you may want to consider the benefits of adding a scullery. According to Blythe Building Company, there are numerous reasons why some of its clients, especially luxury homebuyers, are adding sculleries back in. One of those reasons is storage, as a scullery can offer a lot of extra space via cabinetry or shelving for just about anything you don't want in your main kitchen, such as paper plates or serving dishes.
In addition to this, sculleries add ample food preparation space and more capacity for cooking, depending on the fixtures and appliances you add to it. A scullery is a good place to put the dishes before you have time to clean up, or you can use it for your in-home bakery. With several types available, such as a butler's pantry, hidden scullery, and a walk-in scullery, you could build your home with any style of scullery that fits your specific needs.