Which Hardware Store Do Shoppers Love The Most? - Exclusive Survey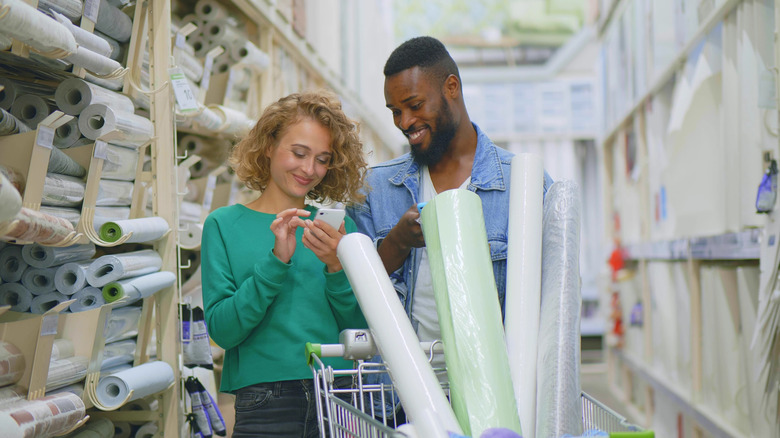 TommyStockProject/Shutterstock
Is your go-to hardware store the most favored? A hardware store is typically a place that sells tools, supplies for plumbing and electrical needs, household appliances, as well as paint and glass, per Law Insider. These tools are typically used by homeowners to conduct DIY projects or by professionals working on a renovation. Whatever the case may be, you want to be confident in the store you are purchasing these items from. There are so many to choose from, and it'd be a shame to miss out on shopping at some of the top contenders. 
House Digest recently conducted a survey asking participants their favorite place to shop for their hardware needs. We provided six options: Lowe's, Home Depot, Ace Hardware, Menards, True Value, and Tractor Supply Co. Some had an overwhelming amount of votes, while others seemed to lack in popularity. We'll reveal the hardware stores with the top votes and provide an analysis to explain the possible reasons for their popularity.
The classic orange and white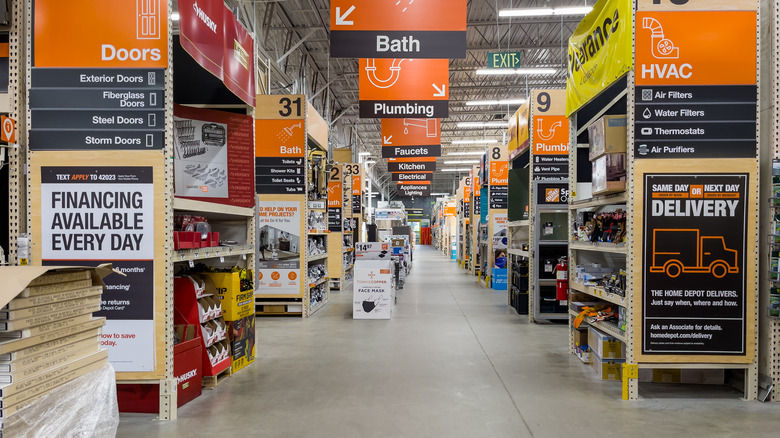 The Toidi/Shutterstock
Out of 627 respondents, 40.19% (252 people) voted for Home Depot as their favorite place to shop for their hardware needs. It comes as no surprise since this retailer is a mammoth of a company. It was first founded in 1978 and now has over 2,000 stores spread across the United States, Canada, and Mexico, per Home Depot. The average Home Depot store is also around 105,000 square feet — which is huge compared to the average size of a typical hardware store of about 10,000 square feet, according to Patty Plundy. The more square footage you have, the more merchandise you can have available to sell.
Not only does Home Depot have the ability to store a large quantity of merchandise, but having thousands of stores available helps them become the sort of default hardware store. For example, Menards only has 351 stores spread across 15 states, an almost 2,000 difference when compared to Home Depot, per Scrape Hero. This makes it difficult to compete if there are two Home Depot locations nearby.
A close second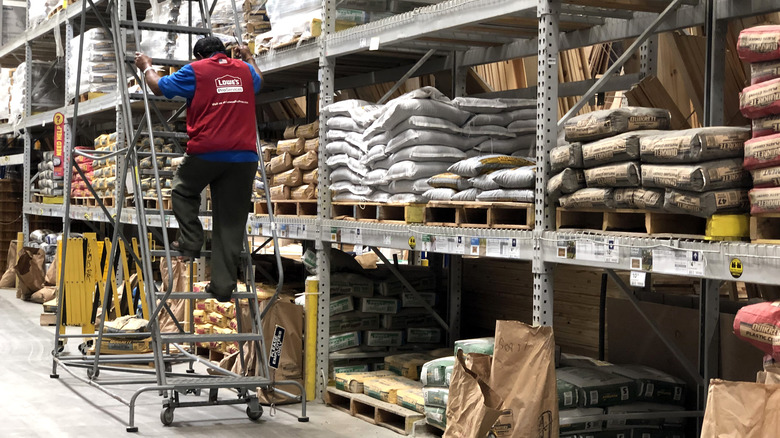 Justin Sullivan/Getty Images
Not too far behind is Lowes, with 33.65% of the votes (211 people), according to our survey. This is also a large company, and it first opened in 1921 (57 years before The Home Depot), per Lowe's. This hardware retailer also has over 2,000 locations and serves about 19 million customers (via Lowe's). So, why do some people favor Home Depot over Lowes? Some believe Home Depot has more knowledgeable employees who can help point customers in the right direction, per Pro Tool Reviews. Home Depot also supplies more popular power tools compared to Lowes, such as DeWalt and Milwaukee.
However, Lowes is definitely a store that can stand its own, as it had a net earning of $1.2 billion in 2021 (per Lowe's). They're also known to constantly have the best reviews regarding their lawn mowers and cordless leaf blower products.
The following are the other four hardware stores ranked from most to least votes: Ace Hardware 89 (14.19%), Menards 45 (7.18%), True Value 15 (2.39%), and Tractor Supply Co. 15 (2.39%).