Home Depot Or Lowe's: Which Has Better Deals On Bathroom Cabinets?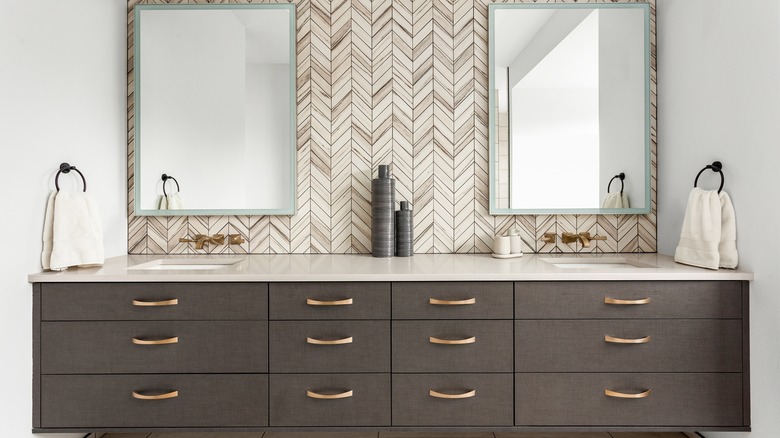 Justin_Krug/Shutterstock
If your bathroom vanity cabinet needs an upgrade, there are a few things to consider. First and foremost, according to HGTV, you should set a budget to keep from overspending. After this, you can decide on the exact layout you wish. Remember to take into consideration which tasks you complete in the bathroom such as applying makeup or doing hair.
Then, take measurements from your bathroom so you can figure out which cabinetry will fit — otherwise, the entire process can be derailed. Next, you must consider which cabinet grade you'd like. Typically, there are four main options to choose from: ready-to-assemble, stock cabinets, custom-made, and semi-custom. Lastly, decide on the color and finish you want. Bathroom cabinets need to be able to be resistant to heat, water, and moisture.
Many choose to purchase their cabinets at either Home Depot or Lowe's. However, based on price and reviews, Home Depot has the better deal. Let's dissect the best-selling model at each store and examine why.
Home Depot's Glacier Bay cabinet
The most popular cabinet at Home Depot is a model made by Glacier Bay. Costing just less than $150 (depending on your region,) this cabinet sits at around 24 inches wide, 35 inches tall, and 18 inches in depth. In addition, a backsplash is also included that is 2.63 inches in height. It only comes in the color white, however, this color is basic enough to fit in with any aesthetic. It is equipped with a single basin with pre-cut holes to install the faucet of one's choosing; however, one is not included with the purchase. Two full-size cabinet doors reside underneath with 6-way hinges. Base nail glides are located on the bottom of the legs to prevent scratching across floors. Upon purchasing, a limited lifetime warranty is included.
Out of five stars, this model was given a 4.4. Overall, good reviews have been given with one consumer stating that this product was the perfect design as it fits exactly what they were looking for. They added that they thought this was listed at a great price and that it was easy to install. Another reviewer said that this model looks great in their half-size bathroom and the price is unbeatable. Their only complaint is that they sometimes hit their feet on the legs whenever they are using the sink. However, they still recommend this model to others.
Lowe's allen + roth's model
The best bathroom cabinet that Lowe's has to offer is a model made by allen + roth. Typically, this design costs just under $700; however, during sale periods, you can likely catch it for around $400, depending on the location you live in. Including the backsplash, this cabinetry sits at 30 inches in width, 22 inches in depth, and 39 inches in height. The standard color is a slate blue, however, for over $600 more, you also purchase this in white, pine, royal navy, or true gray.  Included within the purchase is a full-width Carrara marble sink. However, you can upgrade to a 36-inch cabinet for $100 more, a 48-inch sink for $400 more, or a 60-inch sink for $600. A one-year limited warranty is available at the time of purchase.
Out of five stars, this bathroom cabinet was given a 4.0 rating along with a recommendation rate of 74%. One reviewer stated that it was exactly what they were looking for in their newly remodeled bathroom. Fortunately, they didn't experience any issues when they received it, however, another consumer didn't fare so well, and received a product that was badly damaged.