How To Get Rid Of Dated Cabinet Doors And Create DIY Open Shelving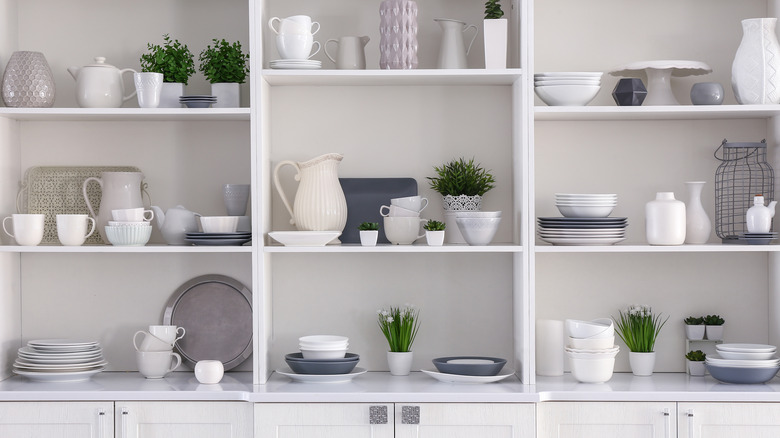 Pixel-Shot/Shutterstock
If you've been paying attention to recent design trends, you'll know that open shelves are in, in a big way. According to Apollo Kitchens, homeowners love them for the airiness they give a room and the added benefit of always being able to see where things are. While many new homes have open shelving already installed, you may be looking at your existing builder-grade cabinets and wondering if you can also achieve the beauty, style, and function that open shelves provide. 
Thankfully, it is relatively easy to turn your traditional cabinets into DIY open shelving. Generally, it will involve removing some cabinet doors, but that doesn't mean you need to take all of them down. Rather, it's a good idea to consider how many display shelves you really want and create a design plan in advance. If you are renting, though, do be sure to check with your landlord or property manager before making any permanent changes to your cabinetry. 
Remove the doors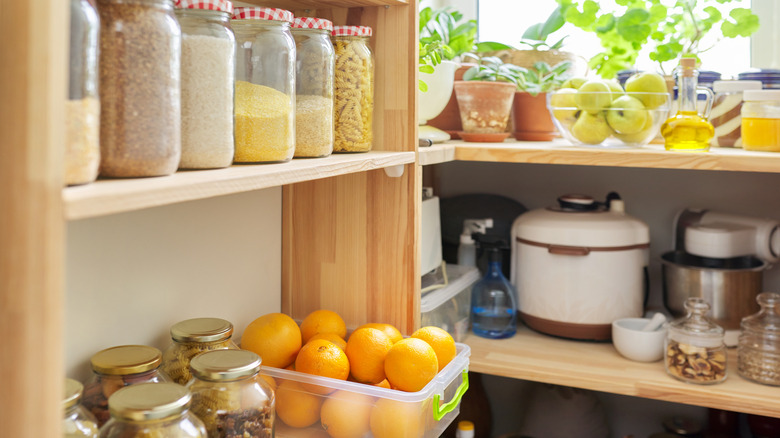 VH-studio/Shutterstock
Once you have decided which cabinets you'll be updating, you need to remove everything from the shelves. Then, using a screwdriver, carefully remove your cabinet doors from their hinges. Depending on the height of your cabinets, you may need a ladder for this step. If the door has concealed hinges, Custom Wood Products explains that this step should be pretty straightforward. Finally, just remove the hinges themselves from the interior or front of your cabinets. 
You will likely have some marks and unsightly holes from where the hinges once were, but don't fear — there's a tool for that. In My Own Style recommends using a special blend stick to fill and stain any hinge marks, however, there are plenty of products like markers or wax crayons that will do the same job. If you are going to paint over the cabinets, the finish won't matter quite so much, but if you are sticking with the original wood stain, you'll want to spend a little time finding the right color. 
Style with caution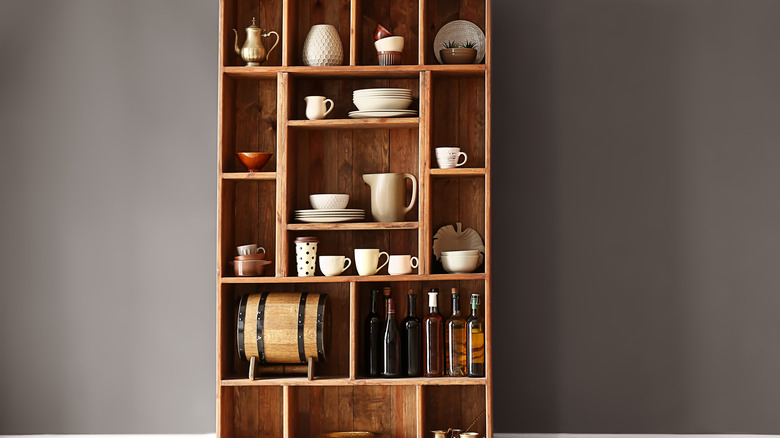 Pixel-Shot/Shutterstock
Now for the creative part — styling! Since you removed all of the contents, it's time to start thinking about what will go back in the cabinet and what won't. If you want this storage space to be solely for display purposes, you probably don't want all of your kitchen items to be replaced. Apartment Therapy notes that cabinet doors are very good for one thing, and that's concealing your messes, so be sure to think carefully about what goes back in your newly opened cabinets. 
Before you decide which cookware and glasses to put back in, why not consider adding a statement backdrop such as a dark or vibrant color, or even patterned wallpaper. Colored glass, lighting, or elegant cookware are all excellent choices for transforming glass cabinets and open shelves. Finally, remember that you can easily change out your display items for holidays, seasons, or just by your mood.