The Price Of Household Appliances Has Gone Up Drastically In The Last Five Years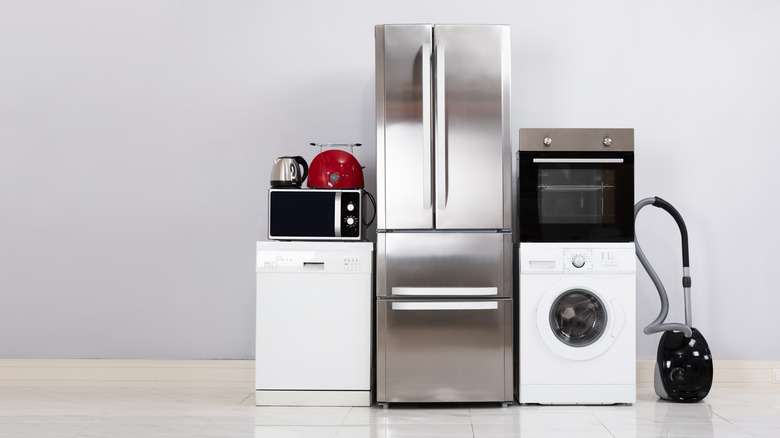 Andrey_Popov/Shutterstock
Recently, just about everything has risen in price. From gasoline to groceries, the cost of everyday items has only gotten steeper and steeper over time. According to the Consumer Price Index of August 2022, conducted by the U.S. Bureau of Labor Statistics, the all items index has increased over 8% for buyers over the past year.
An item that has recently seen a huge cost increase is household appliances. According to Designer Appliances, these items typically rise about 3% in price each year for consumers. However, since last year, they have risen a whopping 12% to 18%. Appliance prices have increased for both buyers and sellers during the past few years because of multiple factors, including supply shortages during the COVID-19 pandemic, the higher price for raw materials for manufacturers, and the increase in costs to transport items, per CW Service Pros. Below, you'll find more information about how the cost of appliances has drastically risen for sellers, per the most recent Producer Price Index by House Digest. Additionally, you'll discover some ways you could potentially save money when buying household appliances.
How to save money, even with the drastic price increase
As displayed in the above graph, the change in prices according to sellers for furniture and appliances has continued to increase during the past five years (via the U.S. Bureau of Labor Statistics). April of 2019 saw a 5% increase from the beginning of 2018, which rose to 6% in 2020 and 7% in 2021. This April, prices rose much higher to 23% and continued to increase even to 26% in June.
Unfortunately, unlike other products like lumber, once household appliances rise in price for buyers, they usually don't decrease, per CW Service Pros. This means that if you're in need of a new appliance, right now may be the best time to buy, even with the high costs. To save money, House Method recommends taking care of your appliances, as regular cleaning and maintenance will help them last longer. Further, repairing your appliances instead of replacing them is typically more cost-effective since appliances are so expensive. For those on a tight budget, Designer Appliances recommends shopping during holiday discounts or buying floor models.