15 Blanket Ladders Perfect For Keeping All Your Throws Within Reach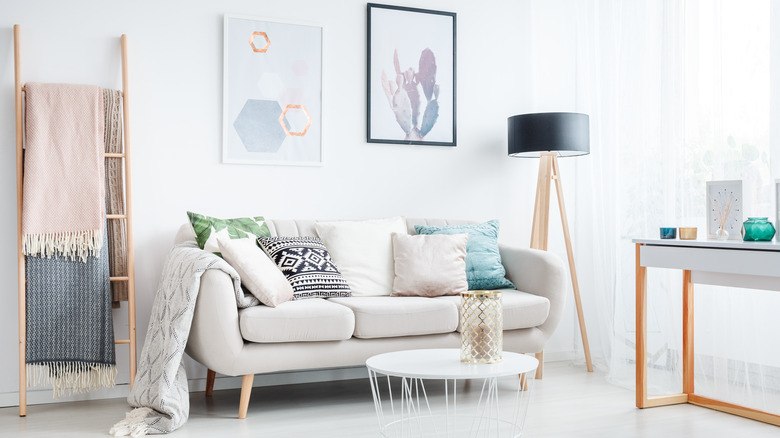 Photographee.eu/Shutterstock
If you hate folding or putting things away, perhaps you would benefit from a blanket ladder. These ladders have both aesthetic and functional uses, per Ladders Point. Visually, they give spaces a warmer and cozier appearance. Functionally, blanket ladders make clean up easy, as you won't have to fold or store away your blankets. Instead, you can lay them over the ladder's rungs, where they will always be quickly accessible. Additionally, these pieces of furniture are typically inexpensive — and, if you love DIY projects, you could easily make one yourself. They are also easy to add to any room, as most just lean up against the wall or rest in the corner.
Perhaps you're thinking about adding a blanket ladder to your living room or bedroom. If so, you'll have a number of styles and colors to decide from. Below are some of the most popular options you could choose to add to your home.
1. Natural wood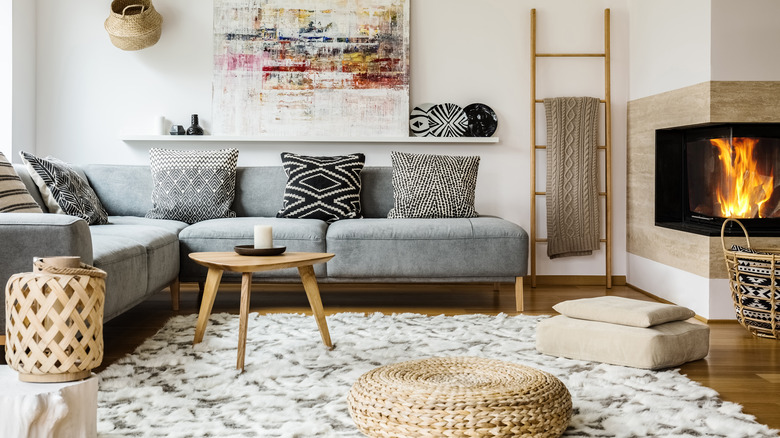 Photographee.eu/Shutterstock
The most common type of blanket ladder is one made out of wood. This will give your space a warmer and more natural appearance. 
2. Minimalist white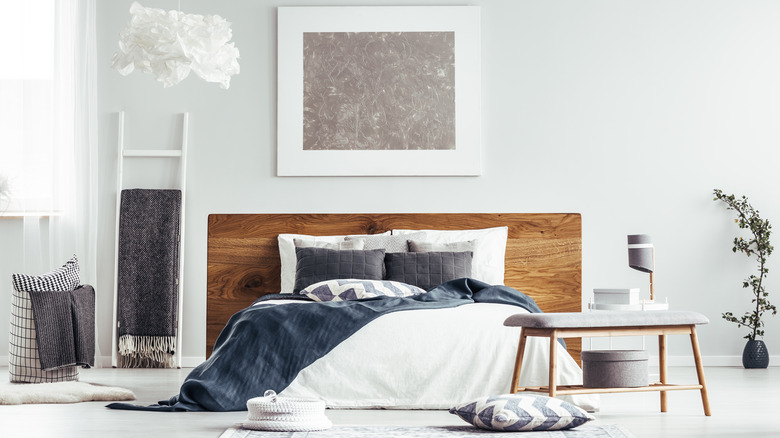 Photographee.eu/Shutterstock
Or, you could choose one that's been painted white. In a light-colored room, as in the space above, this will create a minimalist look, while in a darker room, a white ladder would create an interesting contrast. 
3. Moody dark wood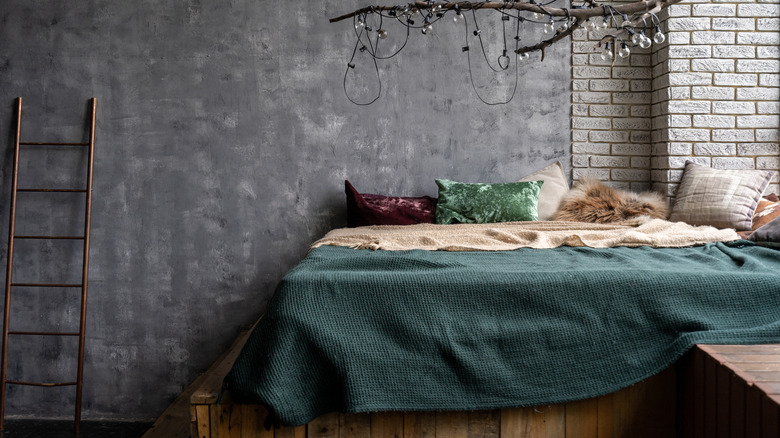 brizmaker/Shutterstock
Ladders made from a darker wood will give a moodier and more sophisticated appearance. They could either be used to complement a darker room or create interest in a lighter space. 
4. Airy light wood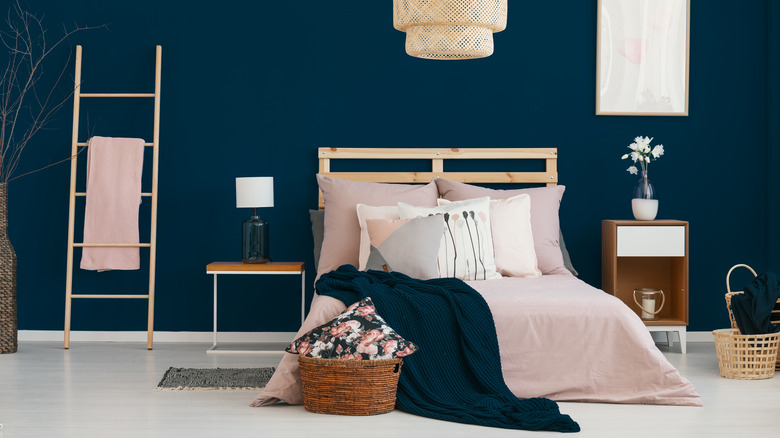 Photographee.eu/Shutterstock
A lighter wood tone will give your space an airy feel. They look great with many different styled rooms, including modern, Scandinavian, and rustic spaces.
5. Chic black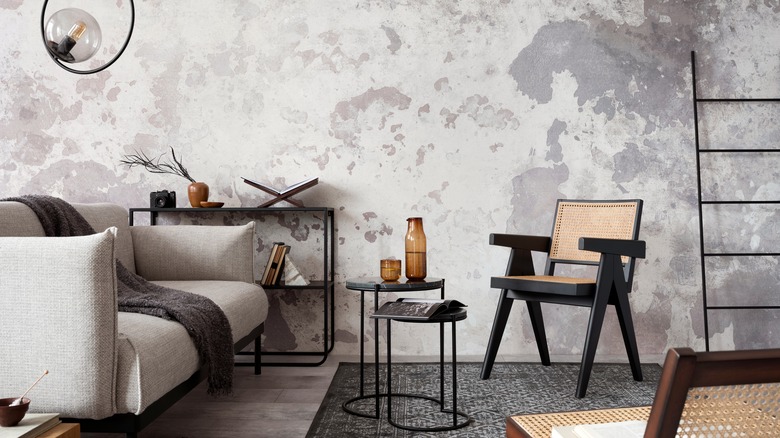 Followtheflow/Shutterstock
Choosing a black ladder made out of metal or wood would create a sophisticated and chic appearance in any room. 
6. Multi-toned appearance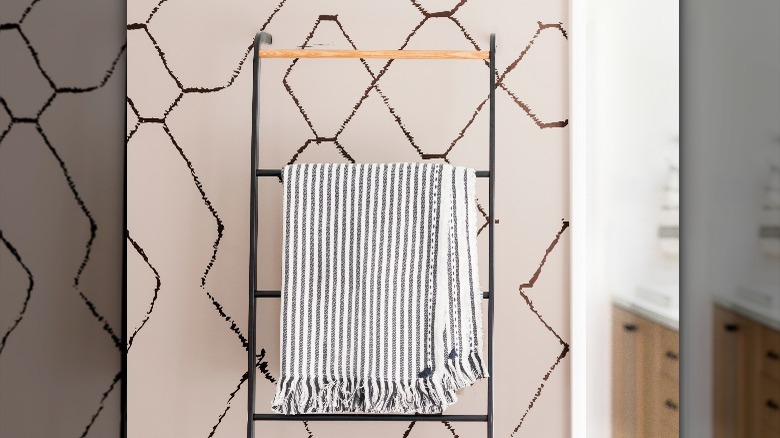 Rawpixel.com/Shutterstock
To add subtle interest, you could choose a ladder that features multiple colors or tones. For instance, the above model is mostly black with one wooden rung. 
7. Rustic driftwood
To complement a rustic or beachy room, you could choose a design that looks like driftwood. String lights could also be added to amp up the look of your ladder. 
8. Tropical bamboo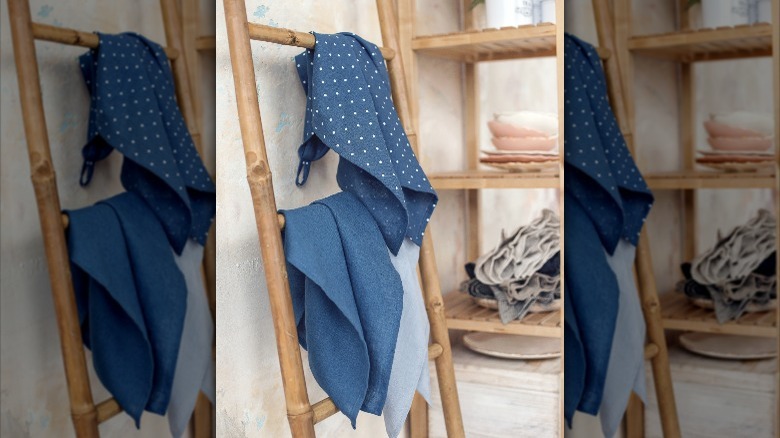 Akasha/Shutterstock
To create tropical or vacation vibes, choose one made out of light bamboo. The rounded edges of this design will give your space a softer look. 
9. Freestanding
If you don't want your ladder to lean up against the wall, you could choose one that's freestanding and drape your blankets over the top. This could also be a great place to display a plant. 
10. Double design
To cover more of your wall, you could choose a design with two ladders (or, place two ladders next to one another). One could be used to display decorative items while the other could be used for blanket storage. 
11. Shelf ladder
You could also use one ladder as both a display for decorative items and a place to store blankets. To do this, choose one with shelves and roll up your blankets so they fit on the shelf. 
12. Extended rungs
For a more whimsical and playful design, you could decide upon a blanket ladder with rungs that extend further than the base. 
13. Straight edges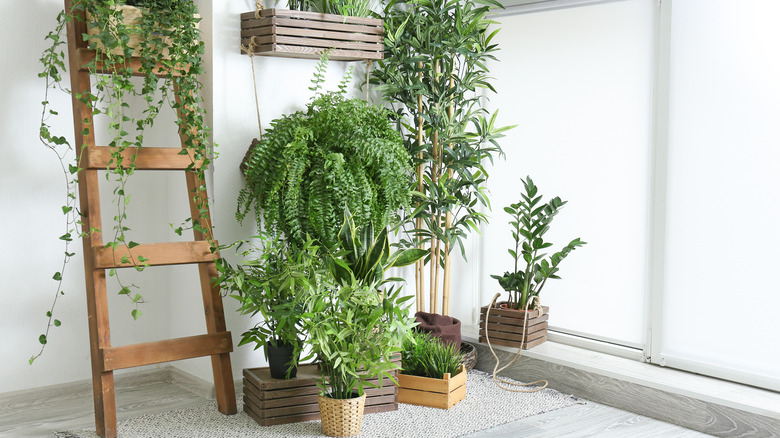 Pixel-Shot/Shutterstock
For a more modern and less whimsical look, you could choose a ladder with straight edges. This design is also great for displaying plants, as the rungs are flat and sturdy. 
14. Utilizing hooks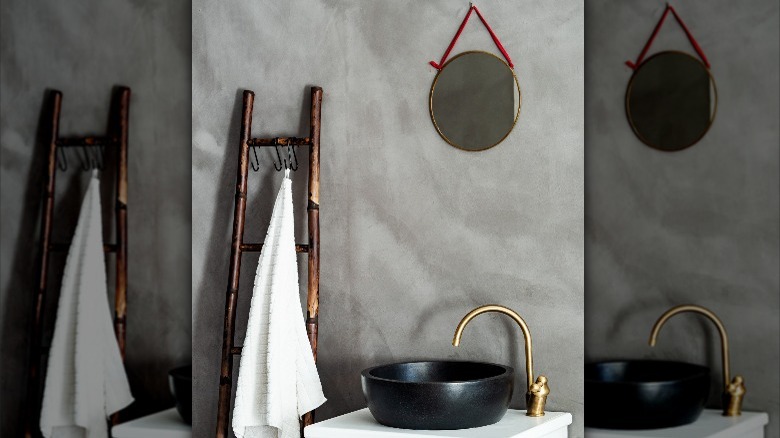 Pinkasevich/Shutterstock
To make hanging up your blankets even easier, you could add hooks to the top rung of your ladder. This design would make clean up a breeze. 
15. Miniature model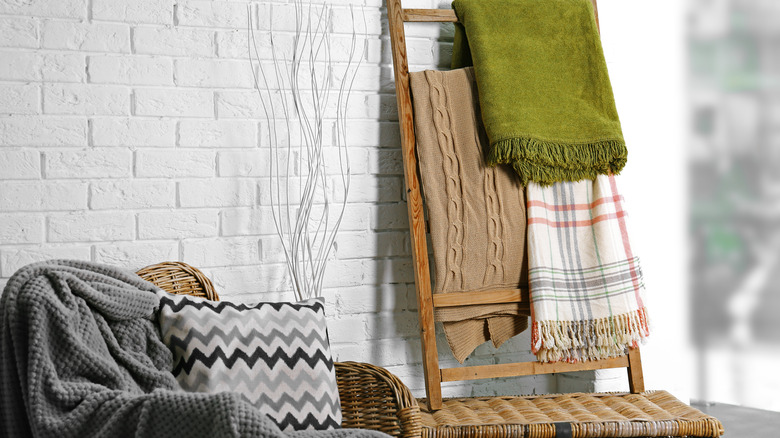 Africa Studio/Shutterstock
If you don't have lots of floor space, you could choose a shorter design and place it on top of a table or a basket.