Glidden's Color Of 2023 Is Here And It's Super Adaptable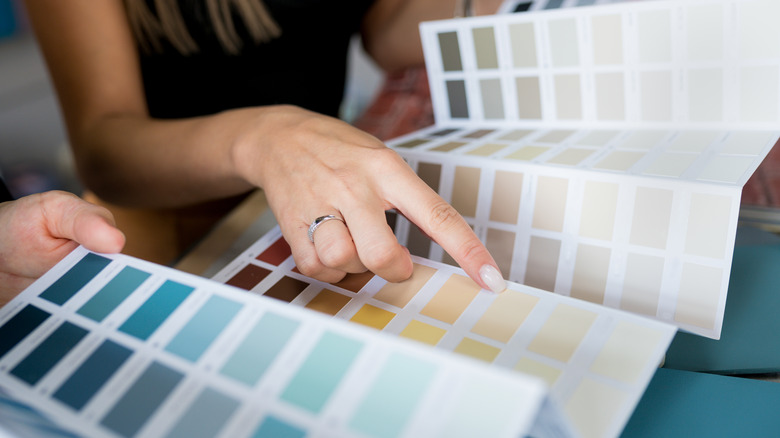 Tatiana Gordievskaia/Shutterstock
When choosing a paint color, it's essential that it can shift and blend with your environment and décor. Glidden's 2023 color of the year, Vining Ivy, does just that. The paint brand recently released a collection of 10 trending colors for the upcoming year ranging from the neutral cream-toned Fossil Stone (PPG1102-2) to the bold and warm Spicy Mustard (PPG1108-5). However, one color took the stage as the top pick for 2023, the ever-changing Vining Ivy (PPG1148-6).
According to Glidden, the collection of colors represents the desire to return to normal in the wake of the COVID-19 pandemic and can be used to create relaxed spaces that hint at luxury. Each color is earthy and muted but with just enough saturation to pack a punch and create a modern look in your interiors. Vining Ivy, however, packs a punch another way — nobody can agree on what color it actually is. 
Transformation in teal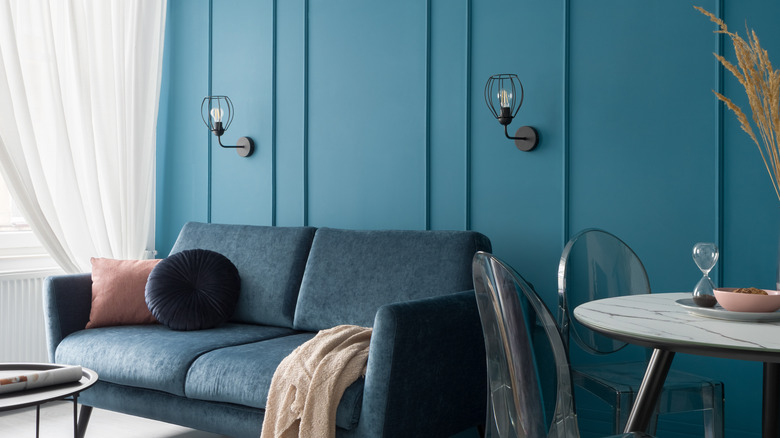 Dariusz Jarzabek/Shutterstock
Glidden describes Vining Ivy as a unique "bluish-greenish-something-in-betweenish" shade that shifts depending on the space and lighting. Its core characteristic is adaptability — it can lean warm or cool, works as an accent color or a full-room statement, and toes the line between relaxing and energizing. Instead of spending hours debating between two nearly-identical swatches of paint, Vining Ivy was designed to flex with you and your home, giving you more time and energy to focus on what matters within the walls.
Teal has been a popular color for accents and bold statements for years, and it's no surprise why. According to Color Psychology, the shade combines the soothing characteristics of blue with the positiveness of green, resulting in a color representing harmony and restfulness. Vining Ivy reflects this message, easily fitting into just about every room and taking the stress out of the endless paint color decision.
Styling the shade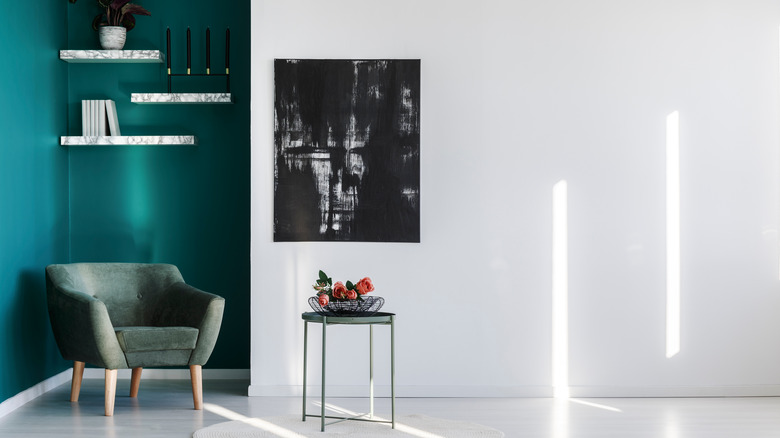 Photographee.eu/Shutterstock
As we've learned, Vining Ivy is an incredibly versatile shade, but there are still specific pairings that will allow it to shine. According to Canva, teal works the best with pink, cream, navy, pink, and brown. It also pairs well with metallics, and because it straddles the line between warm and cool, both silver and gold accents are fair game.
Glidden recommends pairing the color with Cathedral Glass (PPG 1148-5), a slightly lighter teal, or a cream shade like Fossil Stone, another 2023 trending color. If you're still a little hesitant to try this color, Vining Ivy works well as an accent to bring a pop of color and depth to a space, but if you're ready to go all in, combine it with dark wood accents to create a deep, moody look in your home. Vining Ivy was chosen as the color of 2023 for a good reason, but the debate still stands — is it blue or green?