Jenn Todryk Says This Is The Area Of The House That's Worth The Splurge When Renovating
You don't always have to tear down walls to create a stunning home transformation. That's what Jenn Todryk from HGTV's "No Demo Reno" wants to stress to her clients. On her show, Todryk upgrades spaces with paint, tile, and other cosmetic features, proving that an extensive remodel isn't the only option.
Homeowners planning a renovation are no strangers to how expensive renovations can be. Many strategize ways to keep costs down before hammers start swinging. Creating and sticking to a budget, paying in cash, and tackling projects slowly are all great options for saving money on a renovation, according to A Beautiful Mess. But during this planning stage, Todryk says there are some opportunities to splurge.
So, if you're going to renovate your home, where should you spend your money? According to an interview with Texas Monthly, the "No Demo Reno" host recommends two places in your home where it's worth spending a little extra money.
The kitchen's worth the splurge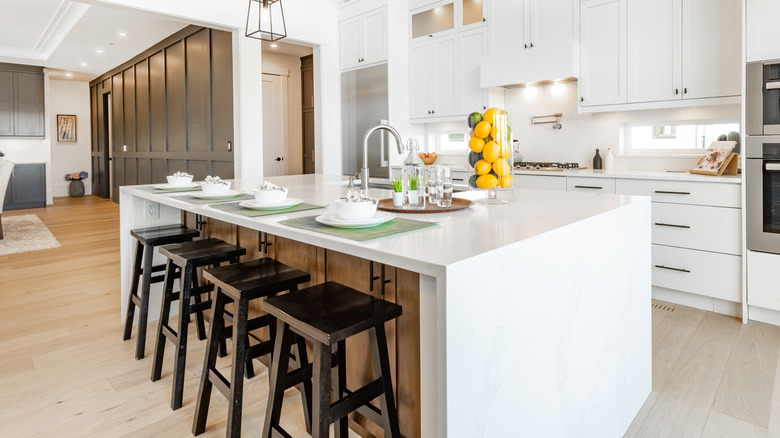 Sheila Say/Shutterstock
Of all the rooms in the house, kitchens often get the most traffic. Whether there's a nightly meal or friends to entertain, the kitchen gets a workout. Not only does it need to be beautiful, but it also needs to be functional. So it makes sense that Jenn Todryk says that if there's one room to splurge on, it's the kitchen. An updated kitchen also adds value to a house, Todryk tells Texas Monthly.
You can add cosmetic upgrades such as a waterfall countertop on the island, suggests The Analytical Mommy, beautiful tile for the backsplash, or a fresh coat of paint on the cabinets. But some practical solutions that add storage and organization are also good ideas, too. Deep cabinets with a peg board organizer, built-in induction cooktops, and a workstation sink are all features that can improve the function. Investing in your kitchen not only makes cooking in it easier for you but can also add value to your home that you'll always see a return on. If you're looking for a place to splurge, Todryk says funnel it into the kitchen.
Splurge on statement lighting too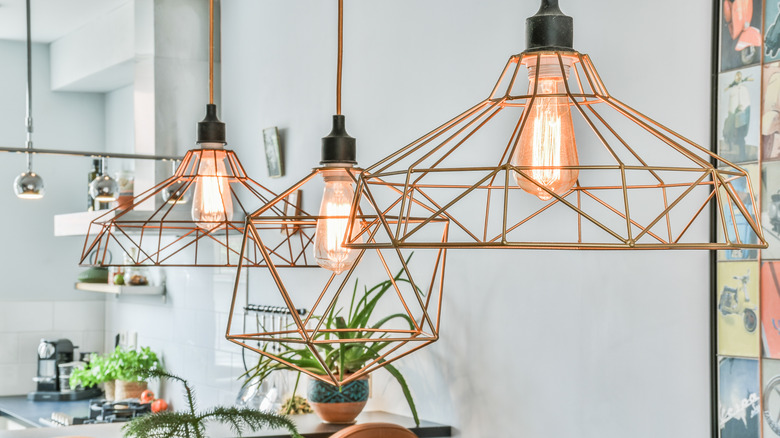 Procreators/Shutterstock
Maybe your kitchen is already renovated, or maybe you're only looking for quick cosmetic upgrades. Whatever the reason, Jenn Todryk has another suggestion of where to splurge: lighting. Builder-grade lighting can be boring and lack personality. Don't underestimate the way swapping out a light fixture can transform the room. Statement lighting can come at a higher price point, but it can also add value to the home. And if you're not planning to sell, statement lighting can help bring your entire room design together.
The key to choosing the right light fixture is picking out bold lighting. One that dominates in spaces like living rooms and dining rooms will create a focal point, according to Lights Online. You can also create a statement by choosing a lighting fixture in a contrasting color to the rest of the room. Mixing and matching two or three different lighting styles can also create some visual interest in your lighting design.