The Best Grill Cover To Protect Your Grill This Winter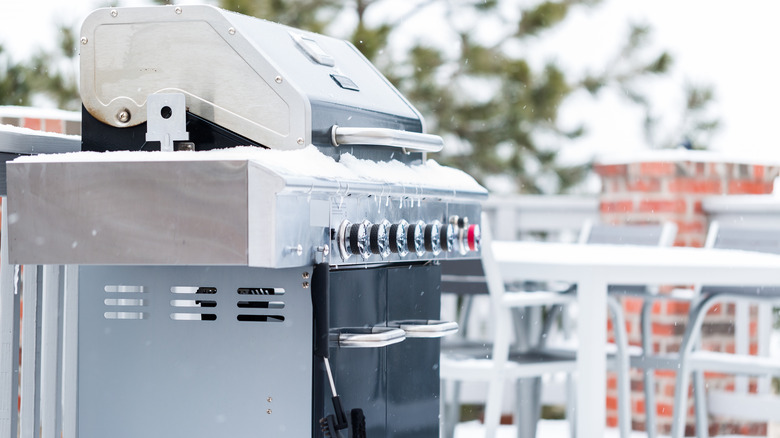 Arina P Habich/Shutterstock
We may receive a commission on purchases made from links.
If you live in an area that experiences snow (and lots of it), you've probably started getting your yard ready for the cold, snowy months—especially your grill. Winterizing your grill maintains its condition so you can fire it up again when summer begins. The most effective way to preserve your grill is by covering it with a proper grill cover. Without a cover, your grill is susceptible to rust, and small critters may even use it as shelter, Char-Broil warns.
With several grill covers on the market, you might be overwhelmed trying to find the best one. There are numerous factors to consider when buying a cover, such as the material, size, and durability. Luckily, we found the best grill cover that is guaranteed to protect your grill this winter. The best part is, it's super affordable, and you can feel confident your grill will be safe all winter long. Let's take a look.
Grillman premium bbq grill cover
To protect your grill this winter, check out the Grillman premium bbq grill cover. It's affordably priced and is eligible for free, one-day shipping from Amazon. With six sizes to choose from, you'll have no problem finding a cover to fit over your grill. The price of the cover varies, depending on which size you select, but you can expect to pay anywhere from $25 to $38. You also have three color options to pick from, including black, gray, and tan, all made of 100% polyester.
According to Garden Gate, polyester is one of the best materials for grill covers because it holds up against all weather conditions. Customers agree the Grillman premium grill cover does just that. One reviewer said even during tough winter conditions, their cover remained in brand new condition. Another customer raved about how well the grill cover withstood all weather types. With a 4.5 star rating and more than 18,500 reviews, it's clear the Grillman premium grill cover is a favorite among grillers everywhere.