The Perfect Dining Table For Your Small Apartment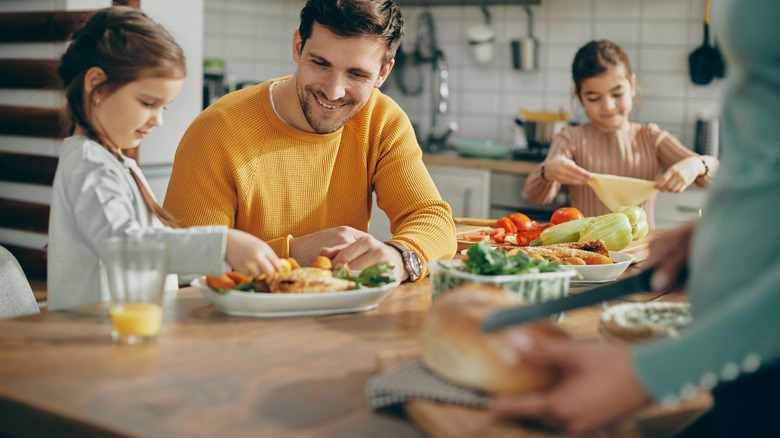 Drazen Zigic/Shutterstock
The smaller your home is, the more innovative your design should be. No matter the size you're dealing with, your first priority is to ensure your space is functional. Even if you create the most beautiful design, it's useless if you can hardly walk around your furniture. For most families, the dining area is where you do homework, eat dinner, spend time with loved ones, or just sit around while you play on your phone. It's definitely one of the top spaces where you conduct many of your daily activities, so your design should be able to accommodate them.
Your dining table is sure to be the largest item in the room, so choosing the right one is crucial. Bassett says the average rectangular dining table is 36 to 40-inches wide, but depending on the size of your room, this may be too big. So, we'll give you a few options that may end up being the perfect dining table if you live in a small apartment.
Pedestal table
Raymour & Flanigan says round tables are typically a great option for smaller spaces. This shape doesn't usually accommodate a large number of people, so a couple or family living in a small apartment are more likely to enjoy it. We recommend a pedestal table, as they can be great space savers in smaller areas, per Unruh. This table is constructed with one support system in the middle, leaving residents with plenty of leg room underneath. When dealing with a round table, it is also easier to add an extra place setting when needed compared to a table with edges.
We recommend the Daphne Concrete Indoor/Outdoor Dining Table from Urban Outfitters. It's 46-inches in diameter and has a leg height of about 29-inches. You can have at least four people around this table, and its white, concrete style is sure to leave your space looking bright and airy. Although it's a bit on the modern side, this pedestal table could also complement a rustic or contemporary design. The price is about $1,000.
Square table
If you have a small family of four, a square table should be able to comfortably fit all of you, per James + James. They are especially useful in small spaces, as they are easy to hide away in a corner when no one is using them. They're also easy to design around, as they can create a symmetrical appearance. If the angles of a square table seem too sharp for you, it is possible to soften the look by adding curved, upholstered chairs.
The Box Frame Drop Leaf Expandable Table from West Elm is a great option for those who often have friends and family over. When the drop leaf is lowered, the width of the table is 24-inches; when expanded, the size increases to 48-inches and is more rectangular. The top is made of solid mango wood, and the legs are steel with a dark bronze finish. The neutral design of this table makes it a great choice for most design aesthetics, and the price is about $650.