The Price Of Porch And Lawn Furniture Has Gone Up Drastically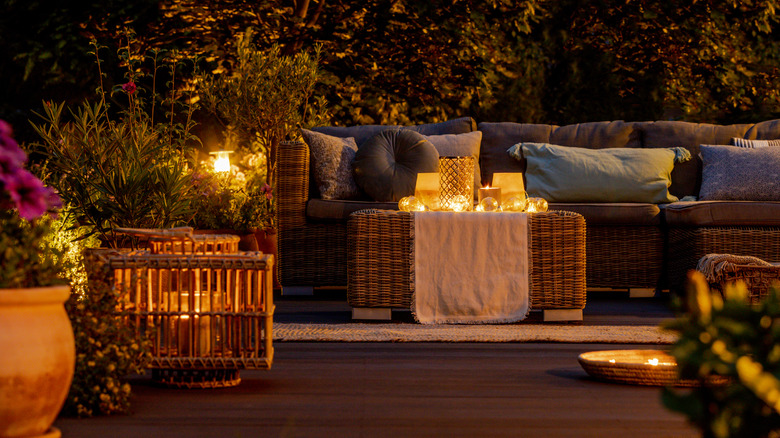 Ground Picture/Shutterstock
You've probably experienced sticker shock when shopping around for furniture for your patio, porch, or garden area — especially over the past few years. While patio sets have always been on the pricey side, House Digest data shows that the cost has recently risen significantly — up by 30% since fall 2019. The regular high cost is due mainly to the manufacturing process as it requires high-end materials combined with sturdy construction to ensure longevity and durability, says Plants Haven. Each piece is designed to last years under harsh conditions from fluctuating (and often extreme) weather conditions and temperatures. But a 30% price hike hits the wallet pretty hard. So, what's going on?
Where there's demand, there's profit to be made. Business Wire reports that the outdoor furniture industry stands to grow by $8.27 billion by 2024. But profit isn't the only factor in the price hike. The rise in cost also incorporates the impact of supply chain crunches, increased shipping costs, and labor shortages. According to Captain Patio, the demand for porch furnishings went up due to COVID-19, but fulfilling those orders became difficult due to economic changes and scarcity of materials. While waiting for the market to even out, retailers can raise prices on items they have in store. Plus, replenishing the inventory of outdoor items costs them more as well due to the overall rise in prices of raw materials and manufacturing. It's an economic cycle that takes a bite out of everyone.
You can still find deals on patio furniture
Outdoor space is an extension of the home. As outdoor living becomes more popular, customers are purchasing quality, stylish products for these spaces that are both functional and comfortable, and the U.S. is the leading consumer of patio furniture in North America, says Future Marketing Insights. Per the Change in Producer Price Index graph above, the increase began in September 2019, climbing 10% by September 2021 and then galloping to a total increase of 30% by July 2022. Delays and demand are expected to continue into 2023, according to the Associated Press, which means you can expect the cost to continue its upward trend. Meanwhile, consumers can score deals with secondhand patio items found at thrift stores and sold online by individuals. But if used furniture isn't your thing, Outdoor Living News suggests being flexible with your taste when it comes to brand new items in stock by accepting less desirable styles or colors and asking if you can purchase the floor model.
If you can find a showroom with patio furniture available, you might want to buy it before it's sold to someone else. But if you can wait, there are additional ways to save, including buying during seasonal and holiday sales. Patio Furniture advises looking for discounted items on Black Friday, Cyber Monday, Labor Day, Memorial Day, and Presidents Day for the most guaranteed deals.