Is The Least Expensive Patio Furniture At IKEA Worth Buying?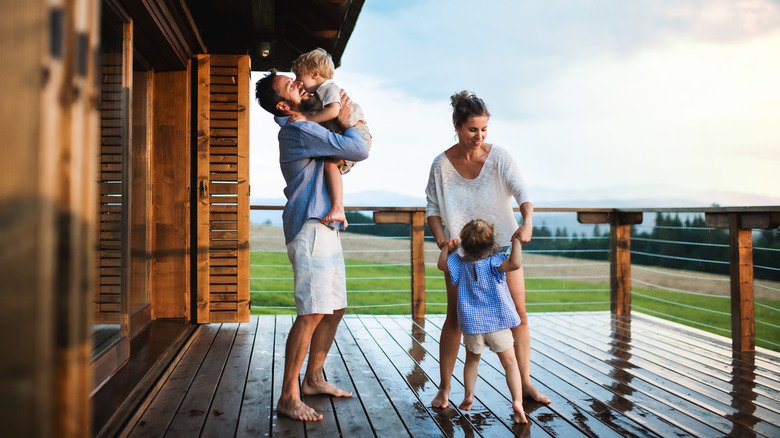 Halfpoint/Shutterstock
As summer is starting to come to an end, we are all scrambling to take in every last ounce of this gorgeous, warm weather before the cold winter months begin to settle in. And what better way to enjoy the weather than from your own comfortable patio furniture? Designer Daily agrees that patio furniture is a great way to spend time outside, whether socializing with your family or watching your children play in the yard. Functionally, having patio furniture also comes in handy when hosting a party or an extended family gathering that requires plenty of seating arrangements.
Unfortunately, as tempting as it may be to splurge on patio furniture for your home, outdoor furniture pieces can become rather expensive depending on the company you decide to purchase from. Luckily, IKEA is packed with plenty of outdoor furniture pieces that will keep your budget intact. Let's take a look at some of IKEA's least expensive patio furniture and discover if it's worth buying.
The TÄRNÖ outdoor chair
IKEA's cheapest outdoor patio piece is their TÄRNÖ chair, available for only $20. This chair is a collapsable piece which allows it to be easily stored when it is not in use. When in use, however, it stands 31 inches tall and provides a 15 ¼-inch by 11-inch rectangle of sitting space. Its appealing style is also perfect for a patio or balcony setting because it boasts a light brown stained wood connected by sturdy metal legs that come in either green or black. For only about $50 more, this chair is available in an entire patio set that includes two TÄRNÖ chairs with a matching table.
Overall, customers give this chair a solid 4.6 out of 5 stars review. Many reviewers further explain that the chair is very durable and fits perfectly with types of decor. The fold-out feature also makes it perfect for storing and whipping out when you have guests or even plan on hosting a party. Unfortunately, there were also a few people who did not share the same positive experience. For example, one customer expressed that after only a week of use, the chair broke. Regardless, this outdoor chair is adored by many and can be the perfect little addition to your home patio for only $20.
The ASKHOLMEN outdoor chair
If the TÄRNÖ chair doesn't necessarily fit your liking, IKEA also has the ASKHOLMEN chair available for only $35. Like the TÄRNÖ chair, this chair is also collapsable, which allows it to be easily stored. When not stored, however, IKEA shows that this chair is rather large and sturdy. It stands about 34 ¼ inches tall and provides an 11 ¾ by 14 ⅛ inch base for sitting space. The all-wood chair boasts a light-stained finish that can match nearly any patio set-up you may already have. If you are looking for more than just a chair, the ASKHOLMEN chair can also be purchased as a set of two chairs and one table for only $119.
As far as ratings go, the site shows that out of 30 reviewers, there was only one poor rating. All the other ratings ranged between 4 and 5 stars. Customers claim that these chairs are not only very easy to fold and unfold but also very comfortable. One particular customer even claims that her ASKHOLMEN chair still functions as perfectly as the day they purchased it, which was nearly 10 years ago. The only negative comment about this chair mentioned the quality of the wood ruins clothing. Regardless, for both comfort and functionality, this chair is also a worthy purchase for your new patio set-up.