How Long Does A Typical Bathroom Remodel Take?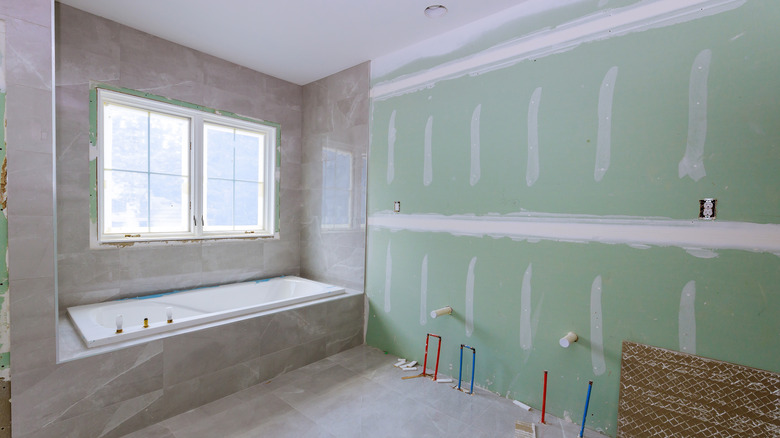 ungvar/Shutterstock
Remodeling your bathroom can be exciting and stressful at the same time. It's exciting because you get to enjoy a brand new bathroom but stressful because things don't always go according to plan. Schedules can change, and unexpected events may come up. However, planning ahead is always a great idea. Badeloft estimates that remodeling your bathroom can take up to four weeks, whereas larger bathrooms may take up to six weeks for completion.
However, it's certainly not as simple as this. There are various factors that affect the timeframe of a bathroom remodel, which means it can take more time or maybe even less. And as always, there are things you can do on your part to make sure the process is as smooth and quick as possible. If you're remodeling your bathroom or are thinking about it, we've gathered some information you might find useful to help make sure everything goes according to plan.
Things to consider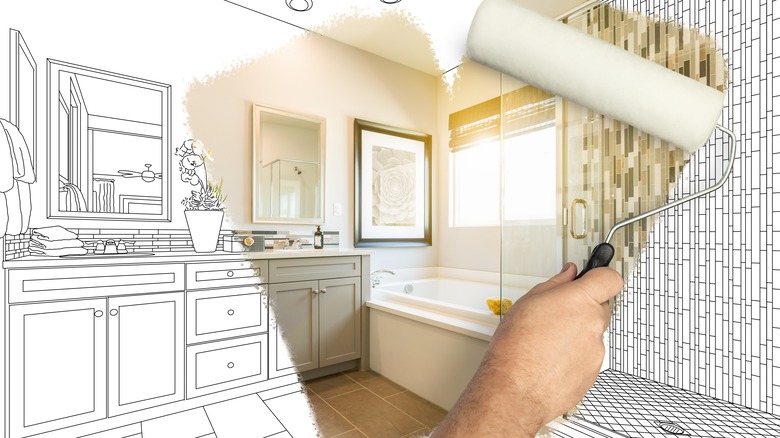 Andy Dean Photography/Shutterstock
According to The Bathroom Store, there are quite a few factors that can directly impact the time your remodel will take. For example, the scale of the project is a major defining factor. If your remodel includes larger changes such as extending space by adding and removing walls, it can take an additional two to four days to finish. Smaller changes, on the other hand, take much less time. For example, replacing your bathroom fixtures such as faucets and lighting will only take a day or two. Additionally, the type of flooring you use can also affect your timeline. Vinyl flooring may only take a day to complete, whereas tile or wood floors can take up to two or three days.
DreamMaker Bath & Kitchen mentions material choice also impacts your remodel timeline, noting that if you plan on using material or other items that need to be shipped in, delivery times can affect your completion time. Certain materials, such as marble or ceramic, also come with special installation needs, which might add more time to the remodel.
Speeding up the process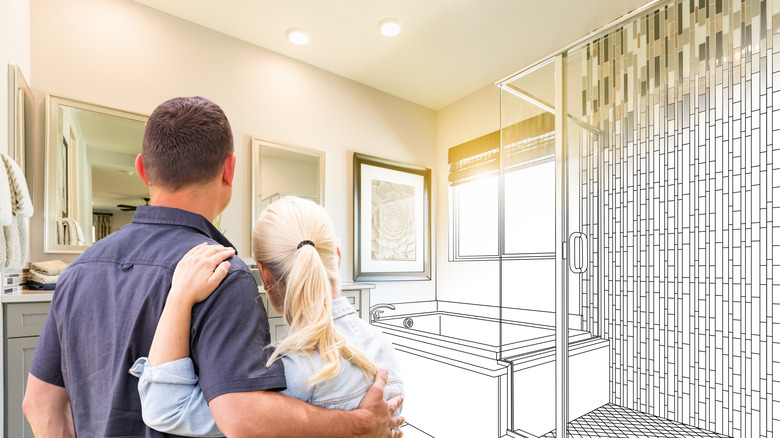 Andy Dean Photography/Shutterstock
Chique Home Living notes that there are tons of tools that you can count on for a speedier remodel. For example, if you're installing tile in a bathroom, a tile cutter can be your best friend. Tile cutters make accurate cuts using water jets, meaning you won't suffer burns in the process. Making sure to wear protective gear is also important, they say. They recommend keeping gloves and protective eyewear on hand to make sure you stay safe during the process. You don't want to end up in the hospital after all!
As Networx explains, sticking to the existing floor layout can help you save lots of time. A new layout can call for changes in plumbing and lighting and may even require remodel permits. These can all add days to your timeline, so it might be a better idea to hold off on the new floor layout.
At the end of the day, each bathroom remodel, and its timeline is unique. Considering these factors and doing what you can to speed up the process will help ensure you get a quality job done in as little time as possible.