The Easiest Way To Insulate Your Windows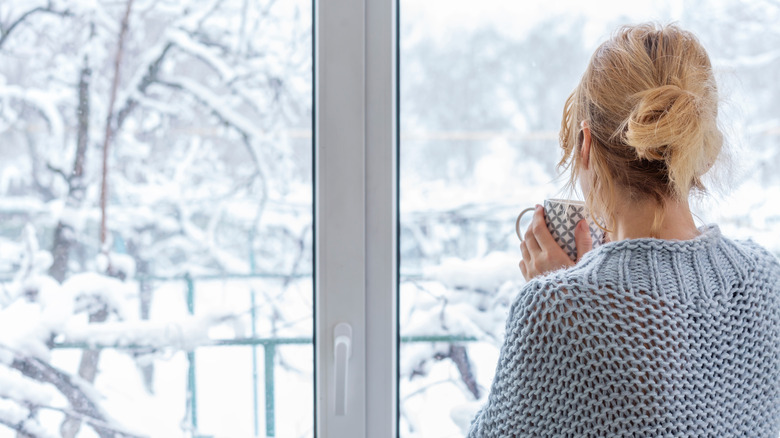 Tanya Dvoretskaya/Shutterstock
Affordable and easy to install, window insulation kits help keep your home warmer in the winter with a shielding material on the panes, stopping cold air from coming indoors, explains WCMA Net. While serving as a budget-friendly option for insulation in the wintertime, know that they're typically only a temporary fix. Something more permanent would be replacing your windows altogether. However, if you wanted to, you could keep this film over them year-round to insulate against the cold and heat.
Typically, these kits cost about $5 to $10 and only take a couple of minutes to install. By the end of winter, you'll notice your house staying warmer, along with a cheaper utility bill compared to what it usually is. If cold air is being let in from holes around the frame or if you have single-pane windows, then you should definitely purchase an insulation kit.
You also have the option of using outdoor kits if you feel like you need more insulation. While having this film over your panes isn't always aesthetically pleasing, it will do its job well. Plus, it can always be covered up with some curtains.
Prep your windows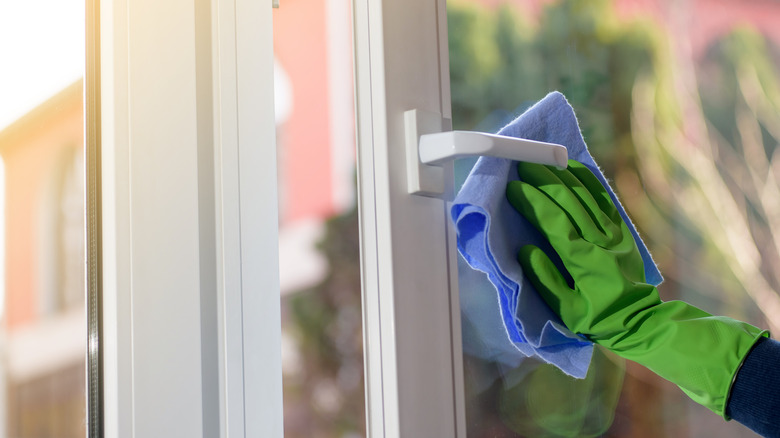 Vitaliy Hrabar/Shutterstock
When first getting started, preparing your windows is crucial to making sure the film will adequately adhere to the frame and do its job. If the frame is dirty, the tape won't stick, and cold air will enter your home. According to Today's Homeowner with Danny Lipford, you need to first clean the window and frame. You can do this with soapy water and a paper towel or cloth. Then, look over everything so that it's completely dry before moving on to the next step.
In your kit, you'll find the double-sided tape and place it on the frame, not the actual window. Working in sections, remove the paper from one side and apply it to the molding. Once it's in a square around the framework, ensure any spot where you can feel a draft is inside the tape. Then, you can add the plastic for proper insulation to keep out any cold air.
Apply the film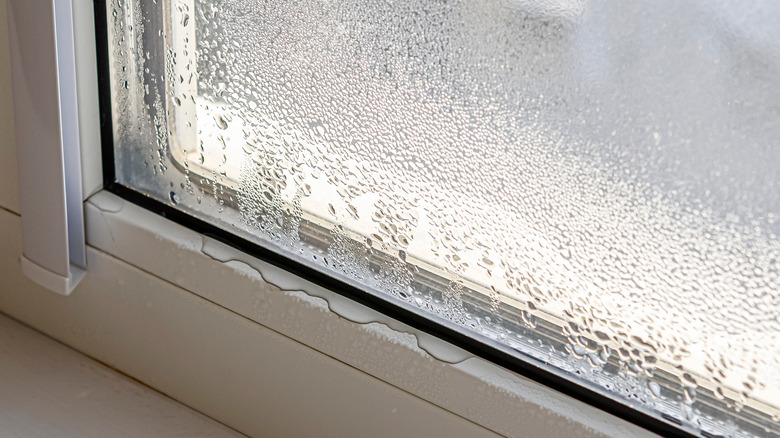 Nataliia Yankovets/Shutterstock
Now it's time to add the plastic film. It looks just like the Saran wrap commonly used to keep food fresh, but is thicker and more durable. Before applying the film, measure it to the size of your window with a couple of extra inches to be safe. Don't fret — you'll always be able to trim the plastic afterward. Stanek Windows recommends starting at the top. Make sure to center the plastic and work in sections as you remove the paper from the tape and stick the film.
When all the plastic is in place, run your finger over the top to ensure it has a good, tight seal. Then, it's time to take out a hair dryer. You'll want to start in a corner and move the dryer diagonally. Doing this will make the film strong and sturdy and remove any wrinkles. After this step, you can use a pair of scissors to cut off any excess plastic material.