The Best Robotic Vacuum That You Absolutely Need For Your Home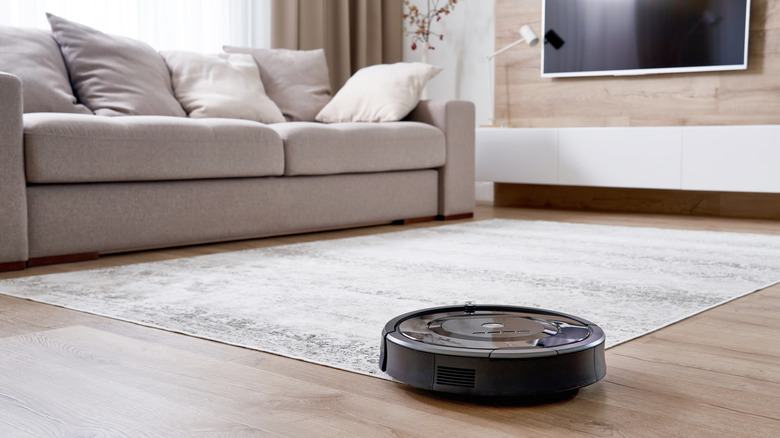 mariakray/Shutterstock
We may receive a commission on purchases made from links.
A robotic vacuum may be one of the most convenient gadgets life has to offer. Think Crucial points out that among the many benefits of this modern marvel is the fact that it allows you to clean your home while being away from it. The timer lets you schedule exactly when you want to vacuum. Some editions even connect to WI-FI so you can control them with an app on your phone, and most can clean both your hardwood floors and your carpets. Equipped with docking stations, these gadgets return to their assigned location whenever they finish cleaning or detect a low battery. As long as you keep the dock plugged in, your robotic vacuum will remain charged at all times.
Furthermore, there are sensors located on these cordless appliances. The most important sensor allows the vacuum to detect boundaries around your home. This means you can control exactly where you want it to go and prevent it from causing damage to furniture in your home. Another sensor included in some models helps with spot cleaning for areas that need a little extra work. However, TechRadar warns not to throw away your regular vacuum as you will still need it for deep cleaning as well as places the robot can't reach. If you're interested in purchasing one, here's what's considered to be the best option.
The best robotic vacuum
According to Best Reviews, the best robotic vacuum that money can buy is the iRobot Roomba s9+ available on Amazon. Costing just under $1,000, this vacuum contains a 3-step cleaning system that lifts, loosens, and then eliminates the dirt in your carpet. If that's not enough, a power boost technology is installed to increase suction and clean more efficiently. In addition, this model contains a self-cleaning system that lasts for up to 60 days at a time.
Aside from learning the layout of your home, the iRobot Roomba s9+ also comes with a corner brush to get into hard-to-reach areas. As if this gadget couldn't contain more technology, it can connect to your phone as well as any Google Homes or Alexa devices you may have. After connecting, you'll be able to tell it to clean a certain area to quickly pick up any spills or accidents. Your purchase automatically grants you a one-year limited warranty.
This product received an overall score of 3.9 stars on Amazon. These ratings have been broken down based on functionality with the battery life and suction power, both of which received 3.8 stars. The deep cleaning method received a 3.4 star rating, while noise level, Alexa integration, and tech support all received 3.1 stars.
A cheaper alternative
Of course, many consumers can't afford to drop a grand on a vacuum robot. But don't worry; there are cheaper options that retain quality. According to Buyers Guide, the yeedi vac station is a cost-effective vacuum also available on Amazon. This 3-in-1 model contains important features including a mop setting that runs simultaneously with the vacuuming. Sensors are installed so the vacuum can detect which type of flooring it's on. When on carpet, it will refrain from using the mopping feature and, instead, enforce maximum suction to pick up as much dirt as possible.
The unit can store up to 30 days of dirt and debris and runs for an average of 200 minutes. When it detects a dead battery, it'll return to its docking station where it will recharge before picking up where it left off. In addition, you can connect it to your phone then edit whichever locations you want the vacuum to avoid. Voice commands are also available as it can connect to Google Homes and Alexa. The warranty length for this product is currently unknown.
The yeedi vac station received a 4 star rating on Amazon, where it's been rated over 2,600 times. Breaking down the reviews, we can say the vacuum received 4.1 stars for battery life, 3.9 stars regarding value for the money, and 3.8 stars for suction power. In addition, it obtained 3.7 stars for noise level, 3.5 stars for remote control, and 3.2 stars for deep cleaning.