Target Or Ikea: Which Has Better Deals On Floor Lamps?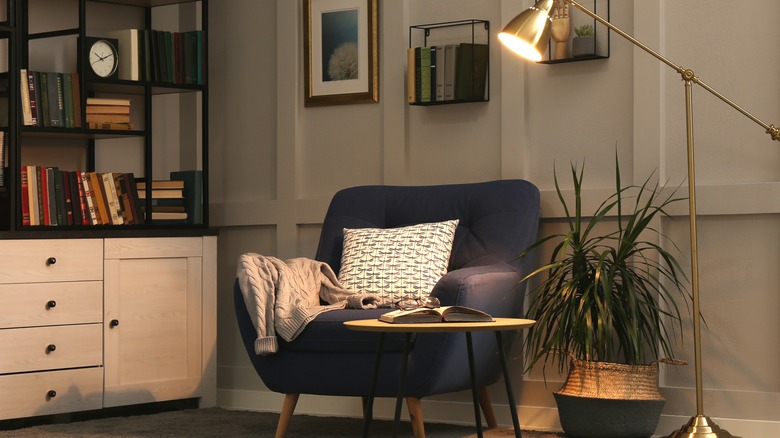 New Africa/Shutterstock
Before purchasing a floor lamp, there are many factors to think about and questions you should be asking yourself. As Visual Hunt points out, one important element to consider is where you want to send the lamp's light. Some types, such as ambient lamps, spread the light throughout the whole room while others focus on a certain area. The latter is ideal for those that need a lamp to read or work under. In addition, you may also want to consider an arc floor lamp as these models can be adjusted to provide both direct and ambient light.
Next, decide on how big of a lamp you want. If you're wanting to illuminate the room as much as possible, consider getting a tall model as the light will spread further throughout the room. However, if you're wanting it for specific areas or to save space, a short lamp may be right for you. After the size is decided, think about the lampshade. Believe it or not, these shades can affect where the light directs as wider shades will project in more areas. Finally, consider what features you'd like your lamp to contain. Some models have dimmer settings while others can bend in many different directions to better fit your needs.
Once you've got all of your desires sorted out, you then need to decide where to purchase your new lamp. Target and Ikea both have a large selection, and we've broken down the better deals found at each one.
Target's torchiere floor lamp
One of Target's most popular models is a torchiere and task light floor lamp. Available in either black or silver, this model costs only $15. However, for $7 more, you can include the required LED bulbs. It must be noted that the torchiere light bulb cannot exceed 150 watts while the task light must not exceed 40 watts. In addition, the torchiere light has a three-way rotary switch while the task light contains a one-way rotary switch. The base and the shade itself are both plastic while the flexible neck is made of metal. Peaking at 71 inches in height, this model also houses a 60-inch-long power cord. A warranty is not available when purchasing.
On the standard 5-star rating scale, this product received a 4.1-star rating with a recommendation rate of 80% based on almost 2,000 reviews. Broken down into three categories, the design section has 4.3 stars while the value received 4 stars. In addition, the quality of this lamp received a 3.6-star rating. The reviews are vastly mixed with one purchaser stating that they would recommend this as it is great for use in a dorm and the task light comes in handy. However, another stated they would not recommend this lamp as they ended up returning their purchase due to one of the light fixtures being stripped out and causing the lamp to lean. One consumer also rated it 3 stars as the lamp worked fine but there were scuff marks on the shade.
Ikea's FLUGBO floor lamp
While Ikea has many popular models, one of the best floor lamps that you can purchase at this retailer is the FLUGBO dual floor lamp. Available at just under $75, this model contains both the actual floor model as well as a reading light. The necks of this floor lamp are made of steel and are nickel plated while the base itself is made of reinforced EVA plastic. In addition, the shades are made of glass. Lite Craft states that these types of shades can be more beneficial than other types as they will allow the light to pass through for a more vibrant effect. The maximum height of this lamp is just over 6 feet while it weighs almost 20 pounds. Warranty information on this product is not currently known at this time.
With only three total reviews to account for, this product has received a perfect 5-star rating. This lamp is also broken down into categories and received a 4.5-star rating for ease of installation while appearance, quality, money value, and working as expected all received 5 stars. One consumer stated that they would recommend this floor lamp as it is very attractive with a combination of features at a good price. 
We have to say that while this was a close call, the overall better deal is at Ikea. Even though it only has three reviews and costs more, the floor lamp is made of better materials and weighs more to allow for sturdiness.