A Designer-Approved Tip To Make Your Boring Bathtub Stylish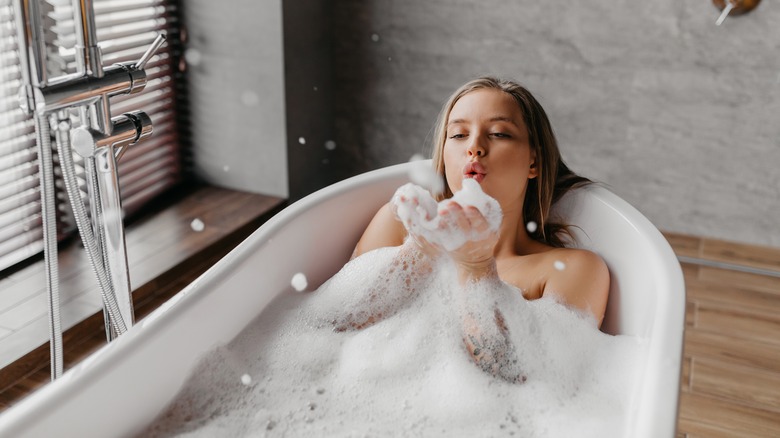 Prostock-studio/Shutterstock
It can be difficult to relax in your bland bathtub once you realize how boring it makes the rest of your bathroom look. However, it's agreeably more harrowing to determine the best way to elevate its design. Your starting point first depends on the aesthetic you wish to perpetuate for your bathroom, whether it's modern, rustic, industrial, or minimalist; your bathtub shouldn't deviate from that. There are other factors to consider, such as the usual functionality of your bathtub, the available size you need, lighting, and your budget, according to Southern Materials Company.
So, we'll show you a few stylish bathtubs created by different design experts to inspire you. When you take the time to check out what designs professionals have made, it may help you choose the right materials and color combinations. This can also help you save money if you avoid purchasing materials that don't work for your space.
Dramatic but neutral
This bathroom by Mirarti.Design shows that neutral colors can be made to feel extravagant. The cool, gray tones of the flooring are incorporated to create a wondrous floral mosaic behind the bathtub. The 3D white tile, besides the mosaic, accentuates the floral design while also creating a harmonious visual with soft, bright, and airy characteristics. Not only is the floral mosaic the focal point of this format, but the bathtub itself is even more stunning with it as its backdrop.
A bit of color is added with the gold chandelier mimicking twisted branches, and the tear-drop crystals hanging off it helps pull this entire design together. Without the chandelier, this design still would have been amazing, but the textures and brightness it delivers remind us of the importance of lighting. There are several other ways to introduce lighting around your bathtub, such as using sconces, pendants, or unique recessed lighting, per The Bathtubber.
Bathtub/shower combo
If you want to vamp up your bathtub and add a touch of class, take a look at this design by Julie Rose. Clear, glass paneling is added to the bathtub with golden hardware and door knobs for a vintage touch. Having glass panels not only spices up the design of the bathtub, but it also does so while maintaining a sense of openness. This designer also used two tones of green tiles to create a simple yet effective combination that keeps the bathroom feeling bright. Different shapes are also used, such as square tiles for the outside of the tub and rectangular tiles installed vertically in the shower area to create a sense of height.
Green, white, brown, blue, black, red, and purple tiles are also good options for the bathroom, per The Bathtubber. Each color and shade creates a different vibe, so we advise grabbing a few samples and looking at which color looks best around your bathtub based on how it looks in your lighting.