Which Furniture Store Has The Cheapest Beds?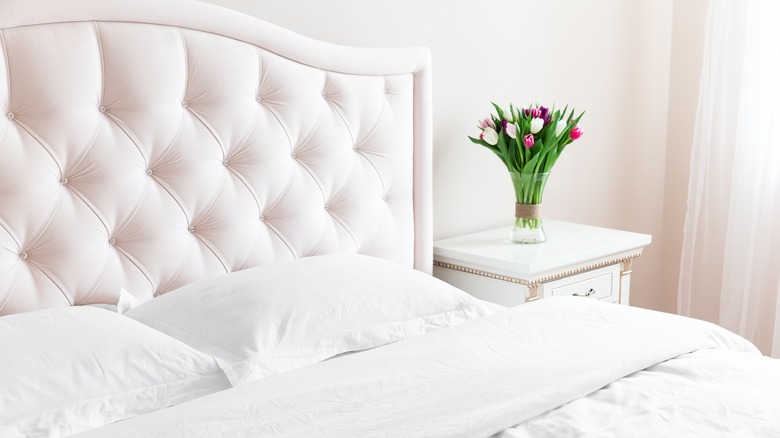 Preto Perola/Shutterstock
As you're shopping for a new bed, you'll notice a wide range of price tags. Of course, the price depends on the size, material, and additional features, but the typical cost of a queen size bed can range anywhere from $100 up to $2,000, according to the Sleep Foundation. If you're paying on the low end of that scale, chances are good it will be a simple metal bed frame without a headboard. Those work well for college kids, but as a homeowner, you probably want something more mature, such as a bed with a nice upholstered headboard.
We looked at three of the most popular furniture stores — Crate & Barrel, IKEA, and Bob's Discount Furniture — and compared their bed prices to one another. To keep things fair, we filtered our search to the least expensive queen size beds made from wood materials. It's time to answer the question, which furniture store has the cheapest beds?
IKEA for sure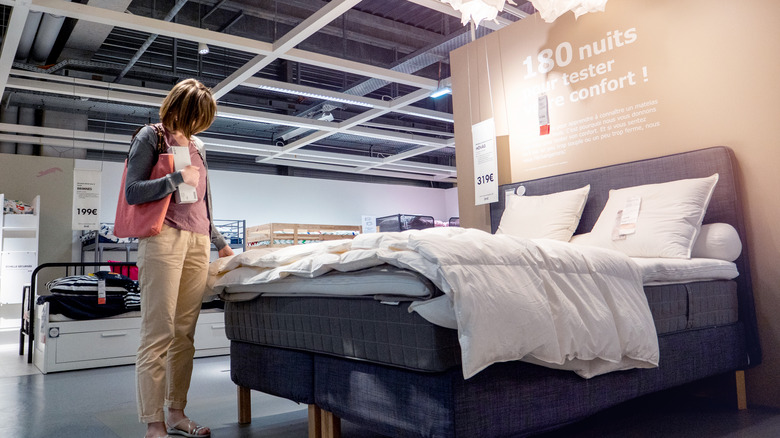 Hadrian/Shutterstock
After comparing bed prices from each furniture store, IKEA offers the cheapest beds, hands down. Out of the three least expensive queen beds, the IKEA Slattum upholstered model came in with the lowest price at $229. If you can believe it, this is about $700 less than Crate & Barrel's least expensive option. Even IKEA's most expensive bed, the Idanäs, is far less than its competitors; with a $749 price tag, you're still going to pay way less than you would at Bob's Discount Furniture or Crate & Barrel. In fact, IKEA has several queen beds between the $200 to $250 range, as seen on the company's website.
Yes, price is important, but a good deal on a bed is nothing if it lacks in quality. Fortunately, both beds mentioned above have excellent ratings, with 4.5 and 5 stars respectively. Customers that purchased the Slattum bed said it was sturdy, easy to assemble, and offered plenty of room for under bed storage. One reviewer was even pleased with the fact that the bed didn't creak. All that being said, if you want a good quality bed at an affordable price, don't think twice about heading over to IKEA.