15 Ways To Add A Craftsman Vibe To Your Bathroom
Craftsman, or Arts and Crafts style (the terms are often used interchangeably), is derived from the late 19th-century Arts and Crafts movement. The school was founded in answer to Victorian ornamentation and industrialized practices and underscored quality, handicraft, and décor cohesion with the interior and exterior architecture (via Architectural Antiques).
Natural materials, medieval motifs, and artisan-made decorations were heavily featured, including stained glass, tile, metalwork, wallpaper, and textiles. Further, the style is based on functionality and uses a framework of simple presentation to highlight decorative elements; straight lines, built-in cabinetry, and wood paneling were employed as a backdrop for beautifully glazed tiles or block-printed wallpapers.
The architectural salvage retailer explains that the eschewing of Victorian excess freed the middle-class homeowner to indulge in the aesthetics of the style. To that end, Craftsman soon became a celebrated building vernacular in America and continues to be beloved. Bluestone Construction notes that this architecture is still the most popular residential style. Its solid and utilitarian demeanor is balanced with quality components and few embellishments, allowing it to appeal to various tastes.
What's more, the prevalence of natural materials such as wood, stone, and metal grounds the interiors in the landscape. In a bathroom, this tether to nature creates a relaxing, spa-like effect, while the spare spaces provide a stage for a gorgeous design: a freestanding tub or quarter-sawn oak vanity, for example. Below, we highlight elements and fixtures that unmistakably convey the style — consider incorporating them in your next bathroom remodel.
1. Clawfoot tub
An authentic Craftsman bathroom wouldn't be complete without a clawfoot tub. Still available in their original cast iron and enamel combination, newer models are also made of acrylic. A garden or pedestal tub is a modern interpretation with simple shaping that works well with style, particularly in an angular version, as shown in the intro image.
2. Wood cabinetry
Built-in cabinetry and warm woods are a mainstay of Craftsman design. The richness creates a pleasant contrast with shiny and hard surfaces like stone and porcelain. Furthermore, you can use drawer and door hardware to complement decorative components like wallpaper, light fixtures, and tile. Storage in a bathroom is essential — it may as well be beautiful.
3. Pedestal sink
Pedestal sinks are often featured in the Craftsman home because of their historical reference. Further, the design highlights a silhouette or stunning faucets. While pedestal sinks offer abundant period character, they lack storage, so they utilize baskets or shelving for sundries. If space allows, a freestanding vintage cabinet or dresser can provide storage and looks appropriate.
4. Stained glass window
The Craftsman style features stained glass as a decorative element. Stained glass windows are a great avenue for introducing color, pattern, and detail within a home. Additionally, depending on the type of glass used, they can provide privacy while allowing light to enter; you won't need to conceal beautiful moldings behind a window treatment. 
5. Paneling
Architectural wood paneling is a nod to function and quality. Its original purpose was to make walls more insulated and durable. In semi-gloss paint, the durability and ease of cleaning resound in bathroom design today. Furthermore, it adds texture and interest without contributing to busyness. Stained wood is warm and elegant, while white panels convey a fresh cottage vibe.
6. Unadorned and clean shaping
Simple forms are prevalent in the Craftsman style; therefore, opt for right angles and squared shaping. If the overall design feels stark, add softness with wood grain, subtle patterning, or warm metals like unlacquered brass, copper, and oil-rubbed bronze. Plants also thrive in a humid bathroom environment and will contribute natural energy and texture.
7. Molding
Moldings and casements offer an opportunity to showcase the artisanship and beauty of wood carpentry. In the bath above, the trim, chair rail, door, and vanity appear to be constructed in the same wood, unifying the design. Additionally, warm stain and ample trim proportions counter white fixtures or light tile to create the stately impression synonymous with Craftsman style.  
8. Wallpaper
Architect William Morris is the delegated founder of the Arts and Crafts movement and is additionally known for his recognizable wallpaper designs. Still sought after and prolifically installed today, they feature rich colors and natural motifs such as leaves, flowers, and birds and impart a traditional sensibility. Grasscloth is a sophisticated and textural alternative for a less traditional bathroom. 
9. Natural flooring
Wood planks, tile, and stone are popular flooring choices in Craftsman design, where natural elements are predominant. However, options are nearly limitless and can incorporate modern materials, like wood look tile or river rock flooring, made with hard-wear and water resistance in mind — provided they fit the aesthetic requirements of the style.
10. Rich color palette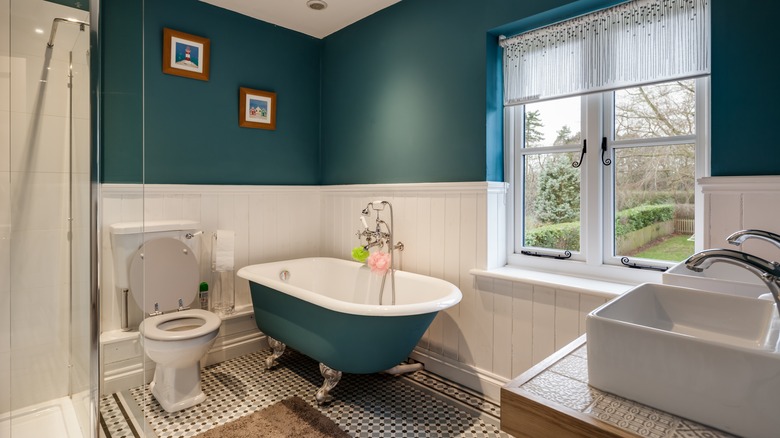 Mike Higginson/Shutterstock
One often thinks of deep and rich colors when considering Craftsman style because of their affinity with wood tones and organically inspired materials. However, consider the room's incoming light and size when developing a color palette. The dark green walls above could be overpowering, yet the white wainscoting tempers their strength.
11. Old-fashioned fixtures
A Craftsman bathroom is a perfect place to use vintage and salvaged fixtures. They create authenticity and character and offer a more economical way to remodel. For example, pedestal sinks, faucets, and clawfoot tubs can be refurbished to their original glory. Furthermore, a tub exterior is an excellent surface for painting and introducing whimsical or bold colors.
12. Arts and Crafts patterns
The primary pattern inspiration in Arts and Crafts textiles and wallpaper are natural themes and an English pastoral sensibility. Stylized leafy boughs, blossoms, and artichokes are recurring motifs that are representative of rural life, standing in direct contrast to the bustle and grit of industrialized city existence.
13. Arts and Crafts lighting
Geometric shapes, stained glass-look shades, and warm or dark metallic finishes, such as brass, iron, and bronze, typify the lighting of the style. Available in many options, from flush mount pendants to sconces to chandeliers, lighting fixtures are a fantastic means to convey Craftsman design in a small space.
14. Tile
Add color and pattern with tile. This element lends itself to personalization and can be as subtle or graphic as you'd like; one option can cover the entire space, or coordinating themes can be combined. Tiles frequently appeared in Craftsman homes for their handmade quality and were found in fireplace surrounds and hearths where they served a safety function.
15. Symmetry
A symmetrical layout appeals to the Craftsman milieu, which prefers logic and beauty. Symmetry is an enduring component of traditional and classical design, and further, the inherent balance allows fixtures and décor to be layered and integrated easily. Symmetry can ensure a calm impression in a small room requiring a minimum number of fixtures, accessories, and storage.