How To Incorporate Colorful Appliances Into Your Decor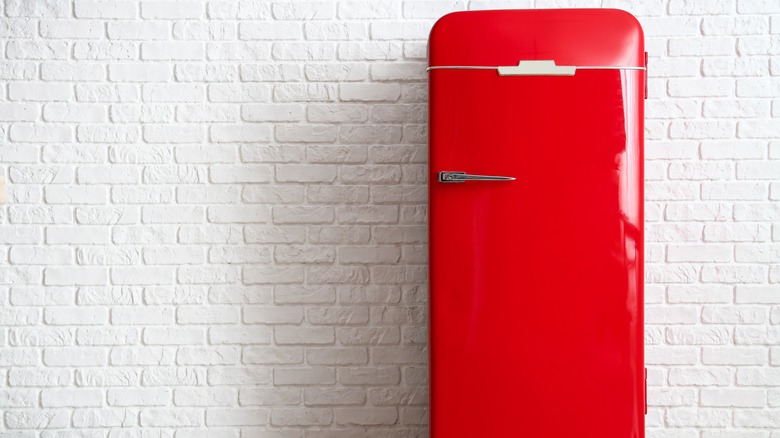 Pixel-Shot/Shutterstock
For decades, kitchen appliances have been ruled by black, stainless steel, or white, says Exp Realty. While these are still popular and mainstream options, different providers, such as Smeg and Viking, have been diving straight into the colored rainbow when it comes to kitchenware. Whether it's kettles and toasters, or larger pieces like a fridge or a cooker, color is the perfect way to modernize your kitchen and be bang on trend in 2022.
But how do you incorporate these colored appliances into your kitchen décor? If you've always had black, white, or stainless steel, it's understandable that you may be hesitant to branch out into colored appliances. However, there are ways to bring in the bold touch without it standing out like a sore thumb or dominating the room in a negative way. Also, being 100% sure that you want colored appliances is important, as, according to Whirlpool, veering away from budget-friendly white can be an expensive option.
Start small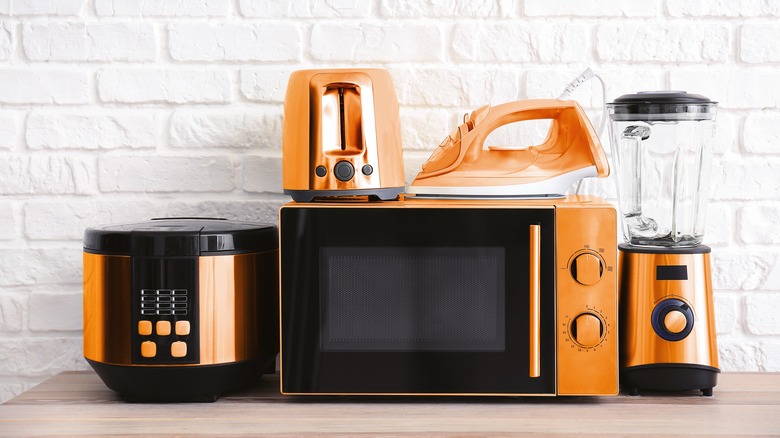 Pixel-Shot/Shutterstock
You don't have to dive straight into large-colored appliances if you're hesitant; getting smaller pieces first can be a great way to get started. Many brands have colored sets that you can incorporate into your kitchen. For example, Walmart has plenty of matching colored kettles and toaster sets, as does Kitchen Aid. According to Taste of Home, the iconic Kitchen Aid stand mixer comes in a whopping 47 different colors, and America's favorite color is blue velvet. So there should be something for everyone, whether you want to go subtle with the soft shade of the feather pink one, stick with America's trusted blue velvet, or go striking with the bright, rich green of matcha.
Something that is bigger but still fairly subtle is your microwave. The amount of colored microwaves on Amazon is plentiful and varied, and simply picking a color that matches the wall décor in your kitchen can be all it takes to tie the whole look together.
Going bold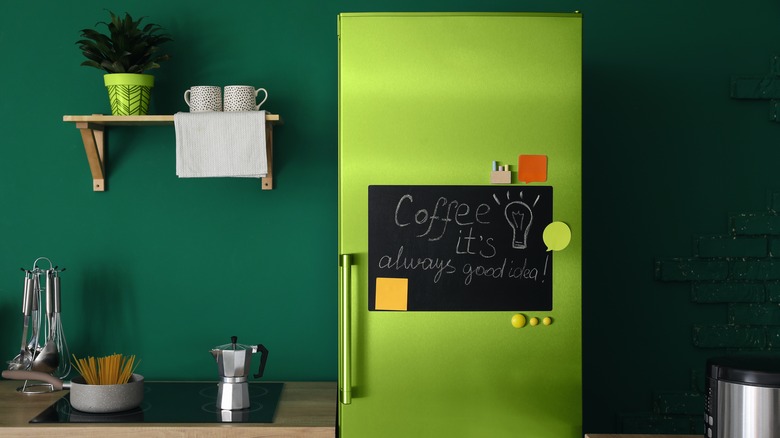 Pixel-Shot/Shutterstock
If you're lucky enough to be having a new kitchen fitted and it's time to pick out all new kitchen appliances, maybe you'd like to go all in, branching out into some unusual hues. If you're feeling totally adventurous, then picking a different color for each appliance can really give your kitchen a kitsch, boho aesthetic, which might be exactly what you're looking for. Or, choosing different shades of the same color can tie things together while still being a little different.
Another way to make sure your vivid approach works for you is to pick your favorite color. If it's been your go-to favorite hue for a long time, then it's a safe bet that you will love your appliances for a long time to come! One more way to tie everything together is to match the appliances to your curtains, blinds, pot towels, or other soft furnishings while keeping the walls a neutral shade, suggests Davonport Kitchen & Home. If that feels too subtle and you want something more dramatic, then opt for matching your appliances with your chosen wall colors.