Is Pine Furniture Going Out Of Style?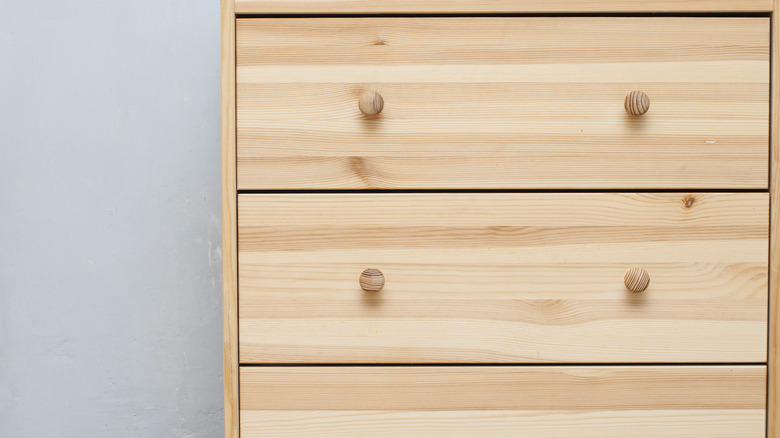 Grigoreva Alina/Shutterstock
If you love the look of natural materials around your home, then you might be interested in what types of wood are easy to build with and how to pick out hardwood. You might also be intrigued by what kinds of wood are in style these days when it comes to furniture. While you may adore cedar, cherry, or oak and maybe favor maple or mahogany, you might also be wondering about pine. It turns out that it happens to be an option that has been incredibly popular and just as unpopular at times.
A wood that first made its way into the interior design scene while the Victorians were around, orange knotty pine was also a trendy choice back in the 1980s for quite a few reasons, according to The Odd Thing. For instance, thanks to the fact that it's a relatively cheap wood to generate, it's also a cheaper option to purchase. On top of that, it can be used in plenty of ways and be painted or stained to suit your needs.
However, despite the benefits of pine, The Odd Thing notes that it appeared to have become outdated for a time. That belief was apparently backed up by people on social media who felt like pine wasn't chic. Of course, that doesn't mean that this is a wood that is still considered to be unpopular. In fact, it looks like pine furniture has made a major comeback. That is, if you know how to use it.
Pine furniture can suit a contemporary space
George Tsamakdas/Shutterstock
If you're a fan of pine, then you'll be happy to know that even though it occasionally may not be the most popular wood, it definitely seems to come back into style just as often. That may surprise some people, like Jess Bunge at the Emily Henderson blog, who made her feelings clear by writing, "So why were we shocked, possibly horrified, but also completely intrigued by this mystery trend?? Well, because we're talking about chunky, knotty, and slightly glossed pine furniture. WHAT?!!! Hold that groovy cord bound phone."
When it comes to why Bunge claims that pine is a trendy choice, she explains that notable designers, such as Kelly Wearstler, as well as both Commune Design and Reath Design, have been opting to work with pine. Bunge also seems confident that this is a style-savvy endorsement.
As for how to use this particular kind of wood in a fashionable way, it's apparently important to choose pieces that are on the straightforward side. That means furniture that doesn't feature a lot of accents but instead boasts a clean look. While the shape and lines of the items can be eye-catching, you'll want the natural grain of the wood and its shiny surface to stand out. Beyond that, you'll want to make sure that you're not using too much of it, per Bunge. Instead, opt for just a few — or even simply one or two — pieces of pine furniture for each space.