How To Select The Right Color Hardwood For Your Home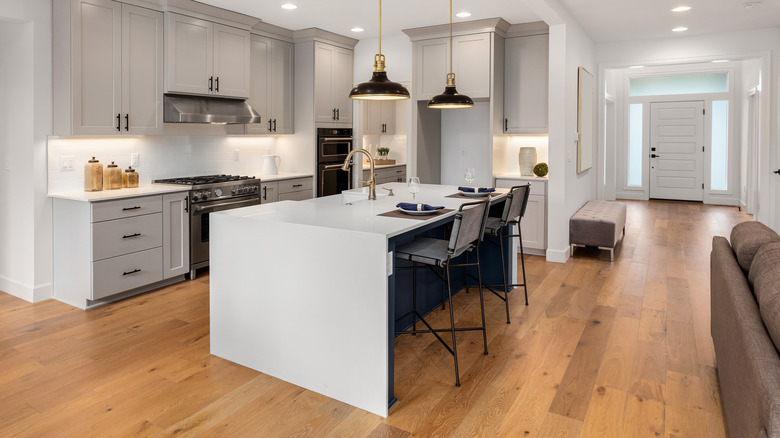 Breadmaker/Shutterstock
You're ready to rip up the wall-to-wall carpeting in your home and replace it with hardwood. It seems like an easy choice, right? You don't have to deliberate between shag and Berber or beige and blue. You have explored your options and checked the costs, as seen on House Digest, for putting in hardwood floors. All you need to do is pick a basic wood tone -– or so you think. Replacing flooring with hardwood is a big decision since what you select can make a big difference in the look, style, and ambiance of your room.
Magnolia Homes points out that experts are in agreement on one aspect of good design: Most of the time, the color of the floor should be darker than the color of the walls. That advice alone, however, won't get you to an easy decision on hardwood shades. If you painted your walls a classic Federal blue, for example, your choice of light-colored planks on the floor may not work. They note that contrast in a room (floor stain, wall color, furnishings) is generally a good design goal, but many considerations come into play. To determine what color best suits you and your house, you'll want to explore all the aspects that impact your ultimate decision.
Factors affecting floor color choice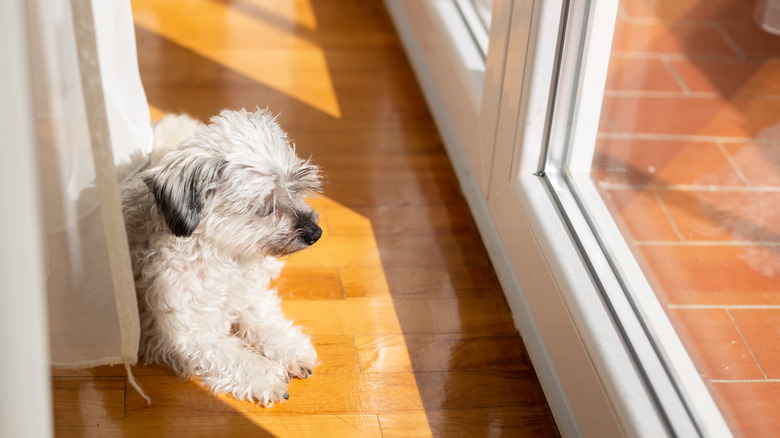 Robert Petrovic/Shutterstock
Choosing your hardwood floor color isn't about just picking your favorite shade. Whether you are determining floor color for one room or an entire home, it helps to explore your surroundings and other factors that can help you make an optimum selection that you'll love for many years to come.
District Floor Depot outlines several important considerations to help you narrow the choices before you hit the showroom floor. First among their tips is to remember the design concept about perceptions about the size of a space can be altered by the colors in the space. A small room will often look smaller when the floor is a dark color. If you're going for a cozy look, that might work for you, but often the goal in a small room is to make it appear larger, in which case, lighter flooring may do the trick. Carlisle Wood Plank Floors also discusses light wood versus dark wood, with pros and cons of each. For darker shades, they note that they are typically associated with formal styles, yet richer wood tones can also be used in more rustic designs. That kind of versatility keeps darker wood stains in the conversation.
As you weigh hardwood colors, don't forget to reflect on other factors, including the amount of sunlight the space receives, the amount of traffic (thus dirt) in the room, and the width of the flooring. Each factor can impact color choice.
Making the final decision on hardwood floor color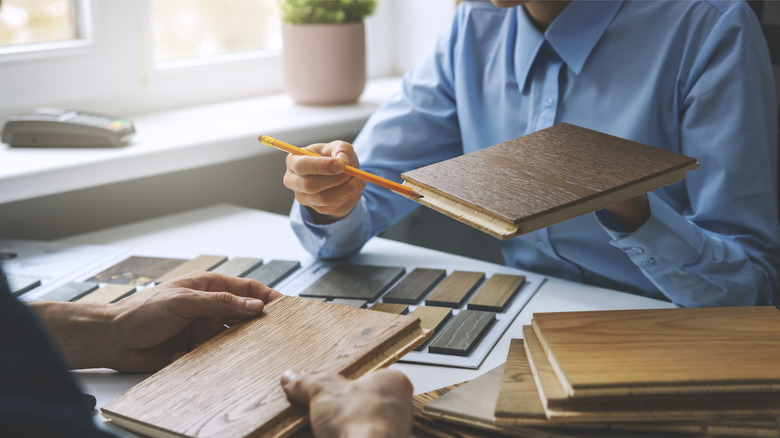 ronstik/Shutterstock
Now that you have looked at room size, the light streaming into it, the foot traffic it gets, personal preferences, current trends, and a variety of other considerations, it's time to make that final decision on which color of hardwood enhances the beauty of your home and makes you happy year after year.
Modern technology allows humble pieces of wood to take on a multitude of hues, but in the end, the wood still shares its own personality. Magnolia Homes reminds readers that stain notwithstanding, the wood has something to say. The same stain on a light oak isn't going to look the same as the stain applied to cherry wood. According to House Beautiful, begin with a finish (stain) you like, but don't neglect to consider how that shade works with the variances of the grains of the wood you select.
Finding the perfect shade is a matter of function, style, and personal preference. For some, a trendy design is one of the biggest considerations, and Flooring Stores shares that the current trends are all over the color wheel from very dark stains to grey shades. They recommend not overlooking the value of going with classic, tried-and-true designs that never go out of style.