Is It Time To Ditch Your Coffee Table For A More Open Living Room?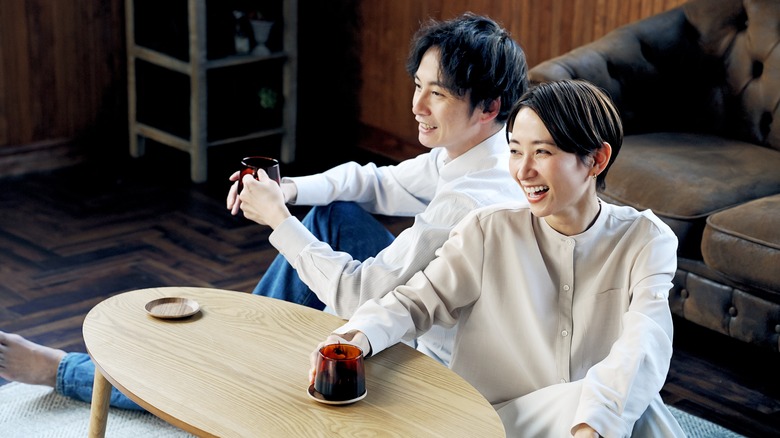 metamorworks/Shutterstock
Coffee tables have been a mainstay of living room decor for years, but as apartment floor plans continue to shrink, you may be wondering if they're worth sacrificing your precious space. According to RentCafe, the average apartment square footage in the United States decreased 5% from 2008 to 2018, while rental rates have risen 28% in the same time period. This phenomenon is leaving many renters going for a more minimalistic, open look in their furniture choices, and that large coffee table may just be getting in the way.
However, before you give in and list your furniture on Facebook Marketplace, take some time to consider the pros and cons of incorporating a coffee table into your space and look to some other options that bring the same functionality without the size. Reducing the amount of furniture in your living room may leave you feeling free and breezy, but you may regret your decision during your next movie night.
Pros and cons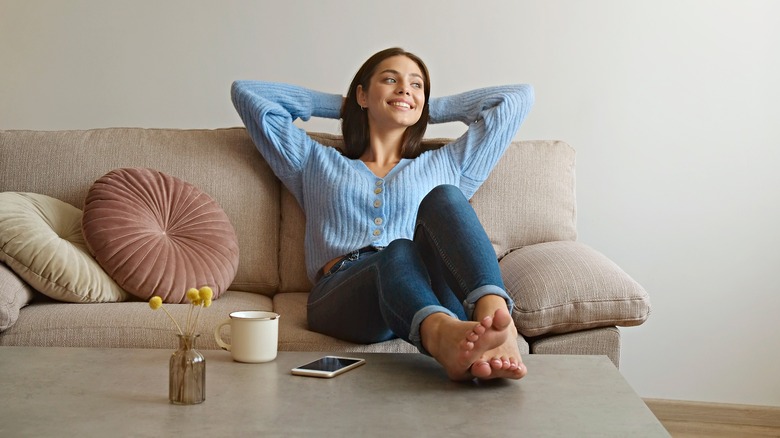 evrymmnt/Shutterstock
The whole point of a coffee table lies in the name. Without one, you may be stuck placing your mugs and glasses on the floor where they can easily be kicked over or bumped into. According to a study by June, many people also use their living room as their main dining area, opting to forgo the dining table in favor of a more casual mealtime. If that's your situation, giving up your coffee table may be out of the question.
On the other hand, if you're really gunning for more space, removing your coffee table can make a major impact and make the room look and feel less crowded. It also provides a large open space for playtime, pets, or at-home workouts. Sharp edges can create a hazard for little ones, and getting rid of a roadblock in the middle of the room can keep them safe from accidental bumps and falls.
Other options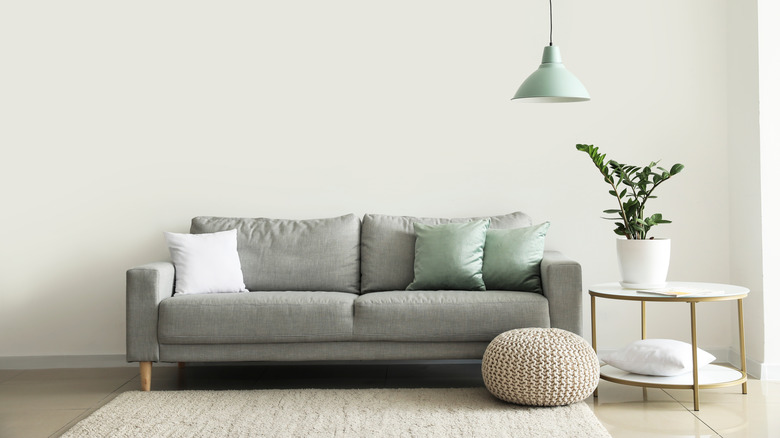 Pixel-Shot/Shutterstock
If you're looking for a happy medium and want to save space without sacrificing your surfaces, there are other options. A side table can serve as a resting place for mugs and plates and stay tucked in the corner instead of the main space, or it can act as a smaller version of the coffee table, still placed in front of the couch for ease of access. Poufs are another trendy, bohemian option. They can double as extra seating for unexpected guests, or function as a table when styled with a flat serving tray on top to keep everything stable. They also prevent the issue of sharp corners around energetic kids, and can be easily stored or moved if you need additional floor space.
The way we style and use our homes is changing, and now that many of us are dealing with a smaller footprint (via RentCafe), it's important to consider if your furniture is serving you or just creating clutter. A coffee table is an essential for some, but it may be time to rethink it as a necessity for all.